Smoked Tri Tip with Blue Cheese Basil Butter
Write a Review
Read Reviews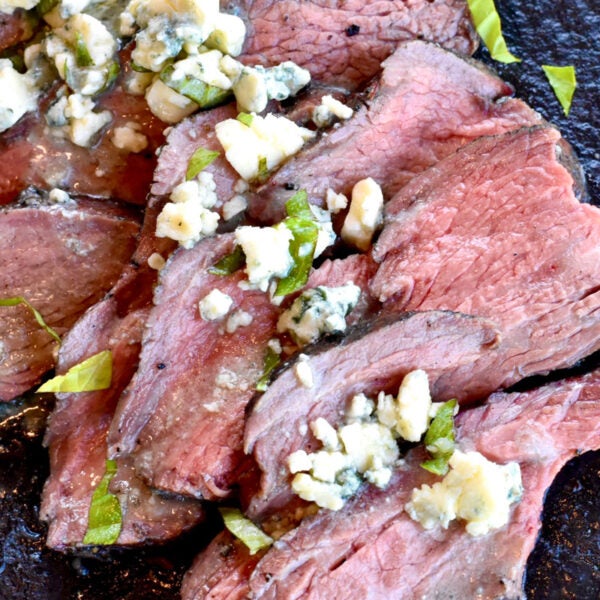 Yields:

2–4 Servings

Cook time:

1 h 20 m

Prep time:

5 minutes
Ingredients
1 tri tip
1 tablespoon olive oil
1 teaspoon kosher or sea salt
1 teaspoon fresh ground black pepper
Compound butter
1 stick butter, melted
1 large bunch basil, thinly chopped
4 ounces crumbled blue cheese
Instructions
Prepare a pellet smoker for 275°F. Optimal smoking woods for tri tip are Kingsford Classic, Signature or Cherry. If using a charcoal grill, set up direct and indirect zones and add cherry or oak wood chips to create additional smoke flavor.
Rub the tri tip in olive oil, followed by salt and pepper. Smoke the tri tip until the internal temperature of the roast has reached 120°F. Remove the tri tip and now crank up your pellet smoker to 500°F. Alternately, you can heat a charcoal grill up to 500°F. Grill the tri tip for 2 minutes each side and then remove. If you choose not to finish with a sear, don't remove the tri tip until the internal temp in the very middle has reached USDA's recommended temperature for beef.
Removing the Tri Tip while the thickest part is at 125°F ensures that the middle is medium rare for those who like more medium rare steak, while the smaller tips will be cooked to medium for those who like theirs more well done. Also, once you remove the steak remember that it will continue to cook.
Melt butter in the microwave for 30 seconds in a microwave safe jar. Add the basil and blue cheese crumbles. Slice the Tri Tip and pour the butter over the slices.
If you have leftovers, tri tip sandwiches are great served as a French dip with au jus sauce or a creamy horseradish mayo. Any leftovers won't last long, they're too delicious!
For safe meat preparation, reference the USDA website.