Smoked Pork Belly BLTs with Shock Top Honey Mustard Glaze
Write a Review
Read Reviews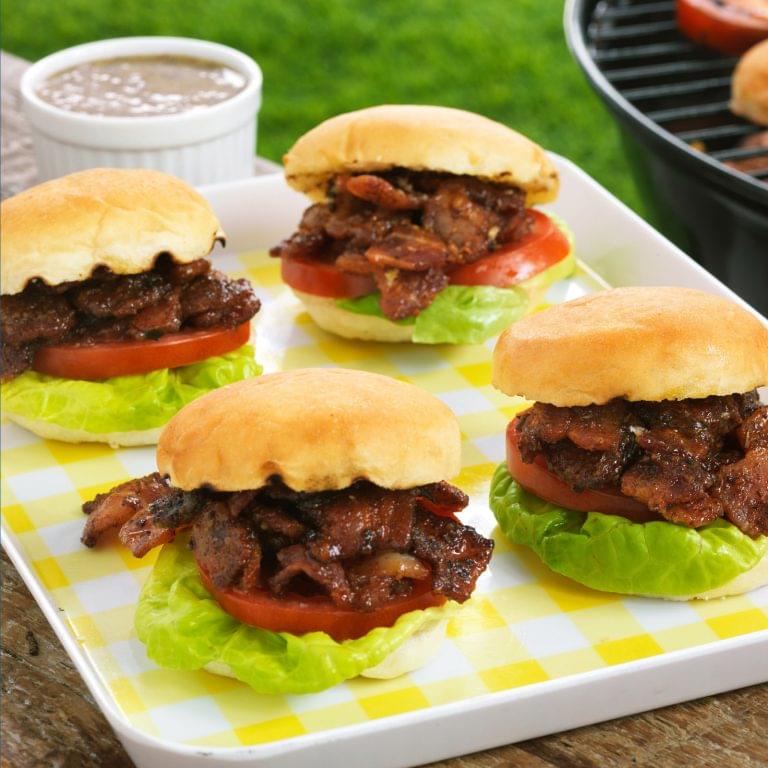 Yields:

8 Servings

Cook time:

5 h 15 m

Prep time:

30 minutes
Ingredients
Dry Rub
¼ cup granulated sugar
1 tablespoon chili powder
1 tablespoon kosher salt
¼ teaspoon cumin
¼ teaspoon cayenne pepper
4 pounds pork belly (or thick-cut bacon), skin-on
2 cups Shock Top Honey Mustard Glaze (recipe below)
8 slices bread or 16 slider buns
2 tomatoes, sliced
8 leaves romaine lettuce
4 tablespoons mayonnaise 
Shock Top Honey Mustard Glaze
6 ounces Shock Top Belgian White beer
¾ cup mustard seeds
¼ cup balsamic vinegar
¼ cup white distilled vinegar
1½ teaspoons kosher salt
½ teaspoon black pepper
⅛ teaspoon ground cinnamon
⅛ teaspoon ground cloves
⅛ teaspoon ground nutmeg
⅛ teaspoon ground all-spice
2¾ cups honey
Instructions
Shock Top Honey Mustard Glaze
Shock Top Honey Mustard Glaze: Combine all of the ingredients except the honey, in a non-reactive bowl. Cover and let the mixture sit at room temperature for 1–2 days until the mustard seeds soften.
Place mustard seed mixture in a food processor and puree. Personal preference will dictate how long the mustard seeds are processed to yield a coarse grain or fine grain mustard.
Stir in the honey and mix vigorously to make the glaze. Store refrigerated in an airtight GLAD® container.
Smoked Pork Belly BLTs: Setup a two-zone fire for indirect grilling with Kingsford® Charcoal with Applewood by situating the charcoal on only one side of the grill, leaving the other side void. Preheat the grill to 225°F.
While the grill is preheating, mix the dry rub ingredients in a small bowl. Apply the dry rub liberally to all sides of the pork belly, except for the skin. Place the seasoned belly, skin side down, over indirect heat (the void side of the grill) and close the grill lid. Cook for 5 hours or until the internal temperature of the pork belly reaches 200–205°F. Remove the pork belly from the grill, place it on a cutting board, and slice off the skin. Cut the pork belly into 3-inch squares.
Add more coals to the grill and increase the temperature to 450–500°F. Place a cast iron skillet directly over the hot coals and let the skillet get hot. Place the pork belly squares into the hot cast iron skillet with the fat side down, where the skin was removed. Sear the fat for about 1 minute, or until it is brown and crispy. Remove the skillet from the grill and the pork belly from the skillet.
Coat the pork belly squares generously with a thick layer of Shock Top Honey Mustard Glaze. Place the belly on the grill over indirect heat, close the lid, and cook for an additional 10–15 minutes until the glaze caramelizes. Remove the pork belly from the grill and place on a cutting board to rest for 10 minutes. Then, slice all the pork belly squares into ½-inch strips.
Assemble the BLTs by topping the bread with pork belly strips, tomatoes, lettuce and mayonnaise.
Credit: Recipe created by champion pitmaster Chris Lilly on behalf of Kingsford® Charcoal.
For safe meat preparation, reference the USDA website.