Smoked Moroccan Lamb Ribs
Write a Review
Read Reviews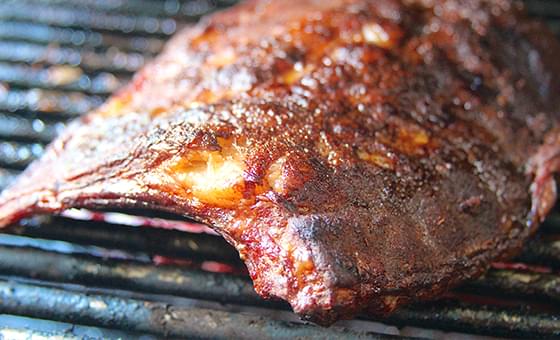 Yields:

4 Servings

Cook time:

3 h

Prep time:

20 minutes
Ingredients
2 tablespoons paprika
1/2 tablespoon coriander seeds
1/2 tablespoon kosher salt
1 teaspoon cumin seeds
1 teaspoon ground allspice
1 teaspoon powdered lemon peel
1/2 teaspoon ground black pepper
2 racks lamb ribs
Instructions
Combine paprika, coriander seeds, salt, cumin seeds, allspice, powdered lemon peel and pepper in a mortar and pestle or coffee grinder and grind into a powder.
Prepare smoker or grill for indirect cooking, adding 3–4 of your favorite wood chunks to the charcoal briquets. Adjust smoker or grill vents to bring the temperature to approximately 250°F. Remove membrane from the bone side of the ribs. Season both sides liberally with lamb dry rub. Place on the smoker or grill, cover and allow them to cook until tender, approximately 3 hours. Remove from heat and serve.
For safe meat preparation, reference the USDA website.