Pulled Pork Poutine
Fries. Cheese. Gravy. What's not to love? If you're not familiar with the Canadian creation of poutine, it's time to make up for lost time. Our version features tender pulled pork smoked on the grill, with just the right touch of KC Masterpiece® Barbecue Sauce.
Pulled Pork Poutine
Write a Review
Read Reviews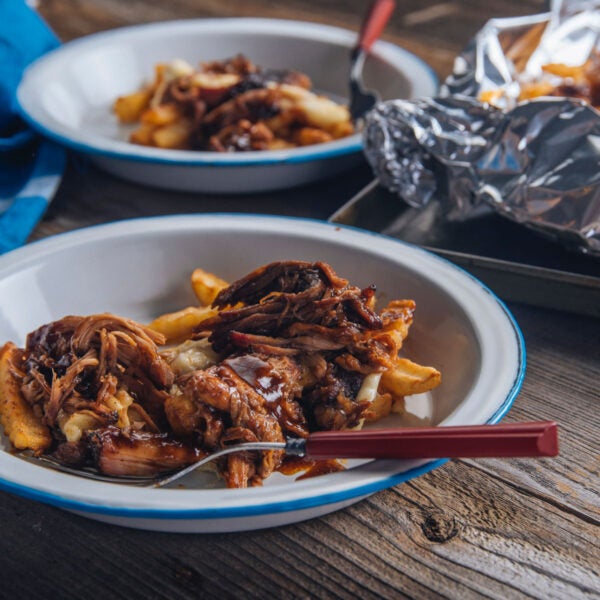 Yields:

4 Servings

Cook time:

10 h

Prep time:

45 minutes
Ingredients
For the pork injection
1/3 cup apple juice
¼ cup water
¼ cup sugar
2 tablespoons kosher salt
1 tablespoon Worcestershire sauce
For the pork dry rub
2 tablespoons dark brown sugar
¼ cup white sugar
¼ cup paprika
3 tablespoons garlic salt
3 tablespoons kosher salt
1½ teaspoons chili powder
½ teaspoon dried oregano
¼ teaspoon cayenne pepper
½ teaspoon cumin
½ teaspoon black pepper
1 7-pound pork shoulder
¾ cup KC Masterpiece® Original Barbecue Sauce
2 pounds frozen crinkle cut french fries
kosher salt, to taste
¾ cup cheese curds
Instructions
Prepare charcoals using the snake configuration, and add soaked Kingsford™ Wood Chips along the line of coals. Place a foil pan with hot water in the center of the snake.
Light about eight briquets in a chimney. When ready, pile all of the lit coals at the head of the charcoal snake. The coals will burn down slowly as the meat cooks.
Inject pork shoulder evenly with injection solution. Apply a generous amount of dry rub onto the meat.
Place pork shoulder fat side up on the rack, cover, and bring the grill temperature up to a constant 225–250°F, using the vents to regulate heat.
Check the temperature of the grill every hour, adding more charcoal and soaked wood chips as needed to maintain heat.
Smoke for about 8–9 hours or until the internal temperature of the pork reaches about 205°F.
Paint the shoulder with half of the barbecue sauce in the last 20 minutes of cooking. Carefully remove and let rest for at least 15 minutes before shredding into large chunks.
Make the french fries according to package directions. If they are not seasoned well enough, add a little bit of salt when they come out of the oven.
To make the poutine, use a double thick layer of aluminum foil, and bend it up on the sides to create a large boat. Pile the fries inside and top with the cheese curds. Mix 1 pound of pulled pork with the remaining sauce, and add to the poutine.
Place the whole thing on the grill just until warmed through and the cheese is melted. Serve immediately.

Note: If you'd prefer to make your own fries, peel 1½ pounds potatoes and cut into sticks. Soak in water for 1–2 hours; then rinse and dry well. Heat three inches of vegetable oil in a pot. Fry twice; the first time for about 3–5 minutes until softened but still pale (drain and dry), and the second time for 3–5 minutes, until golden brown. Season to taste with salt.

Major League Baseball trademarks and copyrights are used with permission of Major League Baseball. Visit MLB.com.
For safe meat preparation, reference the USDA website.