Pork Pozole
Write a Review
Read Reviews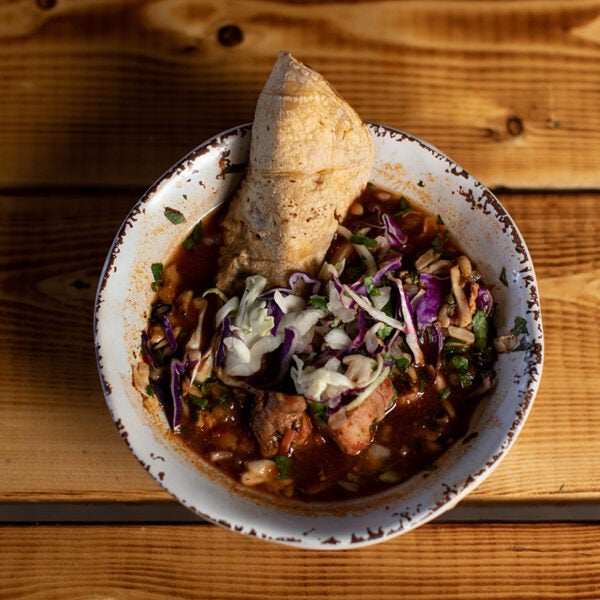 Yields:

6-8 Servings

Cook time:

1 h 30 m

Prep time:

30 minutes
Ingredients
Pork Pozole
2 ounces dried guajillo chili
2 ounces dried ancho chili
2 ounces chipotle in adobo
3 bay leaves
8 cloves garlic roughly chopped
2 teaspoons cumin
2 tablespoons Mexican oregano
6-8 tablespoons salt
3 lbs pork tenderloin
1-2 quarts canned hominy
Garnish
1 bunch cilantro chopped
1/2 white onion chopped
4-6 limes quartered
1 small head red cabbage shredded
1 small head green cabbage shredded
corn tortillas
Instructions
Fire up the charcoal grill using Kingsford charcoal and heat to 400°F.
In large 12 inch Dutch oven fill with 4 quarts of water and place over coals.
Next, heat cast iron skillet with 2 tablespoons of olive oil
Remove stems from chilies and roast in cast iron skillet with garlic and chipotle in adobo.
Cook and stir often for about 3-5 min then add 2-3 cups of water. Allow to sit over heat for a few more minutes, then remove from grill.
Next, rub pork with olive oil and season with salt and pepper.
Grill each side for 3-4 minutes. Remove from heat and cube up into thick chunks.
Then while pork is cooking,blend up chilies and push through strainer in Dutch oven.
Add pork, bay leaf, oregano, salt and cumin.
Add rinsed hominy stirring occasionally and simmer for 1 hour.
Warm corn tortillas and serve pozole in a bowl topped with garnishes and squeeze of lime.
For safe meat preparation, reference the USDA website.