Pollo Asado
Write a Review
Read Reviews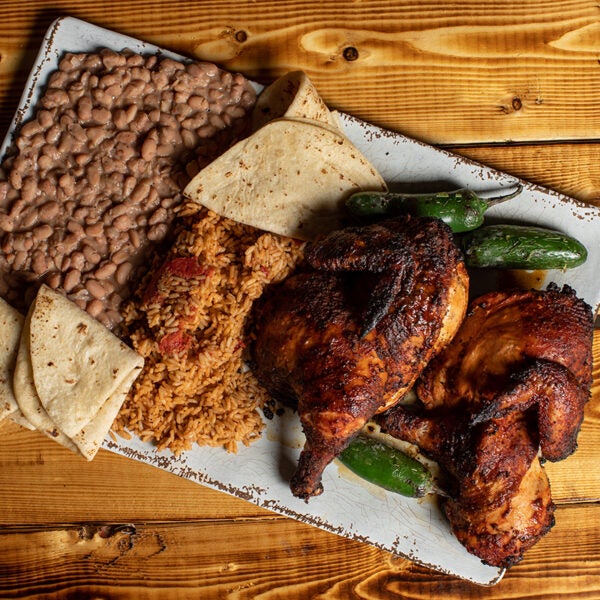 Yields:

6-8 Servings

Cook time:

35 minutes

Prep time:

1 day, 35 minutes minutes
Ingredients
2 whole split chickens (4 halves)
Marinade/Rub
1 cup olive oil
1 cup kosher salt
2 tablespoons black pepper
1/2 cup paprika
3 tablespoons chili powder
1 teaspoon cayenne pepper
2 tablespoons garlic
1.5 tablespoons sugar
1 cup orange juice
1 cup fresh lime juice
Juice from chipotle in adobo
Instructions
Day before
Make rice, beans and tortillas.
Cool rice and beans to warm up next day.
Cook and cooltortillas,then place in storage bagand leave at room temp to warm up next day.
Fire up the charcoal grill using Kingsford charcoal and heat to 375°F. Pro tip: Light thorough coating of Valentina's red rub for maximum flavor. Salt andpepper will work too.
Place chicken with bone side up cover for 10 minutes.
Then, flip chicken and baste with marinade. Cook cover for another 10 minutes,periodically basting with marinade.
Next, uncover and move chicken away from coals to cooler side of grill and allow to finish off reaching an internal temperature of 165°F.
Grill jalapeños with a touch of olive oil and salt.
Warm tortillas on grill and serve whole or pulled with rice, beans, chopped onion, cilantro, charredjalapeños and lime wedges.
For safe meat preparation, reference the USDA website.