Pit Beef Sandwiches
Nothing says Baltimore tailgating like hot beef, sliced thin, sauced up, and piled high inside a Kaiser roll. It's called the pit beef sandwich, and it's been a Maryland street food favorite since the 1970s. Here's our fired-up take on this Baltimore barbecue classic.
Pit Beef Sandwiches
Write a Review
Read Reviews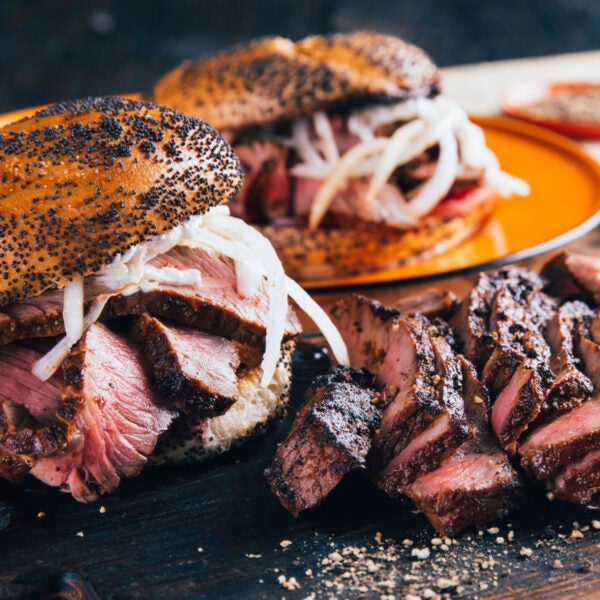 Yields:

6 Servings

Cook time:

1 h

Prep time:

30 minutes
Ingredients
3 tablespoons Kingsford™ Original All-Purpose Seasoning
2 pounds beef top round
½ cup sour cream
½ cup mayonnaise
½ cup prepared hot horseradish, drained
½ teaspoon kosher salt
¼ teaspoon freshly ground black pepper
6 hamburger buns or Kaiser rolls
1 sweet white onion, thinly sliced
2 ripe tomatoes, thinly sliced
iceberg lettuce (optional)
Instructions
Sprinkle rub all over the beef, patting it in. Place on a plate or in a baking dish, and cover with plastic wrap. You can let the rub marinate for a few hours, but for maximum flavor, leave it for 2 to 3 days in the refrigerator, turning once a day.
While the beef is marinating, mix together the sour cream, mayonnaise and horseradish in a small bowl. Season with 1/2 teaspoon salt and 1/4 teaspoon freshly ground black pepper. Refrigerate for at least a few hours.
Using Kingsford® Original Charcoal, build a fire for direct grilling and preheat to 400°F. Oil the grill grates to prevent sticking.
Grill the beef 30 to 40 minutes, or until the outside has a nice bark, and is dark brown and the internal temperature reaches 120°F (for rare). Turn the beef often. For your safety, please reference the USDA safe cooking temperatures.
Transfer to a cutting board; let it rest at least 10 minutes.
Slice the beef very thinly across the grain. Divide the beef and pile it onto the rolls.
Garnish each with the sliced onion and tomato (and the lettuce if using) and spoon on a few tablespoons of the horseradish sauce. Serve immediately.

Major League Baseball trademarks and copyrights are used with permission of Major League Baseball. Visit MLB.com.
For safe meat preparation, reference the USDA website.