Orange Blossom Honey Ribs
Write a Review
Read Reviews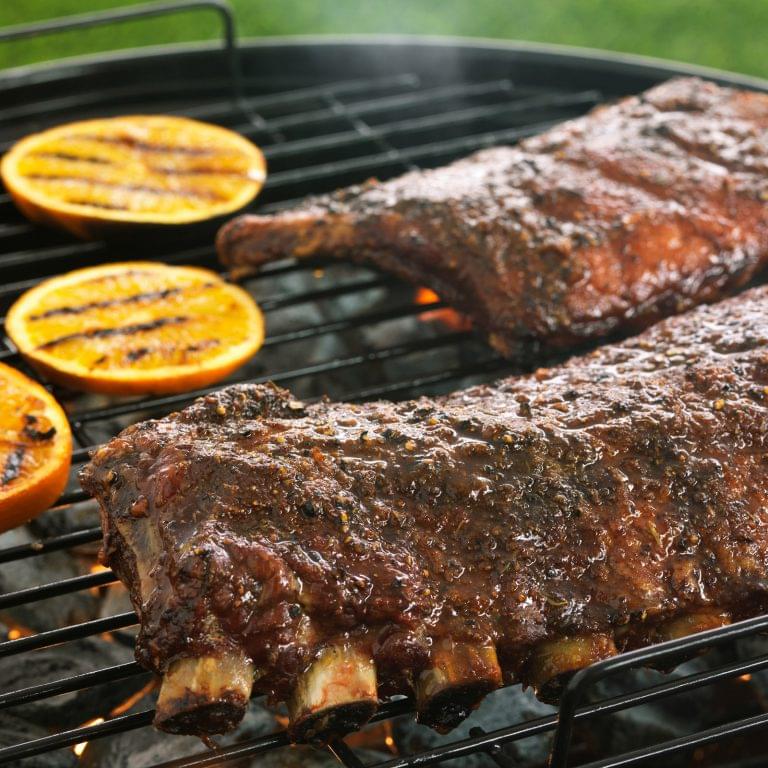 Yields:

2–4 Servings

Cook time:

4 h

Prep time:

30 minutes
Ingredients
2 slabs loin back pork ribs (baby back)
Dry Rub
2 tablespoons brown sugar
1 tablespoon paprika
1½ teaspoon kosher salt
1 teaspoon black pepper
½ teaspoon garlic salt
½ teaspoon onion salt
¼ teaspoon celery salt
½ teaspoon red pepper
½ teaspoon cumin, ground
Orange Blossom Honey Glaze
4 cups orange juice, no pulp
4 sprigs thyme
1 sprig rosemary
3 leaves sage 
2 tablespoons pickling spice
4 cheese cloths, cut into 8-inch squares
½ cup orange blossom honey
¼ teaspoon salt
⅛ teaspoon cayenne pepper
Instructions
Remove the membrane from the back of the rib using a paper towel to grip.
In a small bowl combine the dry rub ingredients and mix well. Apply generously to the front and back of ribs, patting gently to ensure an even coat.
Build a charcoal fire using Kingsford® Charcoal with Pecan for indirect grilling by situating the coals on only one side of the grill, leaving the other side void. Preheat to 250°F.
Once the grill is preheated, place the ribs on the grill meat-side up and cook with indirect heat for 3½–4 hours, or until the ribs are tender.
While the ribs are cooking, make the orange blossom honey glaze. Add the orange juice, thyme, sage and rosemary to a medium-size pot. Then, add 2 tablespoons of pickling spice to the center of four layers of cheese cloth, cut in 8-inch squares. Bundle the pickling spice in the cheese cloth, tie it with twine and add it to the orange juice mixture. Place over medium heat and bring the liquid to a slight boil. Lightly boil the mixture for 45 minutes, or until the liquid reduces to 1 cup and turns syrupy. Then, add in the honey, salt and cayenne pepper to the hot liquid and mix well. During the last 30 minutes of cooking, paint the glaze on both sides of the ribs two times.
Remove the ribs from the grill and place them on a cutting board to rest for 10 minutes. Cut and serve.
Credit: Recipe created by champion pitmaster Chris Lilly on behalf of Kingsford® Charcoal.
For safe meat preparation, reference the USDA website.