Old-Fashioned Grilled Apple Pie
Write a Review
Read Reviews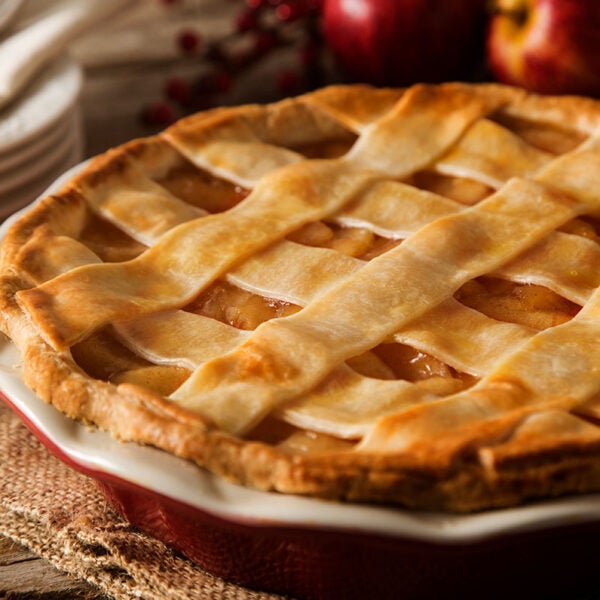 Yields:

8 Servings

Cook time:

10 minutes

Prep time:

45 minutes
Pitmaster Note: In the South, mouths drool whenever fried pies are mentioned. Traditionally they are fried in a pan with butter until crisp and brown. To heat things up, I have taken this traditional dessert to the backyard barbecue. By grilling the apples prior to making the filling and then crisping the dough pocket over hot charcoal, you can make this Southern dessert a coal-fired masterpiece.
Ingredients
Dough
2 sticks butter
½ cup cold water
2½ cups flour
½ teaspoon salt
½ cup flour for rolling out dough
Sugar Rub
¼ cup granulated sugar
½ teaspoon cinnamon
⅛ teaspoon cayenne pepper
&frac116; teaspoon nutmeg
Pie Filling
2 pounds (4 medium) Granny Smith or Golden Delicious apples cored, pleeled and chopped
1 tablespoon butter
6 tablespoons light brown sugar
3 tablespoons flour
1 tablespoon orange juice
1 tablespoon oil
Instructions
Cut butter into 1/2 inch cubes and refrigerate. Measure the water and refrigerate. In a small mixing bowl add flour and salt and mix well. Add in the cold butter until the mixture resembles coarse bread crumbs. Slowly add water, mixing continuously, until a dough ball is formed. Seal the dough ball in GLAD® ClingWrap and place in the refrigerator overnight.
Sprinkle countertop or cutting board generously with flour. Remove dough from the refrigerator and place onto the floured prep area, roll out to a thickness of 1/8 inch. Cut the dough into 5- to 6-inch diameter circles. Removing extra dough from the prep area to re-roll and make more pie shells. Immediately peal, lift and flip the dough circles making sure they don't stick. Yield should be 8 pie shells.
Preheat the grill using Kingsford® charcoal, until the internal temperature reaches 400°F.
In a small bowl add the sugar rub ingredients and mix well.
Generously coat the apple pieces with the sugar rub mix. Immediately place the apples on the grill grate for 2 minutes on each side, or until they caramelize. Remove the apples from the grill and dice them into 1/2 inch pieces. Place the apple and butter into a medium mixing bowl. When the butter melts, add the brown sugar and flour and mix well. Stir in orange juice.
Place 2 heaping tablespoons of apple filling onto the center of each circle of dough. Lightly moisten the edges of the dough with water. Fold the dough in half creating a half moon with apple filling. Gently press the pie edges together and crimp them with a fork.
Prep the charcoal grill grate by using a grill brush and to brush on a light coat of oil. Transfer the pies to the grill and cook over direct heat, uncovered, for 3 minutes on each side or until the dough turns a crispy golden brown. Remove from the grill and serve.
Credit: Recipe created by world champion pitmaster, Chris Lilly on behalf of Kingsford charcoal.