Mediterranean Quinoa Stuffed Grilled Peppers
Write a Review
Read Reviews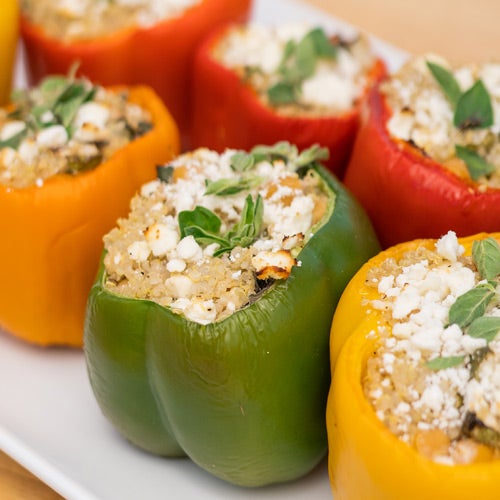 Yields:

4 Servings

Cook time:

20 minutes

Prep time:

10 minutes
Ingredients
4 cups cooked quinoa
8 peppers, insides and tops removed
1 large cucumber or 3 pickling cucumbers, sliced lengthwise into ¼-inch slices
1 (16-ounce) can garbanzo beans, rinsed and drained
8 ounces feta, crumbled
1 large bunch oregano
1 teaspoon salt
1 teaspoon fresh ground pepper
Instructions
Precook quinoa according to directions so it is ready to be mixed with the other ingredients for stuffing the peppers.
Load Masterbuilt Gravity Series 800 with Kingsford® Original Charcoal and set temp to 400°F.
Cut off the tops of the peppers and remove the membrane from the inside.
Slice cucumbers lengthwise.
Grill the cucumbers until they form nice char marks, about 5 minutes per side. Remove from the grill and chop up.
In a large bowl combine the quinoa, garbanzo beans, cucumber, oregano, feta cheese, salt, and pepper.
Spoon the mixture into the peppers. Top with extra feta cheese.
Let the peppers cook on warming rack of the Masterbuilt Gravity Series for 15 minutes or until the peppers are fork tender.
Garnish with oregano.
Credit: Recipe created by Robyn Lindars - Recipe Developer, Grilling Expert, Editor in Chief of Grill Girl Magazine and GrillGirl.com – on behalf of Kingsford and Masterbuilt