Malaysian Beef Rendang
Write a Review
Read Reviews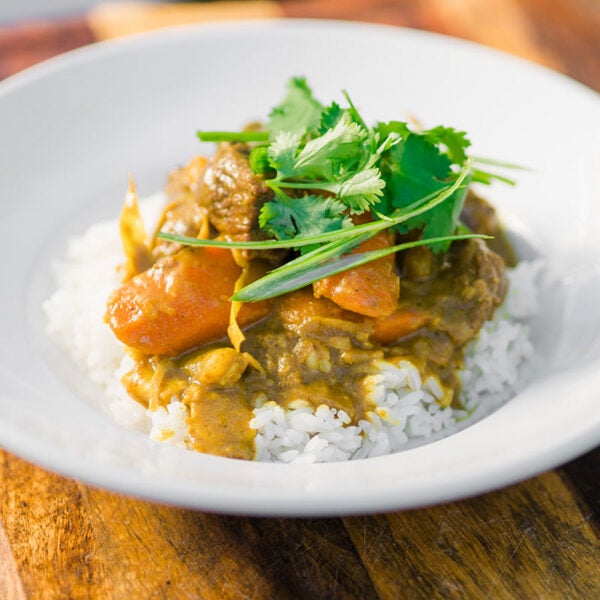 Yields:

4 Servings

Cook time:

30 minutes

Prep time:

5 minutes
Ingredients
2 to 3 pounds beef roast (cut into 2" sizes)
1 large yellow onion
1 large potato
2 large carrots
2 cans (13 oz.) coconut milk
1 cup beef stock
½ cup cooking wine
1 cup yellow curry
10 kaffir lime leaves
½ cup diced lemongrass
2 tablespoons vegetable oil
6 cloves garlic
½ cup sliced shallots
1 cup toasted coconut flakes
1 cinnamon stick
For Garnish:
2 ounces fresh cilantro
3 ounces sliced green onion
Instructions
Season beef roast with salt and pepper.
Wipe the grates with vegetable oil and brown all sides of the beef roast on the grill.
Remove the browned roast, set aside. Set the grill temperature to 350°F.
Sauté onions in remaining vegetable oil in dutch oven. Add shallots, lemongrass, garlic, onion and cook until the edges are brown and the pot is fragrant.
Deglaze dutch oven with white wine and stock. Add coconut milk and the browned beef
Roast.
Add yellow curry, kaffir lime leaves, toasted coconut, and the cinnamon stick. Braise at 350°F on the grill for 2 hours.
Add in the potatoes and carrots, continue to cook for another ½ hour or until meat is tender to your preferences. Skim any undesired fat from top of liquids. Serve with Jasmine Rice. Garnish with sliced green onion and cilantro.
Enjoy!
Credit: Recipe created by Howard and Anita Hsu of Sweet Auburn BBQ on behalf of Kingsford and Masterbuilt
For safe meat preparation, reference the USDA website.