Loaded Pork Sausage Sandwiches
Chicagoans love a loaded sausage sandwich, and this fired up ballpark beast is a beauty. It's a grilled pork sausage nestled in a hardy roll, piled high with sautéed veggies, and topped with cool tomatoes.
Loaded Pork Sausage Sandwiches
Write a Review
Read Reviews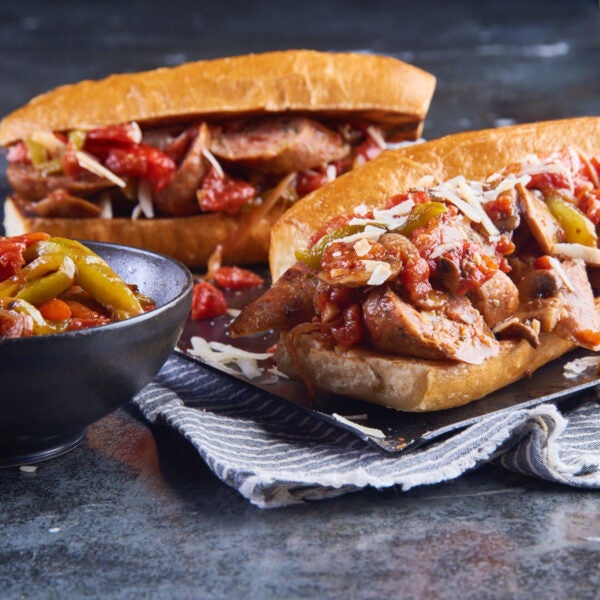 Yields:

6 Servings

Cook time:

40 minutes

Prep time:

15 minutes
Ingredients
2 green bell peppers, stemmed and seeded
1 red bell pepper, stemmed and seeded
3 tablespoons olive oil, plus more for brushing
2 pounds Italian sausages, hot or mild
1 yellow onion, sliced
2 cloves garlic, minced
½ pound button mushrooms, sliced
1 15-ounce can diced tomatoes
2 teaspoons dried Italian herb blend
1 tablespoon balsamic vinegar
½ teaspoon salt
¼ teaspoon pepper
6 hero or hard rolls, each about 6 to 8 inches long, split
¼ cup freshly grated Parmesan cheese (optional)
Instructions
Build a charcoal fire for direct grilling using Kingsford® Original Charcoal and preheat to 400°F.
Cut the peppers into quarters and brush them with some olive oil. Place the peppers on the grill, skin side down, for about 15 minutes until the skins are charred black.
Place the peppers in a bowl and cover with plastic wrap until they are cool enough to handle, about 10 minutes. Wipe away the charred skin from the peppers with paper towels, cut into thin strips and set aside.
Place the sausages on the grill and cook for around 15 minutes, turning the sausages throughout the cooking process. For your safety, please reference the USDA safe cooking temperatures. Set aside on a cutting board to rest.
Meanwhile, heat a large frying pan over medium-high heat. Add the 3 tablespoons olive oil and sauté the onions, garlic and mushrooms for 4 to 5 minutes.
Add the tomatoes, herbs, balsamic vinegar, and 1/2 teaspoon salt and 1/4 teaspoon pepper. Bring to a boil, lower to a simmer and stir in the sliced peppers. Heat through for a few more minutes.
Prepare the rolls by brushing cut sides with oil and grill (cut sides down) until the bread is lightly toasted. Cut the rested sausages diagonally into 3/4-inch thick slices and divide among the toasted rolls.
Top with the tomato-pepper mixture. Garnish with a sprinkling of Parmesan and serve.

Major League Baseball trademarks and copyrights are used with permission of Major League Baseball. Visit MLB.com.
For safe meat preparation, reference the USDA website.