Korean Bulgogi Tacos with Grilled Kimchi
Write a Review
Read Reviews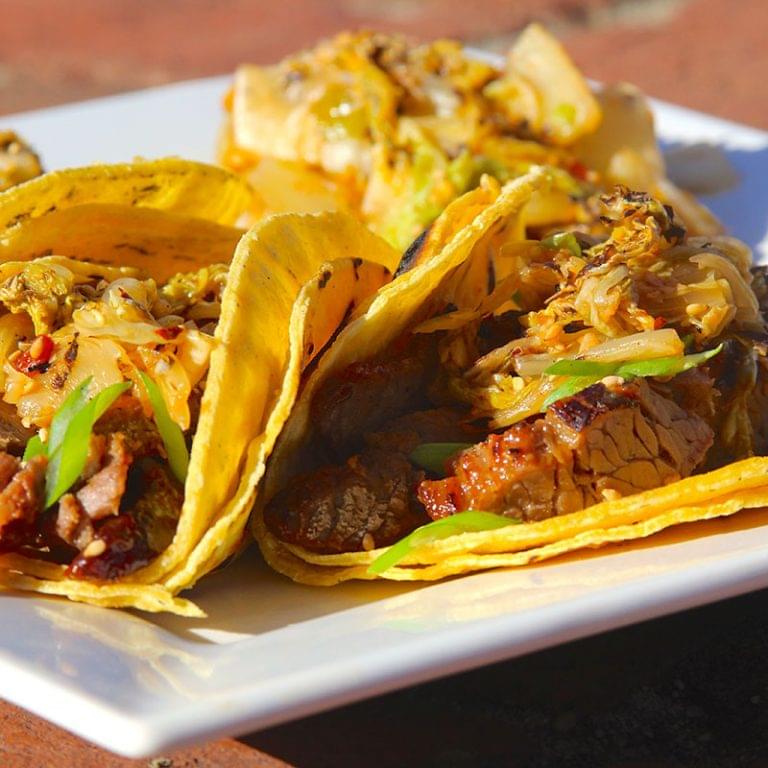 Yields:

6 Servings

Cook time:

10 minutes

Prep time:

15 minutes
Ingredients
2 pounds skirt steak
¼ cup soy sauce
2 tablespoons mirin
1 teaspoon grated ginger
1 teaspoon grated garlic
½ tablespoon sesame oil
1 tablespoon toasted sesame seeds
2 green onions (thinly sliced)
¼ teaspoon ground black pepper
Quick Kimchi (recipe follows)
corn tortillas
Quick Grilled Kimchi
1 head Napa cabbage
canola cooking spray
¼ cup kosher salt
4 cloves garlic (minced)
1 tablespoon chopped ginger
¼ cup Sriracha
½ cup rice wine vinegar
2 teaspoons sugar
2 tablespoons fish sauce
2 scallions (root removed and thinly sliced)
2 tablespoons chili flakes
2 tablespoons sesame seeds
Instructions
Prepare grill for high heat cooking, approximately 450°F. Cut cabbage lengthwise into quarters. Coat cabbage lightly with canola cooking spray then place on the grill and cook for approximately 2 minutes per side until slightly charred. Remove cabbage from the grill and chop into bite-sized pieces. Place chopped cabbage into a colander then toss with Kosher salt until the cabbage is well-coated. Place the colander in the sink or in a large bowl and let it sit for at least an hour to allow the cabbage to further soften.
Combine the remaining ingredients in a mixing bowl and blend well. Rinse the cabbage to remove excess salt then place into a large re-sealable bag along with the liquid mixture. Seal the bag while removing as much air as possible. Refrigerate for at least 30 minutes or overnight.
For safe meat preparation, reference the USDA website.