Kingsford Roasted Corn Dip
Write a Review
Read Reviews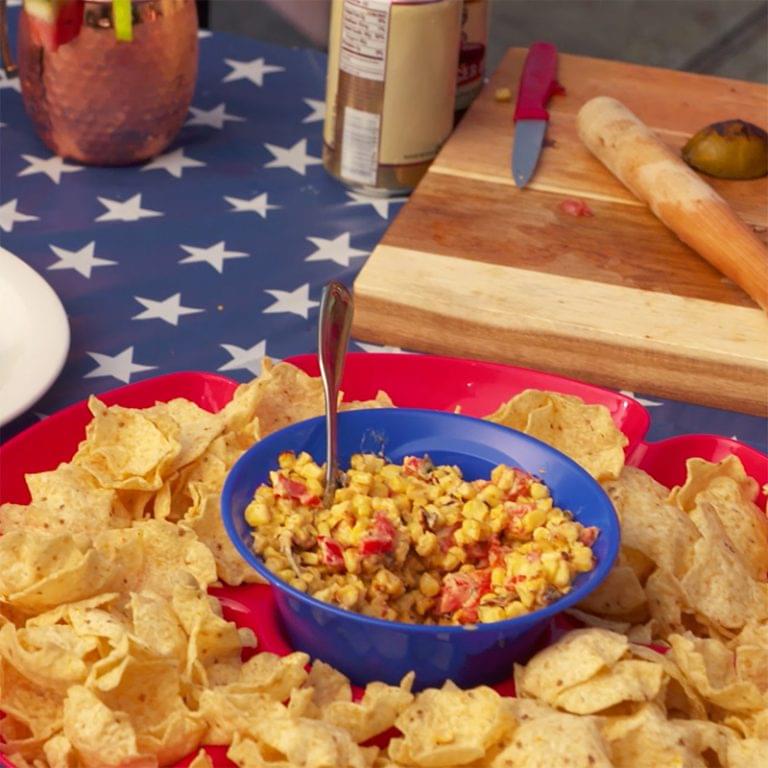 Ingredients
3 ears fresh sweet corn
1 medium red onion
1 red bell pepper
1 orange bell pepper
1 yellow bell pepper
1 block soft Gournay cheese with herbs and spices (Boursin)
black pepper and sea salt (to taste)
3 tbsp mayonnaise
3 tbsp vegetable oil (or high heat grilling non-stick spray)
Instructions
Fire up your Kingsford® charcoal, grill temp should be medium to high heat.
Coat sweet corn ears evenly with mayonnaise and sprinkle salt and pepper (add cayenne to kick up the heat).
Cut peppers in half, de-seed, coat lightly with oil or non-stick spray.
Grill corn and peppers until tender, flipping often to get a good char on all sides.
Once grilled to your liking, take vegetables off grill and place on counter to cool. Let cool to room temperature.
Slice kernels off cob then use the backside of your knife to
Dice remaining veggies.
Combine veggies with Gournay cheese, add salt and pepper to taste.
Serve with your favorite chips!