Israeli Eggplant Salad
Write a Review
Read Reviews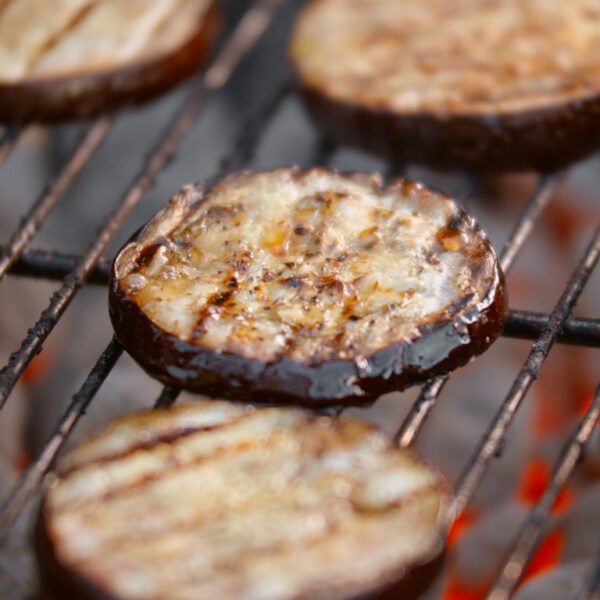 Yields:

6 Servings

Cook time:

8 minutes

Prep time:

20 minutes
This recipe can be easily doubled to feed a large crowd. Add the dressing a little it at a time — the eggplant soaks it up quickly so you may need the whole amount or you may need a little less, depending on how well-dressed you like it.
Ingredients
The eggplant
1 globe eggplant, cut into 1-inch thick slices
1 large red onion, cut into rounds
1 large red pepper, halved and seeded
3 tablespoons olive oil
kosher salt and ground black pepper, to taste
1 small English cucumber, cut into large dice
1 pound ripe tomatoes, cut into large dice
The dressing
3 tablespoons lemon juice
1 teaspoo Dijon mustard
kosher salt and ground black pepper, to taste
½ cup olive oil
½ cup chopped fresh parsley
Instructions
Build a charcoal fire for direct grilling using Kingsford® Charcoal and preheat to medium heat (about 400°F). Brush grate with oil.
Brush the eggplant, red onions and pepper with olive oil and season with salt and pepper. Arrange on the grill and cook, turning once until the eggplant is softened and the onions and peppers are slightly charred, about 6–8 minutes. Remove from the grill to a cutting board and let cool slightly. Once cool, roughly chop and add them to a serving bowl along with the cucumbers and tomatoes.
In a mixing bowl or mason jar, combine the lemon juice, mustard, salt and pepper and olive oil and whisk or shake to blend. Add the dressing to the salad and toss to coat. Garnish with fresh chopped parsley and serve right away or refrigerate until ready to serve — it will be good for at least 24 hours.