Herb Grilled Chicken
Write a Review
Read Reviews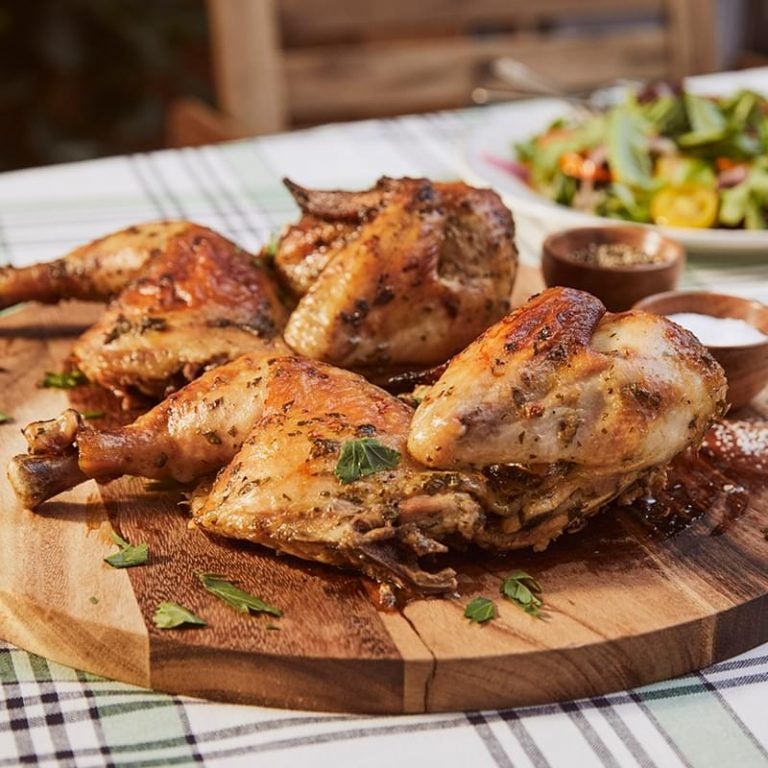 Yields:

4 Servings

Cook time:

2 h
Ingredients
Marinade
1 clove garlic minced
2 tablespoons chopped, fresh basil
2 tablespoons chopped, fresh oregano
2 tablespoons Dijon mustard
2 tablespoons fresh lemon juice
2 teaspoons salt
4 teaspoons brown sugar
4 teaspooons Worcestershire sauce
6 tablespoons extra-virgin olive oil
¼ cup chopped, fresh parsley
¼ cup peanut oil
½ teaspoon black pepper
2 split chicken halves (about 3 pounds)
Instructions
Marinade
Mix the marinade ingredients in a small bowl and whisk until well blended. Place the split chicken halves in a resealable plastic bag and pour in the marinade. Seal the bag and marinate the chicken in the refrigerator for 8 to 12 hours.
Build a charcoal fire for indirect cooking in an outdoor grill. When the temperature is approximately 375˚F, remove the chicken from the marinade and place the chicken halves, skin-side-up, in a 9-inch baking pan. Pour the remaining marinade over the chicken. Place the pan over indirect heat, cover the grill, and cook for 2 hours or until the internal temperature of each thigh reaches 175˚F. Baste with pan drippings before serving.
For safe meat preparation, reference the USDA website.