Heirloom Market Spicy Korean Pork Sandwich with KB Sauce
Write a Review
Read Reviews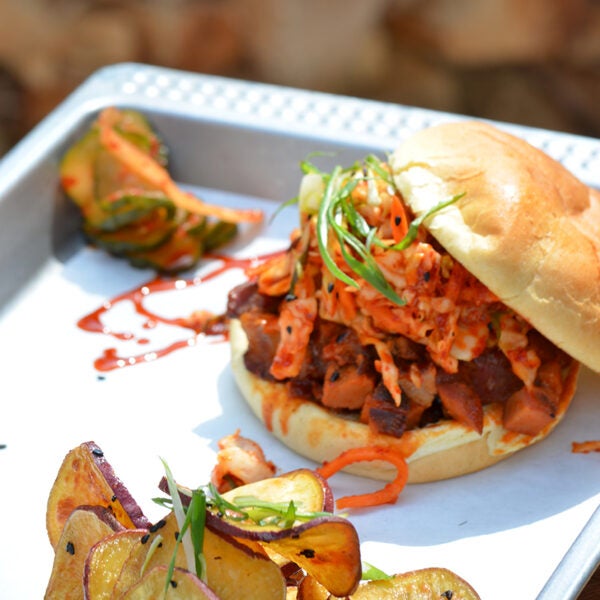 Yields:

4 Servings

Cook time:

15 h 55 m

Prep time:

1 h 15 m
Ingredients
KB Sauce
1 cup water
½ cup granulated sugar
⅓ cup firmly packed light brown sugar
3 tablespoons soy sauce
¾ cup lemon-lime soft drink
2 teaspoons gochujang (Korean red chile paste)
2 teaspoons sesame oil
Spicy Korean Pork
2 cups gochugaru (Korean red pepper flakes)
1 cup sweet chili sauce
1 cup Sriracha chili sauce
¾ cup KB sauce, plus more for serving
1 8-pound boneless pork butt, trimmed, cut into 1-inch thick pieces
½ cup sliced scallions
3 tablespoons toasted sesame seeds
wood chips
Kimchi Pickles
2 pounds Kirby cucumbers
1½ tablespoons kosher salt
1 cup Kimchi Base Sauce
½ cup thinly sliced onion
2 teaspoons granulated sugar
Kimchi Slaw
1 pound
2 cups
2 cups
½ cup
1 tablespoon
Kimchi Base Sauce
6 cloves
1¾ water
1 coarse gochugaru (Korean red pepper flakes)
½ granulated sugar
¼ table salt
1 freshly ground black pepper
Instructions
Stir together the gochugaru, sweet chili sauce, Sriracha and KB sauce in a large bowl. Add the pork; toss to coat. Cover and chill for 8 hours or overnight.
Combine the water, sugars and soy sauce in a medium saucepan; bring to a boil over high, stirring occasionally. Cool to room temperature, about 15 minutes. Stir in the soft drink, gochujang, and sesame oil. Store in an airtight container in the refrigerator for up to 1 week.
Build a two-zone charcoal fire for both direct and indirect cooking using Kingsford® Charcoal by situating the coals on only one side of the grill, leaving the other side void. Bring internal temperature to 225°F and maintain temperature for 15 to 20 minutes. Place wood chips on coals.
Remove the pork from marinade; discard marinade. Pat pork dry.
Arrange the marinated pork in a single layer on the grill over indirect heat. Cover with lid. Smoke the pork at 225°F, until pork is tender and a meat thermometer inserted into the thickest portion registers at least 145°F, about 4 hours.
Remove the pork from the grill; let stand for 10 minutes. Cut into small cubes. Drizzle with additional KB sauce. Sprinkle with the scallions and sesame seeds.
Cut the cucumbers into ¼-inch-thick slices using a mandolin. Combine the sliced cucumbers and salt in a bowl; let stand 2 hours. Drain and rinse with cold running water; pat dry.
Stir together the cucumbers, Kimchi Base Sauce, onion, and sugar Serve immediately, or store in an airtight container in the refrigerator for up to 1 week.
Combine the fresh cabbage, scallions, carrots, base sauce, and rice vinegar in a large bowl. Serve fresh.
Process the garlic and ½ cup of the water in a blender until smooth, stopping to scrape down sides as needed.
Whisk together gochugaru, sugar, salt, black pepper, and remaining 1¼ cups water until sugar dissolves. Add garlic mixture. Refrigerate in an airtight container up to 2 months. Makes about 2½ cups.
Plate the pork on a potato bun with kimchi slaw, kimchi pickles and KB sauce.
Cody Taylor and Jiyeon Lee Tip:
Cutting up the pork butt allows maximum surface area to marinate overnight in the gochujang.
Credit: Recipe created by Cody Taylor and Jiyeon Lee on behalf of Kingsford Charcoal
For safe meat preparation, reference the USDA website.