Grilled Walleye Sandwiches
The icy waters of Minnesota are home to some of the most coveted freshwater fish in the country, so it's no wonder that the Twin Cities are known for their walleye sandwiches. Of course, our version is flame grilled, to let those fresh-caught flavors shine.
Grilled Walleye Sandwiches
Write a Review
Read Reviews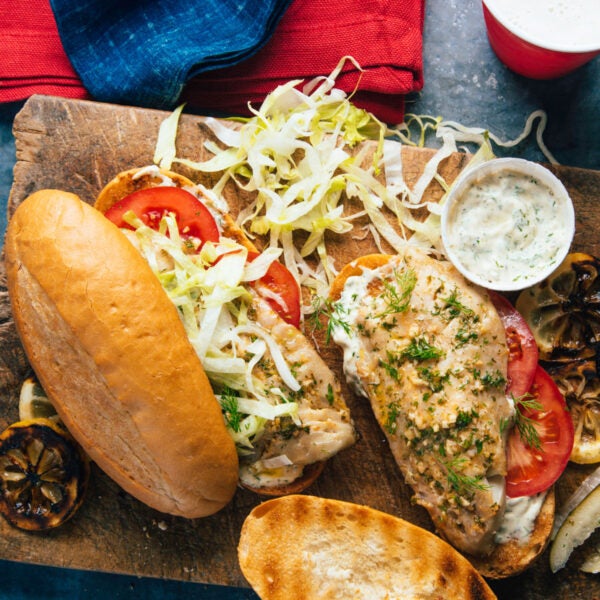 Yields:

4 Servings

Cook time:

15 minutes

Prep time:

20 minutes
Ingredients
½ cup mayonnaise
2 tablespoons finely chopped dill pickle
2 teaspoons grated lemon zest, divided
3 tablespoons lemon juice, divided
1 teaspoon Dijon mustard
2 tablespoons snipped fresh dill or 2 teaspoons dried dill, divided
4 cloves garlic, minced, divided
3 tablespoons olive oil, divided
½ teaspoon kosher salt
¼ teaspoon freshly ground black pepper
4 boneless, skinless walleye fillets (about 1½ pounds)
hot sauce of choice, to taste
3 or 4 lemons, thinly sliced
4 soft sub or hot dog rolls
1 cup dill pickle slices
2 cups shredded iceberg or romaine lettuce
2 tomatoes, sliced 1/4-inch thick
Instructions
To make the tartar sauce, whisk the mayonnaise, chopped dill pickle, 1 teaspoon lemon zest, 1 tablespoon lemon juice, Dijon mustard, 1 tablespoon fresh or 1 teaspoon dried dill, half of the garlic, and 1 tablespoon olive oil in a small bowl until smooth.
Season with 1/2 teaspoon salt and 1/4 teaspoon pepper. Cover and refrigerate until ready to use.
Using Kingsford® Original Charcoal, prepare the grill for direct cooking and preheat to 350°F.
In a small bowl, combine the remaining lemon zest and juice, dill, garlic and olive oil. Add hot sauce to taste. Set aside.
Season the fish fillets on both sides with salt and pepper.
Grease the grill grates and place directly over the prepared medium coals. Slightly overlap the lemon slices on the grill grates in a pattern to accommodate the fish fillets.
Place the fish directly on the lemon slices. Brush with the lemon-dill mixture. Cover the grill and cook for 10 to 12 minutes or until fish flakes easily when tested with a fork — don't turn the fish. For your safety, please reference the USDA safe cooking temperatures.
To assemble, lightly toast and butter the rolls. Spread the tartar sauce on both sides of each roll and place one fish fillet into each roll.
Top with pickle slices, shredded lettuce and tomato. Serve immediately.

Major League Baseball trademarks and copyrights are used with permission of Major League Baseball. Visit MLB.com.
For safe meat preparation, reference the USDA website.