Grilled Tex Mex Tacos with Fire Roasted Salsa
Write a Review
Read Reviews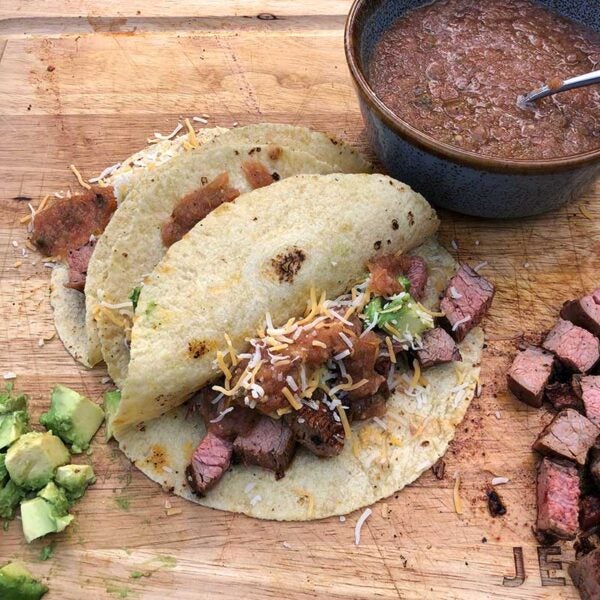 Yields:

6–8 Servings

Cook time:

35 minutes

Prep time:

15 minutes
Ingredients
For the Salsa
5 Roma tomatoes
3 jalapeño peppers, or serrano peppers if you prefer more heat
1 onion, quartered
2–3 cloves garlic
1 lime
salt to taste
For the Tacos
12 flour tortillas
3–4 pounds skirt, flap, bavette or flank steak
3–4 tablespoons Hardcore Carnivore Meatchelada (or your preferred taco/fajita seasoning)
1 avocado, diced
1 bunch cilantro, chopped
1 cup shredded Mexican-style cheese
Instructions
Build a charcoal fire for direct grilling and preheat the grill to 350°F.
Start by making the salsa: place the tomatoes, peppers and onion over the hot coals, and grill turning occasionally for 10–15 minutes. The skin should blister and the vegetables should soften. Remove ingredients from the grill, allow to cool. Peel off burnt skin from peppers, onion and tomatoes, and discard. Remove the stems and seeds from the peppers and discard. Throw the garlic, onions, tomatoes and peppers into a blender and blitz until smooth. Add the juice of a fresh lime, and salt to taste.
Increase the heat of the grill to 600°F. Season the steak well on both sides using the your choice of taco seasoning, then sear on the hot grates, flipping the steak every 30–45 seconds. Flip a total of 3–4 times, then turn the grill down to 300°F to allow the steak to finish cooking through. Cook until steak reaches an internal temperature of 135 to 140°F, about 15 minutes. If you cannot turn the grill down, just keep flipping for a total of 7 minutes. Remove steak and allow to rest, covered with foil, about 10 minutes.
While your steak is resting, using the remaining heat of the grill to warm and char the flour tortillas on both sides. They should only need 15–20 seconds per side to heat and develop some color.
To assemble the tacos, start by cutting the steak into small bite sized cubes. Grab a tortilla, layer in a generous amount of steak. Spoon over the fire-roasted salsa, some fresh avocado, cilantro and a sprinkle of cheese — after all, it's the cheese that makes it Tex Mex!
Credit: Recipe created by Hardcore Carnivore Jess Pryles on behalf of Kingsford Charcoal
For safe meat preparation, reference the USDA website.