Grilled Rocky Mountain Oyster Po'Boys
Sorry seafood lovers, Rocky Mountain oysters are actually animal testicles. Calf and bull are the most popular, although lamb, duck and buffalo varieties will do just fine. We like the smaller calf testicles for our twist on the "oyster" po'boy.
Grilled Rocky Mountain Oyster Po'Boys
Write a Review
Read Reviews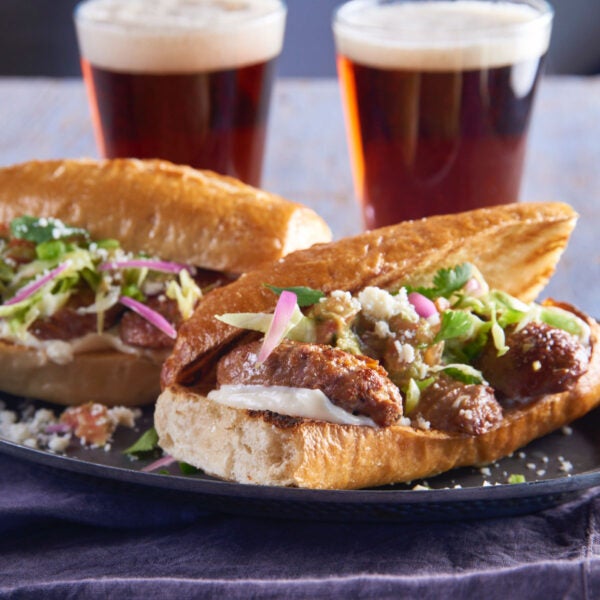 Yields:

4 Servings

Cook time:

20 minutes

Prep time:

30 minutes
Pitmaster note: Rocky Mountain oysters actually refer to calf or bull (or lamb, duck or buffalo) testicles. To order them, talk to your local butcher. Calf testicles are the easiest to work with (and many feel most palatable), as they are the smallest.
Ingredients
2 pounds Rocky Mountain Oysters (calf testicles)
2 cups beer* (dark)
kosher salt, to taste
ground black pepper, to taste
2 large avocados, peeled and pitted
2 large tomatoes, diced
¼ cup lime juice, divided
3 cups shredded green cabbage
½ small onion, julienned
½ jalapeño, minced
5 tablespoons extra-virgin olive oil, divided
4 long sandwich rolls, lightly toasted
1/3 cup mayonnaise
½ cup Cotija cheese
fresh cilantro, for garnish (optional)
Instructions
Using a sharp knife, gently peel the membrane off the Rocky Mountain oysters, and split in half lengthwise. Cover with the beer and let sit for one hour.
While the oysters are soaking, mash the avocados. Stir in the diced tomatoes, 1 tablespoon of the lime juice and plenty of salt to taste. Set aside.
In a separate bowl, make the slaw. Combine the cabbage, onion, jalapeño, 2 tablespoons of lime juice and 2 tablespoons olive oil. Season to taste with salt and pepper and set aside.
Using Kingsford® Original Charcoal, build a charcoal fire for direct grilling, and preheat to 350°F. Oil the grates to prevent sticking.
Remove the oysters from the beer, dry, and place in a bowl. Toss in the remaining olive oil. Season to taste with salt and pepper.
Place on the grill and cook until both sides are slightly charred and the insides are cooked through, about 8–10 minutes per side. For your safety, please reference the USDA safe cooking temperatures. Remove and sprinkle with remaining lime juice.
To build the sandwiches, lightly toast the sandwich rolls and spread an equal amount of mayonnaise on the inside of each. Divide the Rocky Mountain oysters between the rolls, and top with the slaw and guacamole.
Sprinkle with Cotija cheese, and garnish with cilantro, if desired. Serve immediately.

Major League Baseball trademarks and copyrights are used with permission of Major League Baseball. Visit MLB.com.
For safe meat preparation, reference the USDA website.