Grilled Porktacular Pizza
Write a Review
Read Reviews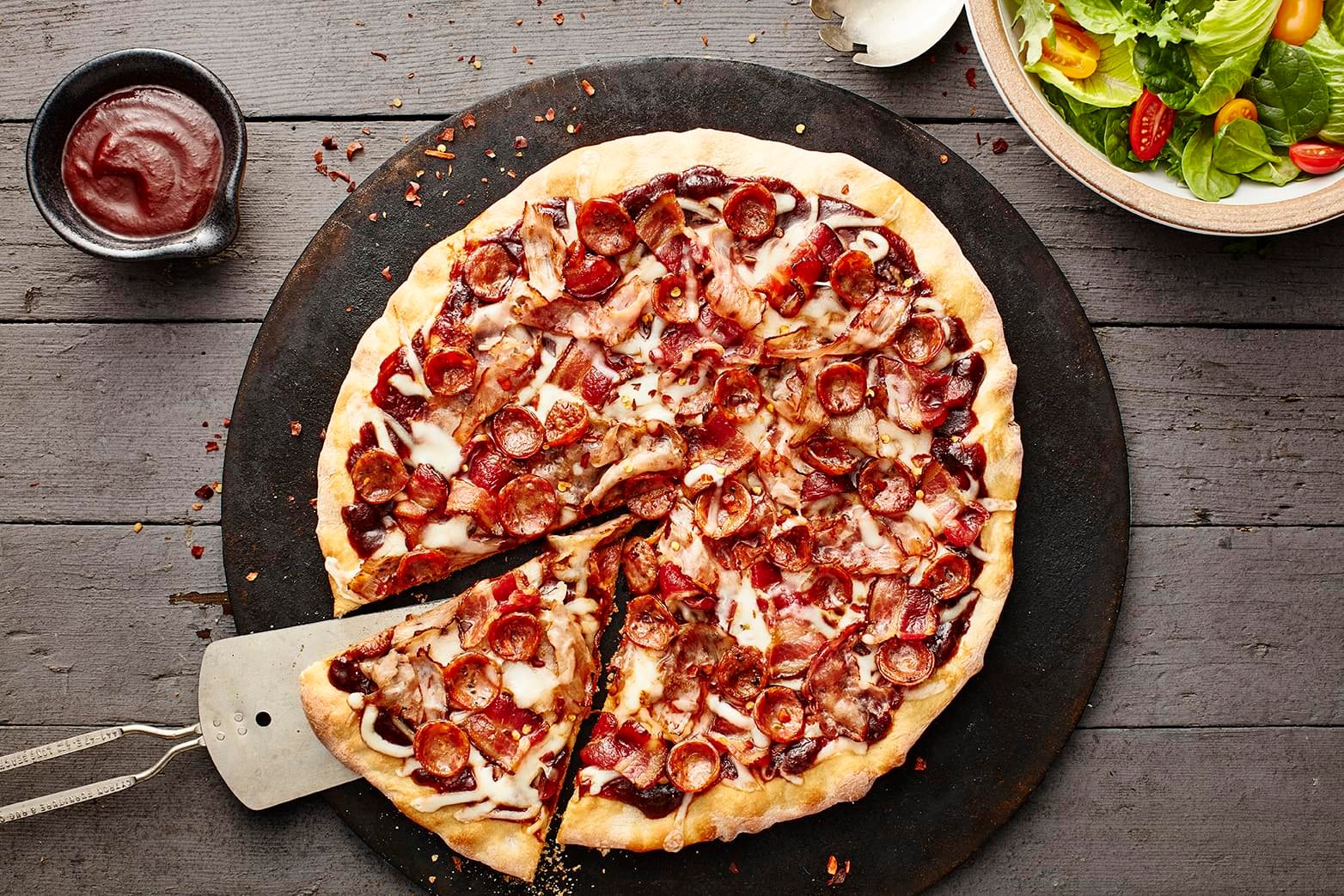 Yields:

2-3 Servings

Cook time:

10 minutes

Prep time:

1 hour 30 minutes
Ingredients
Dough
1 cup warm water
1 tsp sugar
1 packet active dry yeast
2½ cups flour
1 tsp Kosher salt
4 Tbsp olive oil
Pizza
Kingsford® Original Smoked Hickory BBQ Sauce
8 ounces shredded mozzarella cheese
4 slices bacon, cooked and roughly chopped
¼ cup roughly chopped ham
4 ounces thinly sliced smoked pork sausage
Additional Tools
Stand mixer with dough hook
KettlePizza Oven insert for grills with pizza stone and pizza peel
Instructions
Combine sugar, warm water and yeast in the bowl of a stand mixture fitted with a dough hook and let it stand for 5-10 minutes until foam starts to form on the top. Add 1 cup of flour along with the salt and olive oil to the stand mixer bowl and turn the mixer on low. Continue to add flour until the dough forms in to ball. Remove the dough from the mixer and place in a large greased bowl. Cover with a moist towel and allow the dough to sit for approximately 1 hour until it doubles in size. Note: Alternatively you can use fresh premade dough from your local grocer or pizza shop.
Prepare KettlePizza Oven Insert according to manufacturer's instructions.
Place the dough on a lightly dusted surface and begin to roll it out in to a 14-16 inch circle. Lightly flour a pizza peel and slide it under the dough.
Spoon a thin layer of Kingsford® Original Smoked Hickory BBQ Sauce over the top of the dough. Add a layer of mozzarella cheese followed by the bacon, ham, and smoked sausage.
Slide the pizza onto the pizza stone and allow the pizza to cook for approximately 6 to 8 minutes until the crust is nicely browned and the cheese has begun to bubble.
Remove pizza from the grill, slice, and serve.
For safe meat preparation, reference the USDA website.