Grilled Lamb Chop Sandwich with Roasted Garlic and Rosemary Sauce
Write a Review
Read Reviews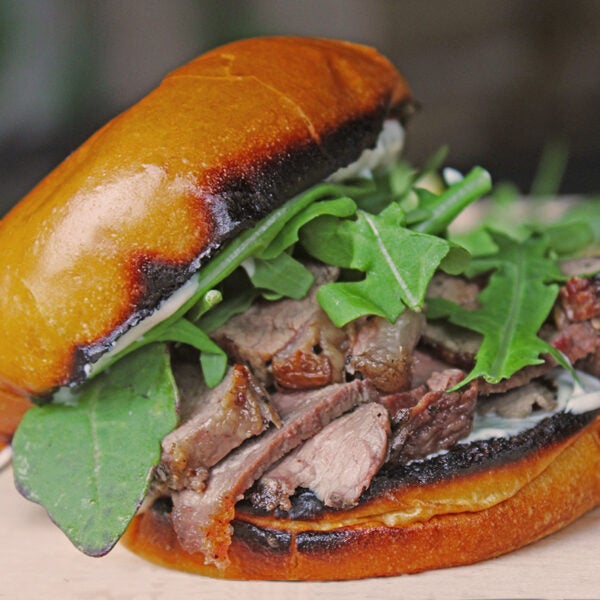 Yields:

3–4 Servings

Cook time:

20–25 minutes

Prep time:

15 minutes
Ingredients
2 pounds lamb chops
drizzle of olive oil
2 tablespoons coarse kosher salt
2 tablespoons coarse black pepper
2 tablespoons Hom's Original All-Purpose Rub
1 handful arugula (or as desired)
3–4 buns
For the Sauce
1 clove garlic (or to taste)
drizzle of olive oil
½ teaspoon salt
1 tablespoon paprika
½ teaspoon coarse black pepper
1 bundle rosemary
2 tablespoons mayonnaise (optional)
1 teaspoon lemon juice
Instructions
First, load Kingsford® Charcoal into Masterbuilt Gravity Series 560 and set the temperature to 400°F.
Place the lamb chops on a sheet pan and cover with olive oil. Next, add salt and pepper and finish by seasoning the meat with seasoning salt. Place the meat on the grill and do not remove until you reach an internal temperature of 145°F. Once the meat has been removed and rested, remove from the bone and slice against the grain.
For the sauce, place garlic on a piece of aluminum foil, drizzle with olive oil and sprinkle ½ teaspoon of salt. Fold the foil and seal. Bake at 400°F for 35 minutes or until the garlic is soft. Squeeze the pulp from the garlic in a food processor, add the mayo, minced rosemary and lemon juice. Process until smooth and then add the remaining salt and pepper.
Once sauce is done, toast your bun on the grill, and spread your roasted garlic and mayo sauce on both sides. Add your sliced meat, top it off with some arugula and enjoy.
Credit: Recipe written by Matt Horn on behalf of Kingsford Charcoal
For safe meat preparation, reference the USDA website.