Grilled Garlic, Onion & Paprika-Infused Strip Steak with Kingsford® Signature Flavor Briquets
Write a Review
Read Reviews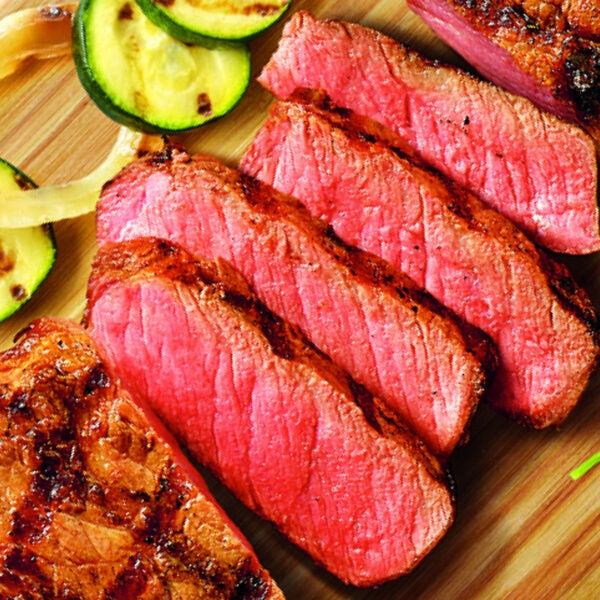 Yields:

2 Servings

Cook time:

25 minutes

Prep time:

20 minutes
Ingredients
2 (12-ounce) strip steaks, at least 1-inch thick
2 teaspoons Kingsford® Original Seasoning OR 2 teaspoons kosher salt
Instructions
Remove steaks from the fridge 20 minutes before cooking.
Prepare a grill for two zone cooking by filling a charcoal chimney with Kingsford® Signature Flavor Briquets with Garlic, Onion and Paprika, and light a firelighter or newspaper beneath it. Wait for about 15 min and look for ash on top layer of briquets and/or a visible flame above the chimney. Pile the hot coals into one side of your grill, leaving the other side void to create a hot and a cool zone. Replace grill grate and heat grill to 375°F.
Season the steaks well on both sides with either the Kingsford® Original Seasoning or kosher salt.
Place the steaks onto the indirect or cool side of the grill, and close the lid to allow maximum absorption of the Flavor Boosters.
Cook the steak over indirect heat for about 20–25 minutes, or until the internal temperature reaches 135°F for medium rare.
To finish and add grill marks, lift the grate and use a poker or tongs to stoke the coals and increase the heat. Replace the grill grate and place the steaks directly over the coal side of the grill for one minute, then make a quarter turn (45°) and cook for one more minute to create the cross-grill marks.
Allow the steak to rest for 5–10 minutes before serving.
Credit: Recipe created by Hardcore Carnivore Jess Pryles on behalf of Kingsford® Charcoal.
For safe meat preparation, reference the USDA website.