Grilled Cuban Sandwiches
Although Floridians will always debate the Cuban Sandwich's birth city, nobody can deny the deliciousness of this culinary masterpiece. It became the lunch option of choice for Cuban cigar workers throughout Florida over a century ago, and was designated the Signature Sandwich of Tampa in 2012.
Grilled Cuban Sandwiches
Write a Review
Read Reviews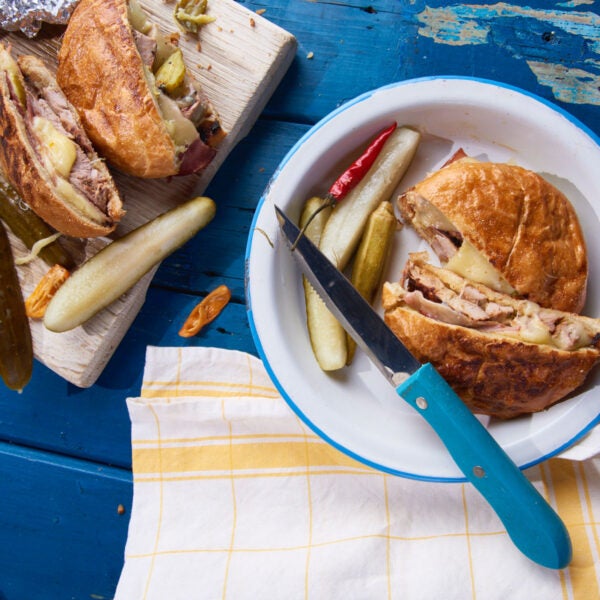 Yields:

4 Servings

Cook time:

16 minutes

Prep time:

20 minutes
Ingredients
1 pound pork tenderloin
4 cloves garlic, finely chopped, divided
1 lime, zested and juiced
1 small orange, zested and juiced
1 teaspoon ground cumin
1 teaspoon dried oregano
6 tablespoons Dijon mustard, divided
¾ teaspoon salt
½ teaspoon pepper
¾ cup mayonnaise
4 small ciabatta loaves or Kaiser rolls
8 thin slices Swiss cheese
1 cup bread and butter pickle slices
8 thin slices deli ham
12 slices Genoa salami
Instructions
Cut the pork tenderloin in half crosswise to create two 4- to 5-inch-long pieces. Make a vertical cut down the middle of each piece, about 3/4 of the way through, opening the pieces like a book.
Lay pork pieces cut-side down on a piece of plastic wrap, cover with more plastic wrap and lightly pound the pork to about 1/2-inch thick with a meat mallet.
Add the pork, half the chopped garlic, lime and orange zest and juice, cumin, oregano, 3 tablespoons mustard, 3/4 teaspoon salt and 1/2 teaspoon pepper to a quart- or gallon-size resealable bag. Marinate the pork in the refrigerator for 30 minutes.
Using Kingsford® Original Charcoal, build a fire for direct grilling and preheat to 350°F. Oil the grates to prevent sticking.
Transfer pork to a plate, shaking off excess marinade. Discard marinade. Grill until charred on both sides, 4 to 5 minutes per side for medium doneness. For your safety, please reference the USDA safe cooking temperatures.
Transfer the pork to a cutting board, and let rest for 5 minutes. Slice on slight angle into 1/8-inch-thick slices.
In a small bowl combine the remaining chopped garlic and 3 tablespoons mustard with mayonnaise and whisk together. Slice the ciabatta or rolls in half horizontally and spread the mayo mixture on both sides of the bread.
Place a slice of Swiss cheese on each bottom section and top with 3 to 4 slices of the pork tenderloin, 3 to 4 pickle slices, 2 slices of ham, 3 slices of salami, a second slice of Swiss cheese, and the top half of the roll. Wrap sandwiches in a double layer of aluminum foil.
Place foil-wrapped sandwiches on the grill and place a cast iron skillet or brick on top of each sandwich. Grill about three minutes per side while pressing down on the skillet or brick, until the cheese has melted and the bread is browned and crunchy.
Unwrap sandwiches, cut in half, and serve immediately.

Major League Baseball trademarks and copyrights are used with permission of Major League Baseball. Visit MLB.com.
For safe meat preparation, reference the USDA website.