Grilled Chicken Yakitori
Write a Review
Read Reviews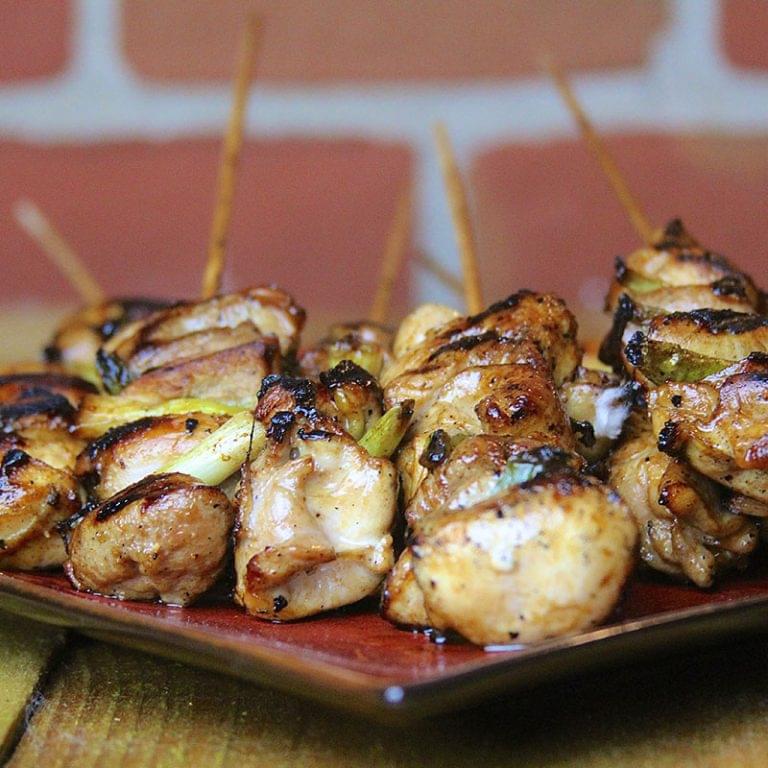 Yields:

8–10 Servings

Cook time:

10 minutes

Prep time:

15 minutes
Ingredients
¼ cup soy sauce
2 tablespoons canola oil
¼ cup rice wine vinegar
¼ cup mirin
2 cloves garlic (minced)
1 teaspoon minced ginger
2 teaspoons hoisin sauce
1 tablespoon honey
2 pounds boneless, skinless chicken thighs
4 green onions (cut into 1½-inch pieces)
Additional Tools
wooden skewers (soaked in water for at least 1 hour)
Instructions
Combine soy sauce, canola oil, rice wine vinegar, mirin, garlic, ginger, hoisin sauce and honey in a mixing bowl and blend well until completely combined. Cut chicken thighs into bite sized pieces then place in a resealable bag along with the marinade. Seal the bag while removing as much air as possible. Refrigerate for at least four hours.
Prepare grill for high heat cooking, approximately 450°F. Thread 4–5 pieces of chicken onto each skewer alternating with green onion pieces. Place skewers on the grill and cook for approximately 10 minutes while turning frequently until lightly charred and the chicken is cooked through (165°F internal temperature). Remove and serve immediately.
For safe meat preparation, reference the USDA website.