Grilled Brioche French Toast with Maple Bourbon Syrup
Write a Review
Read Reviews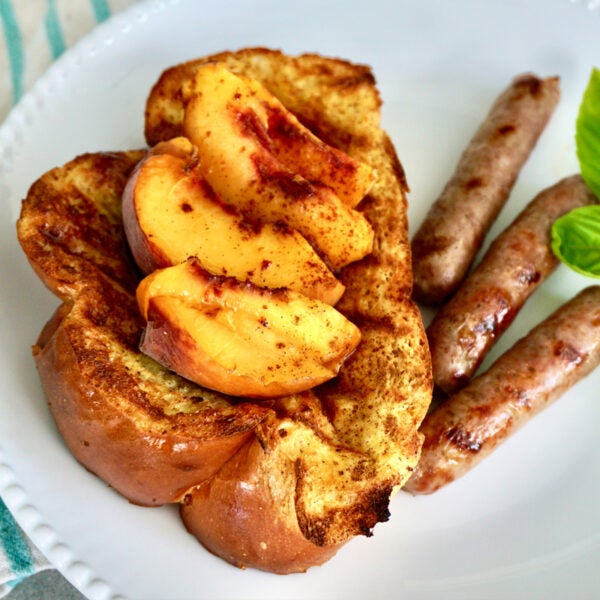 Yields:

4 Servings

Cook time:

10–15 minutes

Prep time:

15 minutes
Ingredients
4 eggs
½ cup milk
1 teaspoon cinnamon
1 teaspoon vanilla extract
1 tablespoon vegetable oil for oiling the grill grates
8 pieces thick-cut brioche, about 1-inch thick each
8 turkey or pork breakfast sausage links
4 peaches, sliced in half, pits removed
Maple Bourbon Syrup
¾ cup maple syrup
1 tablespoon bourbon
1 teaspoon cinnamon
1 tablespoon butter
Instructions
Combine eggs, milk, cinnamon and vanilla extract in a large mixing bowl.
Next, prepare a charcoal grill for direct and indirect cooking zones aiming for a grill temperature of 375–400°F.
While your coals are warming up, place the maple syrup, bourbon, cinnamon and butter in a saucepan and simmer on low for 5 minutes to let the ingredients combine.
Once you are back at the grill, dip a paper towel into the cooking oil using the tongs and coat the grill grates. This will ensure the French toast does not stick. Submerge the bread slices into the egg mixture and then prepare to grill them. Grill the French toast until char marks form on one side, then flip and grill the other side. This should take about 2–3 minutes per side. While grilling the French toast, grill the peaches and breakfast sausage until char marks form. Sausage is ready to pull off the grill when the internal temp has been reached (145°F for pork and 165°F for turkey).
Serve the grilled French toast with the grilled peaches, sausage and a nice drizzle of the maple bourbon syrup at the end.
Recipes containing alcohol are intended for those 21 years of age and older only. Please drink responsibly.
For safe meat preparation, reference the USDA website.