Greek Kontosouvli
Write a Review
Read Reviews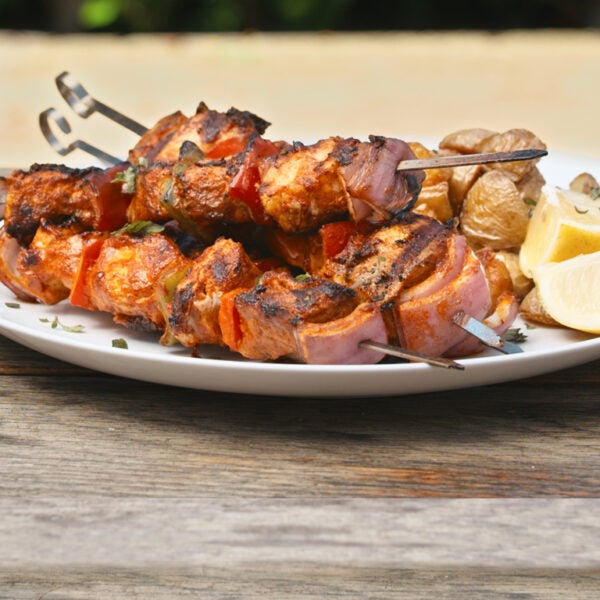 Yields:

12 Servings

Cook time:

10–12 minutes

Prep time:

30 minutes
Ingredients
2 2½ pound pork loin roast
½ onion
2 cloves garlic
2 teaspoons paprika
1 tablespoon dried oregano
1 lemon, juiced
1 tablespoon Dijon mustard
4 tablespoons olive oil
1 large red pepper, cut into 24 1-inch pieces
½ large green pepper, cut into 12 1-inch pieces
½ large red onion, cut into 2-inch pieces (use the outer layers to make 24 pieces)
12 wooden skewers
kosher salt and ground black pepper, to taste
Instructions
Cut the pork into 48 1 to 1½-inch cubes and set aside in a mixing bowl.
Place the onion, garlic, paprika, oregano, lemon juice, mustard and olive oil into a blender. Season generously with salt and pepper and blend until mostly smooth (it's ok for it to look a little chunky from the onions). Pour over the pork and toss to coat well. Cover and refrigerate for at least 2 hours, up to overnight.
When ready to grill, build a charcoal fire for direct grilling using Kingsford® Charcoal and preheat the grill to 375°F. On each skewer, thread ingredients in the following order: red onion, pork, red pepper, pork, green pepper, pork, red pepper, pork, red onion. Place on the grill and cook, turning occasionally, until pork is cooked through, about 10–12 minutes. Sprinkle with oregano and serve with roasted potatoes and lemon wedges. Enjoy!
For safe meat preparation, reference the USDA website.