Fish Tacos with Grilled Fish and Radish with Avocado
Write a Review
Read Reviews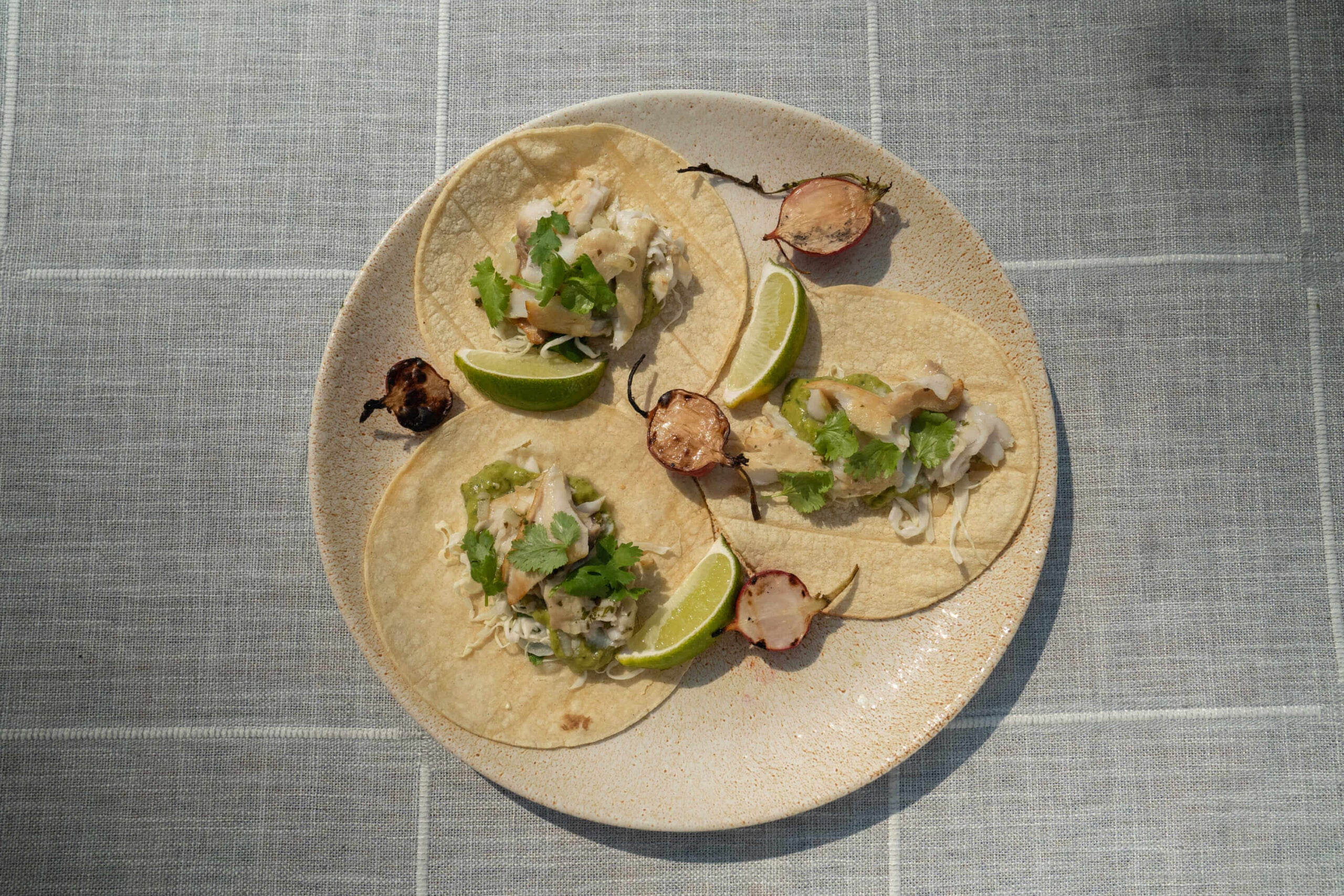 Yields:

4 Servings

Cook time:

30 minutes

Prep time:

1 h
Ingredients
SALSA VERDE
3 tablespoons olive oil
2 garlic cloves, chopped
2 jalapeños, chopped
2 poblano chile peppers, seeded and chopped
2 tomatillos, husked, rinsed and chopped
1 avocado, seeded, peeled and sliced
1 teaspoon drained capers
2 teaspoons chopped fresh mint
2 teaspoons chopped fresh cilantro
2 teaspoons chopped fresh parsley
juice from 2 limes
2 teaspoons red wine vinegar
TACOS
2 medium white onions, chopped
½ cup fresh cilantro, chopped
¼ cup olive oil
5 tablespoons fresh lime juice (about 2 to 3 limes), divided
3 tablespoons fresh orange juice
2 garlic cloves, minced
1 teaspoon dried oregano—preferably Mexican
1 pound tilapia, striped bass, or sturgeon fillets
1 cup mayonnaise
1 tablespoon milk
8 red radishes, cut in half with a bit of green still attached
Corn tortillas
2 avocados, seeded, peeled and sliced
½ small head of green cabbage, cored, thinly sliced
Lime wedges, for garnish
Instructions
FOR THE SALSA VERDE
In a pan, over medium heat, add the olive oil, garlic, and jalapeños and sauté until golden, then add the poblano chiles and tomatillo and sauté for another 5 minutes.
Scrape the cooked vegetables into a food processor. Add the avocado, capers, mint, cilantro, parsley, lime juice and vinegar and process until almost smooth. Scrape the salsa into a bowl, cover and refrigerate until you are ready to serve.
FOR THE TACOS
Combine 1 cup of the onions, ¼ cup of the chopped cilantro, olive oil, 3 tablespoons lime juice, the orange juice, garlic, and oregano in a medium bowl to make a marinade.
Season the fish with salt and pepper. Spread half of the onion mixture over the bottom of an 7x11-inch glass baking dish. Arrange the fish on top and spoon the remaining onion mixture over the fish. Cover and refrigerator for 1 hour.
Whisk the mayonnaise, milk and remaining 2 tablespoons of lime juice in a small bowl and refrigerate.
Preheat a charcoal grill to 425ºF and brush the grates with oil.
Toss the radishes in a bowl with olive oil, salt and pepper. Transfer to the grill and cook for 3 minutes on the first side. Turn and cook for another 2 minutes and transfer to a bowl. Set aside
Scrape the marinade off the fish and grill until it is just opaque in the center and has reached an internal temperature of 145ºF. This will take about 3 to 5 minutes per side. Transfer to a serving platter. Warm the tortillas on the grill (getting some marks is good).
To serve, use two forks to break up the fish into chunks. Spread lime mayonnaise onto tortillas, top with fish, remaining chopped onion and cilantro, avocados, and cabbage. Serve with lime wedges, grilled radishes and salsa verde.
Credit: Recipe created by Chef Marcus Samuelsson on behalf of Kingsford. Full IGTV Video can be found on @Marcuscooks
For safe meat preparation, reference the USDA website.