Fiery Korean Beef Skewers
Write a Review
Read Reviews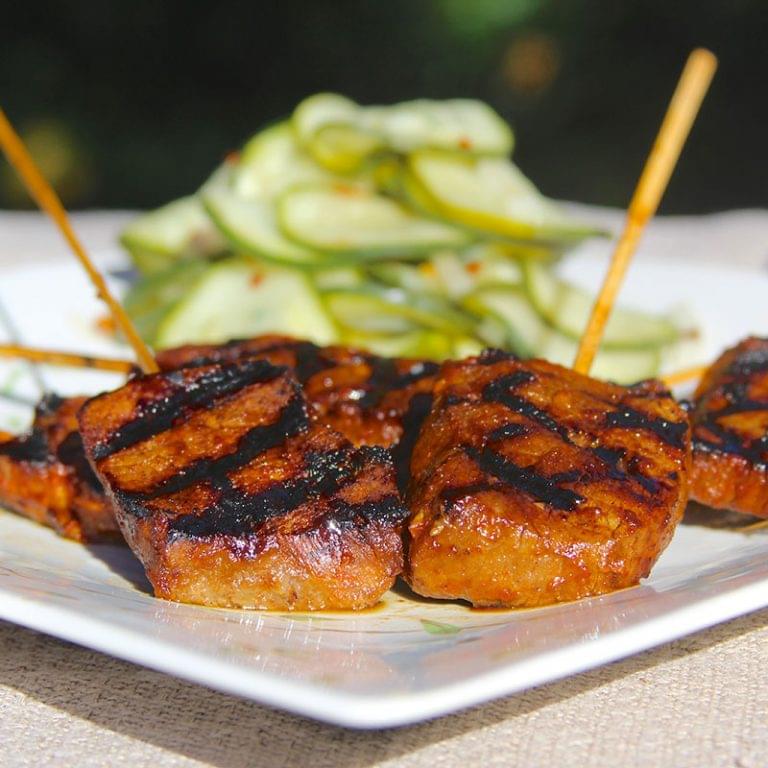 Yields:

12–15 Servings

Cook time:

8 minutes

Prep time:

15 minutes
Ingredients
¼ cup canola oil
3 tablespoons Korean red pepper paste
2 tablespoons soy sauce
3 cloves garlic (minced)
2 teaspoons ginger
2 teaspoons grated red pepper flakes
11 teaspoon sesame oil
pound sirloin (cut into ½-inch thick strips)
wooden skewers (soaked in water for at least 1 hour)
Instructions
Combine canola oil, Korean red pepper paste, soy sauce, garlic, red pepper flakes, ginger and sesame oil in a bowl and whisk until the oil is completely incorporated into the marinade. Place steak strips into a large resealable bag and add the marinade. Remove as much air as possible from the bag while sealing and refrigerate for 4–6 hours.
Prepare grill for high heat cooking, approximately 450°F. As the grill comes to temperature, remove the beef from the marinade and pat dry. Thread each slice of beef onto a skewer and grill for 2–3 minutes per side until they reach an internal temperature of 130°F for medium rare. Serve immediately.
For safe meat preparation, reference the USDA website.