Coal Fired Chicken Arepas
On the streets of the Magic City, these South American stuffed cornmeal patties are king. We fill our arepas with savory grilled chicken, along with a creamy avocado salad that packs just the right amount of jalapeño bite.
Coal Fired Chicken Arepas
Write a Review
Read Reviews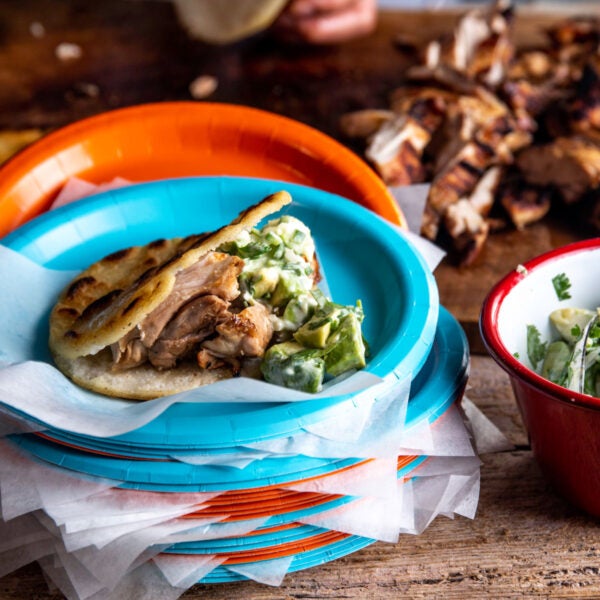 Yields:

8 Servings

Cook time:

30 minutes

Prep time:

20 minutes
Ingredients
3 tablespoons olive oil, plus more for cooking arepas
3 tablespoons fresh lime juice, divided
2 tablespoons Worcestershire sauce
4 cloves garlic, finely minced, divided
1 teaspoon brown sugar
1 teaspoon ground cumin
2 teaspoons kosher salt, divided
1 teaspoon freshly ground black pepper
1¼ pounds boneless, skinless chicken thighs
2 cups precooked white cornmeal (such as Harina P.A.N. or ArepArina)
2 ripe Haas avocados, roughly diced
3 tablespoons mayonnaise
¼ cup finely diced white onion
1 medium jalapeño, stemmed, seeded and finely chopped (optional)
½ cup packed roughly chopped fresh cilantro leaves
Instructions
Whisk together 3 tablespoons oil, 2 tablespoons lime juice, Worcestershire sauce, half the garlic, brown sugar, cumin, 1 teaspoon salt and 1 teaspoon pepper in a small bowl.
Place chicken and marinade in large resealable plastic bag. Seal, removing as much air as possible, and refrigerate for at least 4 hours.
Whisk together cornmeal and 1 teaspoon of salt in medium bowl. Add 2½ cups lukewarm water. Stir until combined; let sit 5 minutes.
Use wet hands to knead dough until smooth. Divide dough into 8 portions; roll portions into balls.
Meanwhile, heat about 1 tablespoon oil in large cast iron or non-stick skillet over the grill.
Add balls in batches, leaving at least 3 inches between each one. Using the palm of your hand, flatten balls to 1/2-inch thick. Cook, flipping once, until golden brown on both sides and heated through, about 5 to 6 minutes on each side. Repeat with remaining dough, adding more oil as needed. Use a knife to cut arepas in half horizontally without detaching ends.
Build a charcoal fire for direct grilling using Kingsford® Original Charcoal, and preheat to 400°F.
In a medium bowl, mix the diced avocado with mayonnaise and remaining lime juice and garlic. Add the onion, jalapeño (if using) and cilantro. Season to taste with salt and pepper. Cover and store in the fridge until ready to eat.
Remove chicken from the marinade, shaking off any excess. Place thighs on the grill over direct heat for 6 to 8 minutes per side until golden brown and firm to the touch. Remove the chicken from the grill and cut into thin strips.
Fill the arepas with the grilled chicken and avocado salad, dividing both evenly among them. Serve immediately.

Major League Baseball trademarks and copyrights are used with permission of Major League Baseball. Visit MLB.com.
For safe meat preparation, reference the USDA website.