Cheesy Bacon Wrapped Meatballs
Write a Review
Read Reviews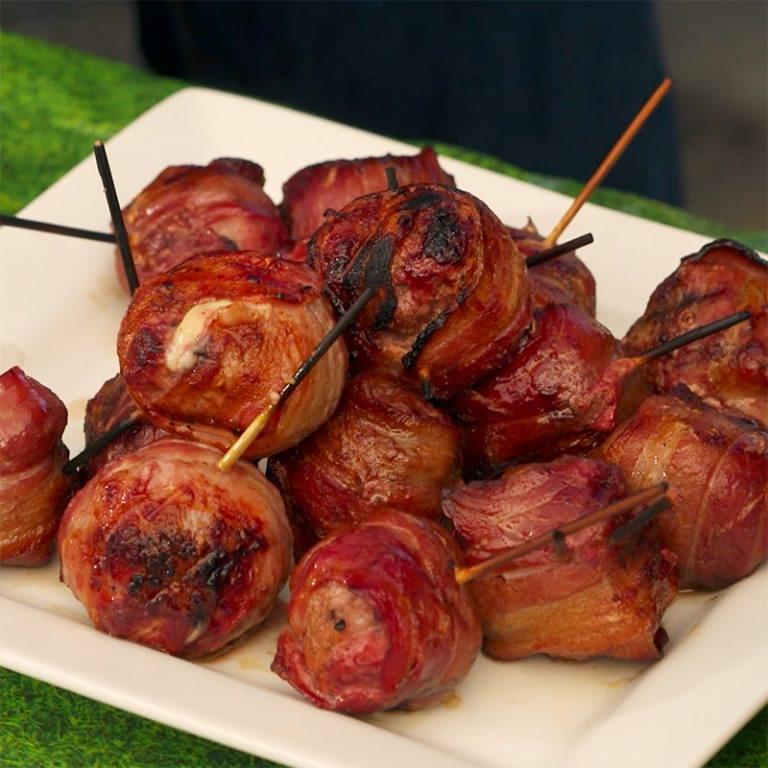 Ingredients
1 lb lean ground beef
½ lb ground pork
1 lb pepper jack cheese (1-in cubes)
½ lb thin sliced bacon
1 small sweet onion
2 fresh jalapeño (minced)
1/3 cup instant mashed potatoes seeded and minced (optional, leave seeds in for extra heat)
2 tsp onion powder (optional)
1 tsp garlic powder
1 tbsp salt
1 tbsp pepper
wooden skewers (soaked in water minimum 1 hr before grilling)
Instructions
Set cheese and bacon aside.
Combine remaining ingredients, mixing well.
Using meat mixture, form meatball in hand (2–3 oz.), push center in and place 1 cube pepper jack cheese, roll in hand to close in cheese and create a solid stuffed meatball with no holes.
Place bacon strip on cutting board and press/stretch out gently with hands. (Thinning out bacon will ensure a crispy grilled product and make bacon go further. Depending on size of meatball, you may only use 1/2 a strip per ball.)
Wrap meatball completely and place on skewer (optional).
Grill over your favorite Kingsford® flavor briquet until bacon is crispy and meat is cooked thoroughly.
For safe meat preparation, reference the USDA website.