Cheesesteak Burgers with Fries and Coleslaw
The good people of Pittsburgh don't mess around. They work hard. They play hard. They stack their sandwiches high, and fill them with fries. Frankly, we don't know why we all don't turn our favorite side dishes into toppings.
Cheesesteak Burgers with Fries and Coleslaw
Write a Review
Read Reviews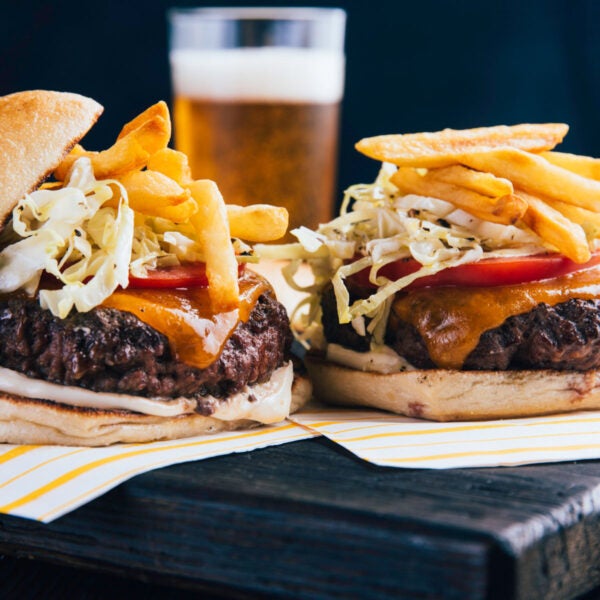 Yields:

4 Servings

Cook time:

20–25 minutes

Prep time:

20 minutes
Ingredients
1½ cups green cabbage, shredded
1½ tablespoons apple cider vinegar
1½ tablespoons light olive oil
kosher salt and ground black pepper, to taste
1½ pound bag frozen straight-cut french fries
1¼ pounds ground beef
4 slices cheddar cheese
8 slices Italian bread
¼ cup mayonnaise
1 large tomato, sliced
Instructions
To make the coleslaw, place the cabbage in a bowl. Toss with the apple cider vinegar and oil, and season to taste with salt and pepper. Set aside, stirring occasionally to make sure the slaw stays evenly coated.
Make the french fries according to package directions. If they are not seasoned well enough, add a little bit of salt when they come out of the oven.
Using Kingsford® Original Charcoal, build a charcoal fire for direct grilling and preheat to 400°F. Lightly oil the grates to prevent sticking.
Shape the beef into 4 equal patties. Season generously with salt and pepper and indent the center of each one slightly so they don't shrink on the grill.
Add the burgers and cook, flipping once, about 6 minutes per side for medium doneness. In the last two minutes of cooking, add a slice of cheese to each burger and close the grill, cooking just until melted. For your safety, please reference the USDA safe cooking temperatures.
To build the burgers, toast the bread and spread about 1 tablespoon of mayonnaise on four slices of bread. Top each with a burger patty, tomato slices, a quarter of the coleslaw and a handful of fries.
Cover with the remaining bread slices and serve immediately.

Note: If you'd prefer to make your own fries, peel 1½ pounds potatoes and cut into sticks. Soak in water for 1–2 hours; then rinse and dry well. Heat three inches of vegetable oil in a pot. Fry twice; the first time for about 3–5 minutes until softened but still pale (drain and dry), and the second time for 3–5 minutes, until golden brown. Season to taste with salt.

Major League Baseball trademarks and copyrights are used with permission of Major League Baseball. Visit MLB.com.
For safe meat preparation, reference the USDA website.