Cedar Plank Salmon Sliders
Write a Review
Read Reviews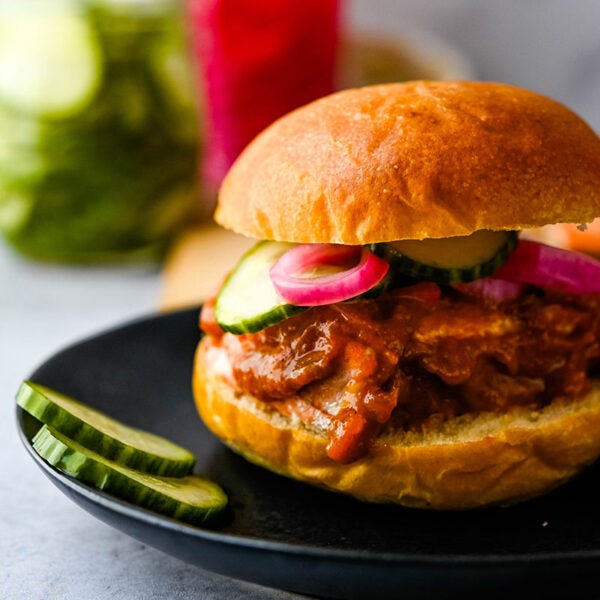 Yields:

8 Servings

Cook time:

1 h

Prep time:

45 minutes
Ingredients
For the Barbecue Sauce
1 cup white onion, diced
2 tablespoons olive oil
1 jalapeño pepper, minced (for spicy sauce use the seeds, for less spice, discard them)
2 teaspoons ancho chili powder
2 teaspoons ground cumin
1 (14-ounce) can diced tomatoes
1 cup strong coffee
1/3 cup brown sugar
¼ cup molasses
½ teaspoon garlic powder
1 teaspoon kosher salt
2 tablespoons Worcestershire sauce
2 tablespoons apple cider vinegar
For the Quick Pickled Onions & Cucumbers:
1½ cups apple cider vinegar
½ cup sugar
5 allspice berries
1 jalapeño pepper, thinly sliced
1 cucumber, thinly sliced
½ red onion, thinly sliced
For the Salmon
2 pounds skin-on Atlantic salmon fillets, about 3/4"–1" thick
1 cedar plank
java barbecue sauce or other barbecue sauce — recipe above
coleslaw
fresh cilantro
slider buns
Instructions
2 hours before cooking the salmon, submerge the cedar plank in water.
In a small saucepan heat the olive oil over medium high heat. Add the onions and stir, cooking until onions are tender and slightly translucent. Add jalapeño, chili powder and cumin, stir and cook for a minute until warm and fragrant. Add the tomatoes, coffee, brown sugar, molasses, garlic powder and salt. Stir to combine. Heat to a boil, then turn down the heat to a simmer and cook until the liquid has reduced by at least half — about 30–45 minutes, stirring occasionally. Remove from heat and stir in the worcestershire sauce and vinegar.
Transfer the mixture to the bowl of a blender and puree until smooth. Can be made up to a week ahead.
For the Quick Pickled Onions & Cucumbers
In a 2 cup glass measuring cup or microwaveable bowl, heat the cider vinegar in the microwave on high for two minutes until very hot. Add sugar and stir until dissolved. Add the allspice berries.
Place the jalapeño, cucumber and red onion in a bowl. Pour the vinegar mixture over the vegetables and let sit until the liquid has cooled to room temperature. Drain all but 1/2 cup of liquid. Refrigerate the pickled vegetables until ready to use.
For the Salmon
Using a sharp knife, cut the salmon into 2" squares to fit the slider buns.
Heat the grill to 450°F. When the grill has heated place the soaked cedar plank on the grill and heat for 3–5 minutes on each side until it starts to smoke. (White smoke is what you're looking for — not black [black smoke means burning] — keep a water bottle nearby for flare-ups).
When the plank is smoking place the salmon, skin side down onto the plank and close the lid. Monitor the grill to maintain the temperature at 450°F and to watch for flare-ups, but don't fuss with the salmon. Cook the salmon fillets for 8–10 minutes (depending on the thickness of the fillets and the desired doneness).
Brush top and sides of salmon with the barbecue sauce and cook for 1–2 minutes more, until the sauce has glazed the salmon. Remove from heat.
Build the Sliders
Put a spoonful of coleslaw on the bottom bun. Add pickled vegetables and cilantro. Place salmon on top of vegetables and add additional barbecue sauce and cilantro if desired.
For safe meat preparation, reference the USDA website.