Burnt Ends Cheesesteak
Our tailgate-tested take on Philly's classic is certainly inspired by the iconic sandwiches they serve up at the city's revered cheesesteak joints, but we've swapped out thin slices of rib-eye with succulent, chunky burnt ends.
Burnt Ends Cheesesteak
Write a Review
Read Reviews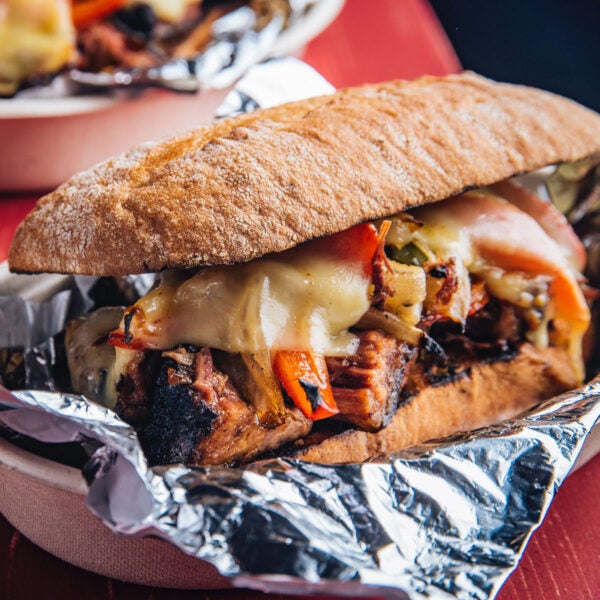 Yields:

6 Servings

Cook time:

6 h

Prep time:

20 minutes
Ingredients
¼ cup light brown sugar
2 tablespoons smoked paprika
1 tablespoon kosher salt
2 teaspoons ground black pepper
1½ teaspoons chili powder
1½ teaspoons garlic powder
1½ teaspoons onion powder
¼ teaspoon cayenne pepper
1 4-lb. brisket point
2 tablespoons olive oil
1 large yellow onion, sliced thin
2 red peppers, sliced
1 green pepper, sliced
kosher salt, to taste
ground black pepper, to taste
6 hero or hard rolls, each about 6 inches long, split
6 slices Swiss, American or provolone cheese
Instructions
To make the dry rub, mix together the first eight ingredients until well combined in a small bowl. Set aside.
Prepare charcoal in a snake configuration, and add Kingsford™ Wood Chips along the line of coals. Place a foil pan with hot water in the center of the snake.
Light about eight briquets in a chimney. When ready, pile all of the lit coals at the head of the charcoal snake. The coals will burn down slowly as the meat cooks.
Trim all fat from the brisket point and season generously with dry rub. Place seasoned point in the smoker, cover and allow it to cook for five hours. Remove the point from the smoker and wrap it in a layer of foil then return to the smoker.
Allow the point to continue to cook until it reaches an internal temperature of 210°F. Pressing with your finger, the point should have some resistance, but should be soft to the touch.
Let the wrapped point cool on the counter for 10–15 minutes before cutting. Slice into cubes approximately 1-inch by 1-inch. Reserve the natural juices retained in the wrap and toss your burnt end cubes in the au jus.
While the brisket is finishing cooking, warm the oil in a large skillet over low heat. Add onions and cook 8 to 10 minutes, until caramelized and softened. Stir frequently and avoid browning.
Transfer onions to a bowl; add peppers to same skillet, still over low heat. Cook peppers 10 to 15 minutes, until soft and tender, flipping often. Transfer to bowl with onions. Season onion-pepper mixture to taste. Cover bowl to keep warm.
Prepare the rolls by brushing cut sides with oil and grill (cut sides down) until the bread is lightly toasted. Distribute burnt ends between the rolls, and top with the onions and pepper mixture.
Add the cheese to the sandwich, and return to the grill until the cheese is just melted. Serve hot.

Major League Baseball trademarks and copyrights are used with permission of Major League Baseball. Visit MLB.com.
For safe meat preparation, reference the USDA website.