Blue Cheese & Chili Lime Butter Basted Bone-in Ribeye w/ Roasted Rosemary Onions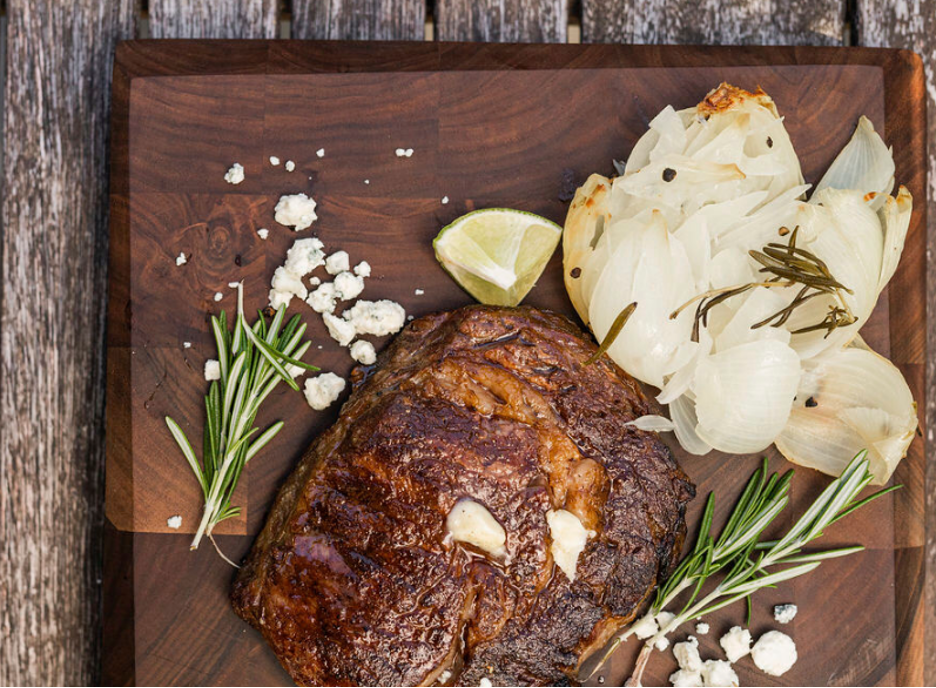 Yields:

2 Servings

Cook time:

20 minutes

Prep time:

10 minutes
Ingredients
2 12 ounce ribeyes
2 medium sweet white onions
1 bundle of rosemary
1/2 cup salted butter
1/2 cup bleu cheese
2 limes
1/2 teaspoon paprika
1/2 teaspoon garlic powder
pinch of cayenne
kosher salt
fresh ground black pepper
Instructions
Prep
Light the Masterbuilt Gravity Series™ 1050 Digital Charcoal Grill + Smoker and set it to 600 degrees F.
Onions – Cut an"X"along the top of the onion going 1/3of the way down. Stuff the "X" of each onion with a couple sprigs of rosemary, 1 Tbs of butter cubed, a healthy pinch of kosher salt,ahealthy pinch of black pepper. Wrap onions in tin foil.
Marinade - On the grill, heat 1/4cup of butter, 1/4cup of bleu cheese, squeeze half of a lime (approx.1.5 tsp), a pinch of cayenne powder and whisk together well.
Steak - When ready to cook-season lightly with more kosher salt, black pepper, paprika, and garlic powder. Drizzle steak on both sides with your butter/blue cheese marinade.ProTip–Dry each steak well, salt generously on all sides with kosher salt, put on a wire rack, and let them sit in the fridge exposed for a day or two to dry it out.
Cooking
Onions – toss tin foil wrapped onions on the grill. Turn every 5-7 minutes during cooking. Cook for approximately 20 minutes.
Steak - Grill for 5 minutes on each side, basting with blue cheese butter each time you turn
Assembly
When ready to eat-garnish with cubed butter, bleu cheese crumbles, fresh rosemary, and a squeeze of lime. Cut/tear caramelized onions into hearty chunks.
Credit: Recipe created by Meherwan Irani on behalf of Kingsford and Masterbuilt
For safe meat preparation, reference the USDA website.