Bludso's Bar & Que BBQ Chicken
Write a Review
Read Reviews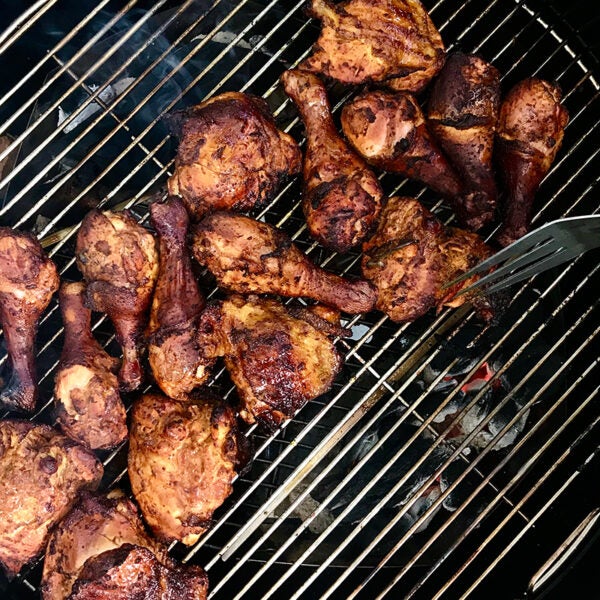 Yields:

4–8 Servings

Cook time:

1 h

Prep time:

3 h
Ingredients
16 pieces chicken — thighs, wings and drumsticks
¼ cup pollo seasoning mix
¼ cup ground black pepper
2 tablespoons ground cumin
2½ ounces achiote paste
2 medium oranges, peeled
1 cup cilantro leaves, loosely packed
2 serrano chiles, whole, stems removed
1 tablespoon garlic, finely chopped
1 small red or orange bell pepper
1 small white onion, roughly chopped
1 cup water
½ cup soy sauce
¼ cup cider vinegar
nonstick spray
Instructions
Season the chicken pieces liberally with pollo seasoning and black pepper. Toss with the cumin and set aside.
Add the achiote, oranges, cilantro, serranos, garlic, bell peppers, onion, water, soy sauce and cider vinegar into a blender and blend until you have a unified, smooth texture.
In a large resealable bag or container, combine the chicken pieces with the marinade. Toss thoroughly to combine. Seal and refrigerate for at least 3 hours and up to 24 hours.
Build a fire for indirect grilling using Kingsford® Charcoal by situating the coals on only one side of the grill, leaving the other void. Once the charcoal is fully lit, add a couple small-to-medium chunks of wood. Allow to smoke for about 5 minutes.
Spray the grill grate with nonstick spray. Remove the marinated chicken from the resealable bag or container, draining off any excess marinade, and place on the indirect side of the grill, making sure that there is no chicken directly over the charcoal before covering the grill.
Grill at 300°F for about an hour, flipping halfway through, or until chicken reaches an internal temperature of 165°F.
Kevin Bludso Tip:
You've got to watch your fire. Always monitor your stuff. This is not Low & Slow, this is Fast & Furious.
Credit: Recipe created by Kevin Bludso of Bludso's Bar & Que on behalf of Kingsford Charcoal
For safe meat preparation, reference the USDA website.