Beer-Basted Pulled Pork Sliders
Write a Review
Read Reviews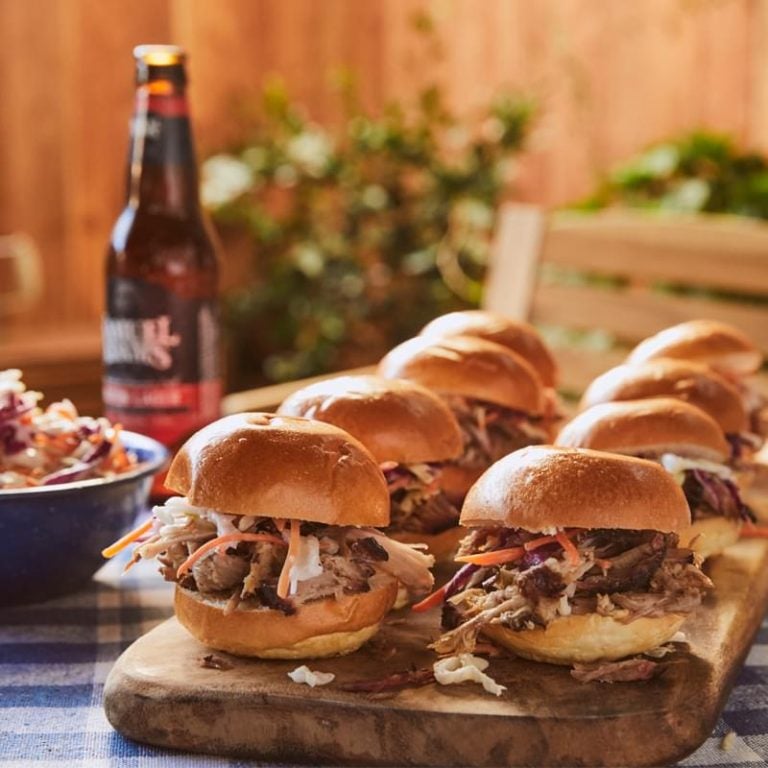 Yields:

12 Servings

Cook time:

7 h

Prep time:

20 minutes
Ingredients
Baste
1 bottle (12-ounce) dark beer
1 cup (2 sticks) butter
1 tablespoon sugar
1 teaspoon ground cumin
1¼ cup cider vinegar
1¼ cup distilled white vinegar
1½ tablespoon fresh lemon juice
2 tablespoons salt
2 teaspoons black pepper
2 teaspoons dry mustard
2 teaspoons paprika
3 tablespoons chili powder
¼ cup soy sauce
½ cup Worcestershire sauce
Ingredients
1 bottle KC Masterpiece® Original Barbecue Sauce
1 pork butt (7–8 pound)
24 slider buns
Dry Rub
1 tablespoon dark brown sugar
1 tablespoon paprika
2 tablespoons granulated sugar
3½ teaspoons garlic salt
¼ teaspoon black pepper
¼ teaspoon cayenne pepper
¼ teaspoon ground cumin
¼ teaspoon oregano
¾ teaspoon chili powder
4 teaspoons kosher salt
Instructions
Baste
Build a charcoal fire for indirect cooking by situating the coals on only one side of the grill, leaving the other side void. Add a small aluminum pan to the void side of the grill and fill it halfway with water.
In a small bowl, combine the dry rub ingredients. Coat the pork evenly with dry rub, patting gently until the mixture adheres to the meat.
When the grill reaches 250°F, place pork butt on the void side of the grill over the water pan, close the lid, and cook over indirect heat for four hours.
While the pork is cooking, combine all of the baste ingredients in a medium saucepan and mix well. Place over medium-low heat and simmer until the butter melts. Keep baste on low heat until ready to use.
Cook pork an additional three hours basting the pork every hour until the internal temperature of the pork reaches 190°F. Continually monitor the grill temperature and add hot charcoal as needed, to maintain the grill temperature of 250°F.
Remove the pork butt from the charcoal grill and let it rest for 15 minutes. Pull the cooked meat from the bone and serve mounded high on slider buns topped with your favorite barbecue sauce.
Credit: Recipe created by champion pitmaster, Chris Lilly, on behalf of Kingsford® charcoal
For safe meat preparation, reference the USDA website.