BBQ Chicken Thighs & Pit Baked Chicken Tomatillo Enchilada Casserole
Write a Review
Read Reviews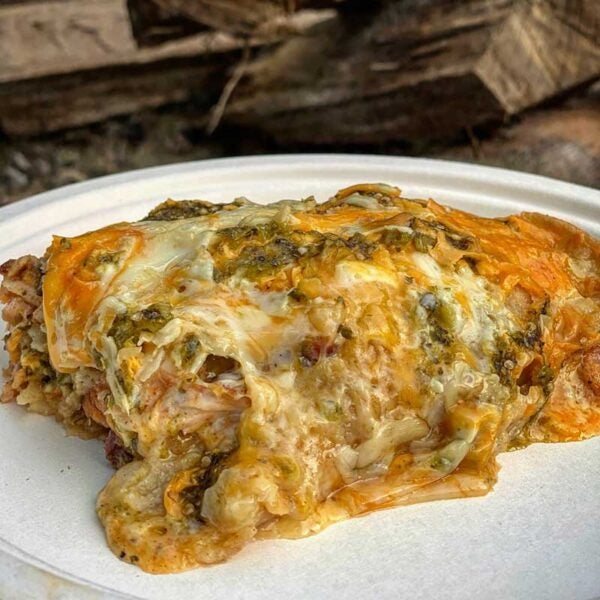 Yields:

4–6 Servings

Cook time:

2 h

Prep time:

40 minutes
Ingredients
For the BBQ Chicken Thighs
2–3 pounds boneless skinless chicken thighs
¼ teaspoon kosher salt
⅛ teaspoon pepper
⅛ teaspoon granulated garlic
For the Tomatillo Salsa
7 cups canned tomatillos (Fresh tomatillos may be used but will have to be boiled until soft and dark green in color. Remove from water and place in blender. Do not overcook.)
1 bunch cilantro
2–3 habanero peppers (your preference on heat)
1 cup yellow or white onion
¼ cup fresh lime juice
2½ tablespoons kosher salt
½ tablespoon granulated garlic or 2-3 peeled garlic gloves
For the Enchilada Casserole
1 pack corn tortillas (minimum 20)
1 bottle vegetable or canola oil
1 pound sharp cheddar cheese
2 pounds Monterey Jack cheese
1–2 pounds BBQ chicken thighs
32 ounces homemade tomatillo salsa
Instructions
For the BBQ Chicken Thighs:
Fire up Masterbuilt Gravity Series 560 grill and smoker to 275°F. Coat the chicken thighs evenly with the seasoning.
Place the chicken in the smoker and cook for 1.5–2 hours or until a thermometer registers 165°F in the thickest part of the thighs. For a grilled option, cook over hot coals at a medium to high heat (roughly 400°F).
Grill each side for 5–6 minutes or internal temp reaches 165°F. (I prefer thighs at about 170°F)
For the Tomatillo Salsa:
Add ingredients together in blender or food processor, blend until smooth and silky.
For the Enchilada Casserole:
Begin by heating oil to about 350°F and shred cheese. Next, quickly dip corn tortillas in oil to soften then place on a plate with a paper towel.
In an aluminum half pan, place 5 corn tortillas down covering the surface for the first layer. The next layer will be about 1/2 pound of chicken thighs spread out evenly over corn tortillas.
On top of the chicken, evenly distribute 1/2 pound to 1 pound of cheese blend, and then lightly drizzle 1 cup of tomatillo salsa.
Repeat this on the following layers.
The final layer will be corn tortillas: 1–1½ pounds of cheese blend and 2 cups of tomatillo salsa.
Cover with foil and place in BBQ pit for 1.5–2 hours at 275°F or until cheese is melted. Once cheese is melted, uncover and leave on BBQ for 15 minutes.
Remove and enjoy!
Credit: Recipe created by Pitmaster/Chef Miguel Vidal on behalf of Kingsford Charcoal
For safe meat preparation, reference the USDA website.