Barbecue Baked Potatoes with Smoked Pork Shoulder
In Southern California, a loaded spud is quickly becoming a ballpark favorite. Our take on the ultimate baked potato features a whole grilled spud, split open, piled high with smoky pork shoulder, and loaded with toppings you'd find in your favorite taqueria.
Barbecue Baked Potatoes with Smoked Pork Shoulder
Write a Review
Read Reviews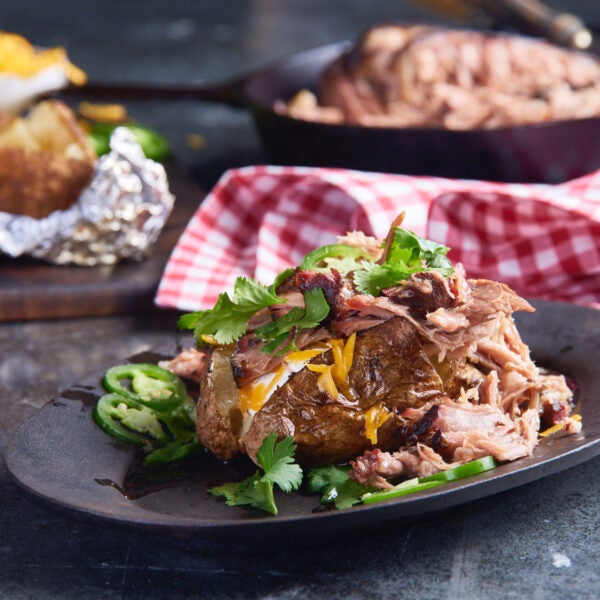 Yields:

4 Servings

Cook time:

9 h

Prep time:

15 minutes
Ingredients
2 tablespoons dark brown sugar
1 tablespoon kosher salt
1 teaspoon black pepper
1 teaspoon garlic powder
1 teaspoon onion powder
1 teaspoon smoked paprika
¼ teaspoon cayenne pepper
1 7-pound pork shoulder
4 large baking potatoes
4 tablespoons butter
¼ cup plus 2 tablespoons sour cream
1 jalapeño pepper, thinly sliced
1 cup shredded cheddar cheese
1 large avocado, diced
freshly chopped cilantro, for garnish
Instructions
In a small bowl, combine the brown sugar and all of the spices. Rub on all sides of the pork and set aside.
To prepare the grill for smoking, configure charcoals using the snake method, and add Kingsford™ Wood Chips with Hickory along the line of coals.
Place a foil pan with hot water in the center of the snake. Light about eight briquets in a chimney. When ready, pile all of the lit coals at the head of the charcoal snake. The coals will burn down slowly as the meat cooks.
Place the pork shoulder fat side up on the rack, cover with the lid, and bring the temperature up to a constant 250°F, using the vents to regulate heat.
Check the temperature of the grill every hour, adding more charcoal and wood chips as needed to maintain heat.
Smoke for 8–9 hours, or until the internal temperature of the pork reaches about 205°F. Carefully remove from the grill and let rest for at least 15 minutes before shredding into large chunks.
To cook the potatoes, remove the wood chips and prepare the charcoal fire for indirect cooking, situating the coals on one side of the grill. Preheat to 450°F.
Wash the potatoes and wrap each one in foil. Place over indirect heat, away from the coals, and close the lid. Cook until the potatoes soften, about 1 hour and 30 minutes.
Transfer the potatoes to a cutting board. Cut a slit in the top of each one and divide the butter, sour cream, jalapeños, cheese and avocados between them.
Top each with about 3/4 cup of pulled pork and garnish with cilantro.

Major League Baseball trademarks and copyrights are used with permission of Major League Baseball. Visit MLB.com.
For safe meat preparation, reference the USDA website.