Argentinian Churrasco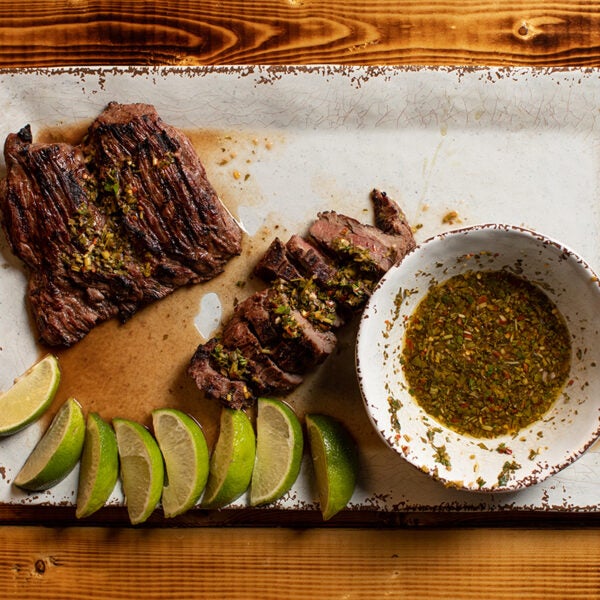 Yields:

4 Servings

Cook time:

30 minutes

Prep time:

24 h
Ingredients
Marinade
1/3 cup Virgin olive oil / Spanish olive oil
10-15 cloves of garlic, smashed
1 cup of sliced red onion
2 teaspoons of dried oregano
1 cup of Orange Juice
1/2 lime, squeezed
2-3 pounds skirt steak (silver skin trimmed off)
Chimichurri
8 cloves of minced garlic
3-4 limes, squeezed
1 1/2 cups of chopped cilantro
1 cup chopped parsley
1/3 cup fresh chopped oregano
1/3 cup red wine vinegar
2 teaspoons chili flakes
1/3 to 1/2 cup of olive oil
2 teaspoons of salt (or to taste)
1 tablespoon of butter
1/2 cup lime juice
Instructions
Place steak and all ingredients in a storage bag and refrigerate overnight.
In a bowl, combine garlic, lime juice, cilantro, parsley oregano, vinegar, chili flakes, olive oil, salt and pepper. Mix ingredients and refrigerate overnight.
Fire up the charcoal grill using Kingsford charcoal and heat to 400°F.
Next, season steak with salt and pepper and cook the meat for about 3 minutes per side. Brush with butter and lime juice.
Remove and let the meat rest. Slice against the grain, or serve whole.
For safe meat preparation, reference the USDA website.