Apricot Darjeeling Tenderloin
Write a Review
Read Reviews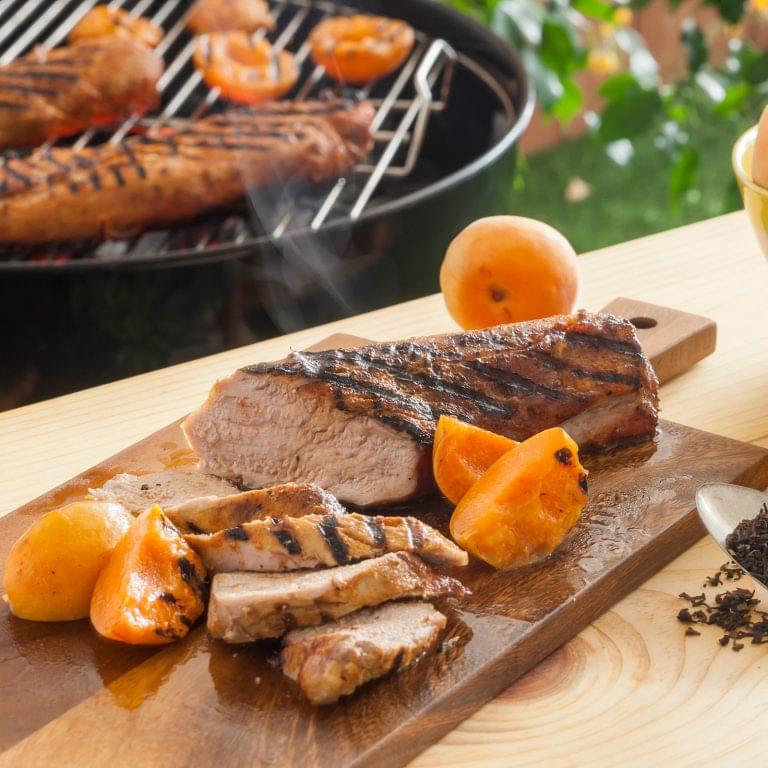 Yields:

6–8 Servings

Cook time:

15 minutes

Prep time:

2 h 30 m
Pitmaster note: Normally brine recipes call for herbs to balance the heavy salty-sweet liquid with earthy flavor, but this recipe uses Darjeeling tea to highlight the citrus of the apricot nectar.
Ingredients
Brine
1 cup water
¾ cup apricot nectar
1 Darjeeling tea bag or 2 tablespoons loose leaf tea
5 tablespoons kosher salt
¼ cup sugar
2 cloves garlic, crushed
2 sprigs fresh thyme
1 sprig rosemary
1 bay leaf
1 teaspoon black pepper, freshly ground
Dry Rub
2¼ teaspoon turbinado sugar
1 teaspoon kosher salt
¾ teaspoon paprika
½ teaspoon garlic powder
¼ teaspoon celery salt
¼ teaspoon curry powder
¼ teaspoon black pepper, freshly ground
2 whole pork tenderloins, about 1¼ lbs each
Instructions
Combine all brine ingredients in a medium saucepan. Bring the liquid to a boil over high heat then reduce the heat to low and simmer for 10 minutes. Remove the pan from the heat and let cool for 30 minutes. Strain, discard solids and chill the liquid for 30 minutes.
Put the pork tenderloin in a Glad® zipper bag and pour in the brine. Place in the refrigerator for 6 hours.
Meanwhile, combine dry rub ingredients in a medium bowl.
Set up a two-zone fire for indirect grilling with Kingsford® Charcoal with Pecan by situating the charcoal on only one side of the grill, leaving the other side void. Preheat the grill to 250°F.
Remove the tenderloin from the brine and wash the excess salt from the pork with cold water. Season all sides of the tenderloin liberally with the dry rub. Put the tenderloin on the grill over indirect heat, away from the coals and close the grill lid. Cook until the internal temperature reaches 145°F, about 1 hour 15 minutes.
Transfer the pork to a cutting board and let rest for 10 minutes. Slice the tenderloin into medallions and serve.
Credit: Created by world champion pitmaster, Chris Lilly, on behalf of Kingsford® charcoal
For safe meat preparation, reference the USDA website.