Aleppo Chicken Thighs
Write a Review
Read Reviews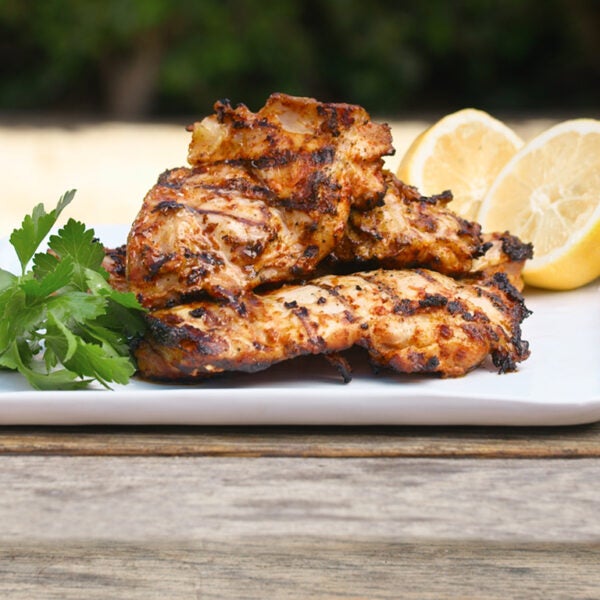 Yields:

6 Servings

Cook time:

12 minutes

Prep time:

15 minutes
Ingredients
1½ tablespoons Aleppo pepper (Note: If you can't find Aleppo pepper, you can substitute a mixture of paprika and red pepper flakes, using less red pepper flakes depending on how much spice you like)
1 cup plain whole-milk Greek-style yogurt
3 tablespoons extra-virgin olive oil
1 tablespoon red wine vinegar
2 tablespoons tomato paste
4 cloves garlic, smashed and coarsely chopped
zest and juice of 1 lemon, plus extra lemons for serving
kosher salt and ground pepper, to taste
2 pounds boneless, skinless chicken thighs
chopped parsley, for garnish
Instructions
In a large mixing bowl, combine the Aleppo pepper with a tablespoon of warm water. Stir and set aside for at least 5–10 minutes. Add the yogurt, olive oil, vinegar, tomato paste, garlic, and lemon juice and zest. Stir well and season to taste with salt and pepper.
Season the chicken with salt and pepper as well, and then add to bowl; toss to coat well. Cover and let marinate for at least one hour, up to overnight.
Build a charcoal fire for direct grilling using Kingsford® Charcoal. Preheat the grill to 450°F, and brush grill grates with oil. Remove chicken from the marinade and place on the grate. Grill for about 5–7 minutes per side, or until cooked through. Sprinkle with parsley and serve with extra lemons, for squeezing. Enjoy!
For safe meat preparation, reference the USDA website.