Al Pastor Chicken Skewers
Write a Review
Read Reviews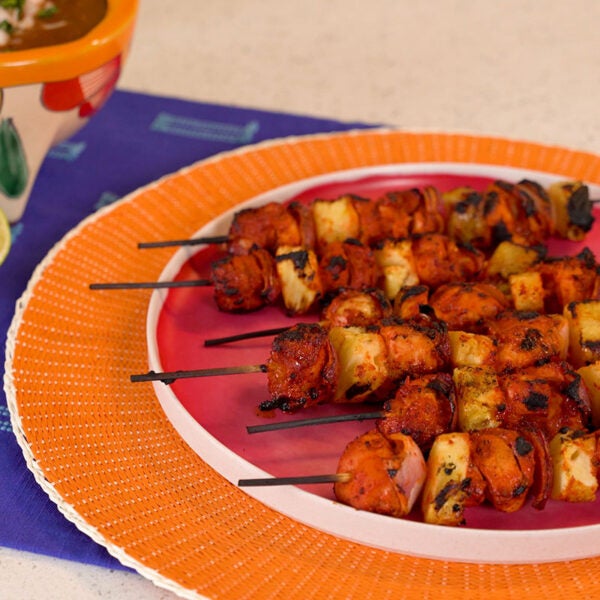 Yields:

2 Servings

Cook time:

15 minutes

Prep time:

20 minutes
Ingredients
3 (5–6") dried guajillo chiles (stems and seeds removed)
1 cup pineapple juice
juice of 2 limes
4 cloves of garlic smashed and peeled
½ white onion roughly chopped
2½ teaspoons kosher salt
1½ teaspoon apple cider vinegar
1½ teaspoon neutral oil (vegetable, avocado, etc.)
1 teaspoon dried Mexican oregano
1 teaspoon fresh thyme
1¾ ounces achiote paste (half of the 3.5 package)
2½ pounds boneless, skinless chicken thighs (cut into 2-inch chunks)
To Assemble:
bamboo skewers (soak in water prior to grilling to avoid burning)
1 pineapple (peeled, cored and cut into 2-inch chunks)
1 red onion (sliced in half lengthwise, then into quarters, then cut in half to create wedges)
Instructions
In a dry medium saucepan, toast the guajillos on both sides for 3–5 minutes. Once they are toasted cover them with water, bring to a boil, and then bring down to a simmer for about 15 minutes, until the peppers are soft.
Once your peppers are soft, add them to the blender and mix in the pineapple juice, lime juice, cloves of garlic, ½ white onion, salt, apple cider vinegar, Mexican oregano, thyme, and achiote paste. Blend until smooth.
Place the chicken thigh chunks in a large bowl, then pour the marinade over the chicken. Give it a stir to make sure all of the chicken is evenly coated. Cover and let chill in the fridge for two hours. While the chicken marinates, soak your bamboo skewers in water, this will help prevent them from burning on the grill.
To assemble the skewers, thread a chunk of chicken followed by fresh pineapple and red onion using a bamboo skewer. I like to repeat this until I have at least three layers!
Once you are ready to grill, cook the skewers on medium heat for about 3–4 minutes on each side, or until the internal temperature of the chicken reaches 165°F.
For safe meat preparation, reference the USDA website.