Kingsford® Signature Flavors Hardwood Pellets
Basil Sage Thyme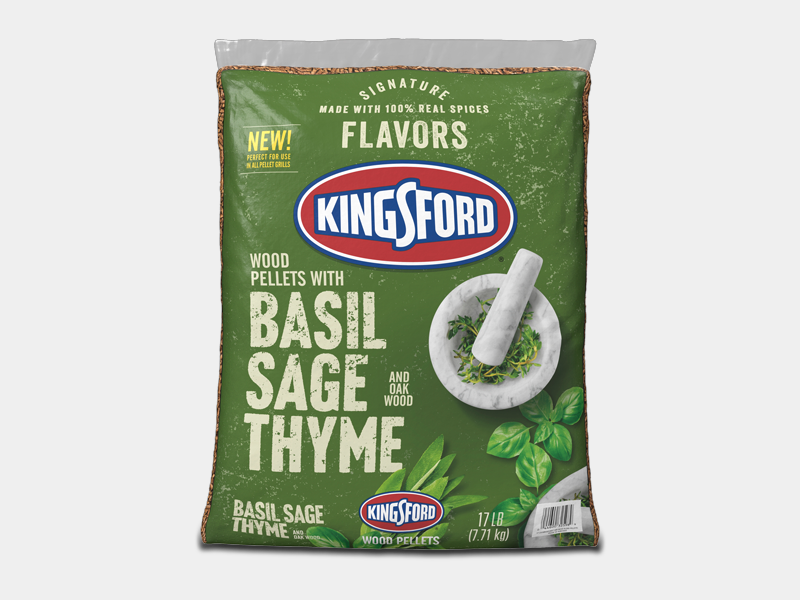 Experience flavor like never before. Made with an oak wood blend, these grilling pellets are infused with 100% real spices for an extra layer of flavor for your entire cook. No fillers. No binders. No preservatives. No bull. Enjoy excellent performance in all grills*, including Traeger and Pit Boss.
The 100% real spice flavor pairs well with all your chicken, turkey, fish, lamb, pork, shellfish and vegetable dishes.
* See back of pack for instructions.
---
---
Made in the USA
Great for Any Pellet Grill
---
Adventurous Eats
---
Take your taste buds outside their comfort zone with these unexpected twists on grilling favorites.
Rated

2

out of

5
by
Cilliated
from
Great idea, terrible taste.
I was excited to try these. I ate a bunch of the little nuggets, but they really just taste like wood and sawdust. Also, they're very chewy and got stuck in my teeth. Next time I'll just get some potato chips.
Date published: 2022-07-08
Rated

1

out of

5
by
Kaseylp29
from
Did not like.
Was excited to try these unfortunately they almost ruined our smoker. Clumped up and started a little fire in the smoker.
Date published: 2022-03-21
Rated

3

out of

5
by
woody
from
Smell good, no flavor
We smoked pork, chicken, and a beef roast with these pellets and there was no additional flavor like advertised (basil, sage, thyme,) I wouldn't buy this product with the hopes that it'd infuse basil, sage and thyme flavor. The oak pellet themselves were fine.
Date published: 2022-01-08
Rated

3

out of

5
by
jayzay83
from
Not for Us
So I decided that I wanted to try smoking some meats and was intrigued when I saw this bag of Kingsford Signature Flavor Pellets in Basil, Sage, & Thyme. Since I could only find a huge bag I jumped in feet first. So I learned one big thing and that is that I don't like smoke flavor in my food at all!!! I could taste the subtle herb flavor, but the smoke just killed it for me. If you liked smoked meats you should give it a try. These just aren't for me or my family.
Date published: 2021-11-23
Rated

5

out of

5
by
CatMom12
from
Signature Flavor Pellets
I like these pellets. I am not the grill person at our house but these were so easy to use and cook with. They burned at just the right rate and my chicken had a flavor that was totally delicious. And the smell while it was cooking was amazing. I'm sure the neighbors were jealous. I will definitely but these again.
Date published: 2021-11-10
Rated

5

out of

5
by
Jennfunn09
from
Haven't been able to use yet
I received a bag of Kingsford Signature Flavor Pellets (Basil, Sage, Thyme) from Tryit Sampling as a free sample. We attempted to use these pellets in our smoker but sadly our smokers heating element but out and we found that out when we turned it on. Will update review when we can use it.
Date published: 2021-11-09
Rated

5

out of

5
by
Kayla91
from
Awesome pellets
These pellets are amazing. We grilled over the weekend and added these Kingsford pellets and man oh man, the flavors were fantastic!! You can smell the basil, sage and thyme before even opening the bag. These pellets add a whole new dimension of flavor to our food we didn't know we needed! These are so easy to use and our food turned out so good using these. I can't wait to try all the other flavors!! I recommend!
Date published: 2021-11-04
Rated

4

out of

5
by
jawhawk74
from
Nice, subtle flavor!
This is the first time I have ever used pellets with my grill. Friends have an actual pellet grill, but I only have a gas grill, so I improvised. I put some of these into an aluminum pan, covered with foil, and poked holes in the top, and placed it directly on the heat plate under the meat on the grate. It imparted a subtle, herby taste to the meat that everyone loved. Very tasty without anything but salt & pepper on the meat.
Date published: 2021-11-03