Fire up a full chimney of Original Kingsford® Charcoal, or light a pile of about 100 briquets and prepare a two-zone fire. Heat should be medium-high, which means you can comfortably hold your hand above the coals for five to six seconds. Add 2 to 3 chunks of your favorite smoking wood or a handful of wood chips, then replace the main cooking grate and let the grill heat up.


Go for large shrimp, often labeled 16/20 (roughly 16-20 shrimp per pound). Smaller shrimp tend to dry out quickly. Shell-on shrimp are also preferable to peeled, as the shell will help protect the meat and retain moisture while cooking.

Rinse shrimp in cold water and pat dry with paper towels. To ensure easy turning on the grill, place them onto skewers, 4 to 6 shrimp per stick. To prevent the shrimp from spinning, opt for flat metal skewers, or two wooden skewers side-by-side. Brush the shrimp with olive oil, and season with Kosher salt and ground black pepper.


Place the skewers on the hot side of the grill and allow shrimp to cook for 2 to 3 minutes per side until they are slightly pink with opaque flesh.


Once the shrimp have finished cooking, remove from the grill and plate. Drizzle them with olive oil and a touch of fresh lemon juice or melted butter. Serve immediately.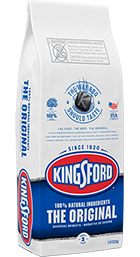 Cook an American classic with an American Original— Kingsford® Original Charcoal.
See details