How-To Section
Avoid contact with water.

Kingsford® Charcoal briquets and water are not friends. Leaving Kingsford® Charcoal out in the rain or even leaving it outside and exposed to fog, high humidity or dew means the briquets will not light efficiently. To avoid this, always store your briquets in a cool, dry place. Just grab the bag and bring it back into the garage with you, or roll the top of the bag shut and place it in an empty trash can or storage bin—with the lid on to protect it from the elements.

Seal that bag.

Kingsford® Match Light® briquets are treated with lighter fluid to help them get started faster. However, if the bag is torn or left open for long periods of time, the solvent will evaporate. This prevents the briquets from lighting properly. So to keep them fresh and easy to light, roll the top of the bag to seal it tightly, and store in a well-ventilated, cool, dry place away from heat sources and open flames.

Shelf life.

The shelf life of Kingsford® Original Charcoal is indefinite so long as the product is stored in a cool, dry place. Kingsford® Match Light® Charcoal and Kingsford Match Light® Charcoal with Mesquite have a shelf life of 1–2 years if stored properly, meaning the bag is unopened, free of tears or sealed tightly.
People use clamps or chip clips to seal the top of their open bag of Kingsford® Match Light® Charcoal to help keep the lighter fluid solvent from evaporating.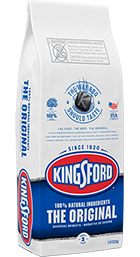 Keep a bag on hand for whenever the urge to grill strikes. Kingsford® Original Charcoal.
See details
Bubble
Learn more
Bubble
Learn more