Learn
How to Smoke Pulled Pork
You can't beat the flavor of a perfectly smoked pork shoulder. This BBQ pulled pork tradition is ideal for feeding a family or a crowd. Once we walk you through the steps, you'll see how simple it really is — all it takes is just a little time and attention. Let's get started!
What You'll Need
Before starting, make sure you have everything on this list. We recommend Kingsford® Original Charcoal Briquets. And don't skip the Digital Meat Thermometer with a Leave-In Probe — it's the best way to get your pork shoulder done right.
Fuel and Tools
Cutting Board
Sharp Knife
Digital Meat Thermometer with a Leave-In Probe
Long-Handled Tongs or Long-Handled Metal Spatula
Heavy-Duty Aluminum Foil
Large Baking Sheet
Deep Roasting Pan or Disposable Turkey Pan
Large Bowl
Food-Safe Spray Bottle
Ingredients
Pork Shoulder (7 to 10 pounds)
Mayonnaise or Mustard
BBQ Rub Spritz: Apple Juice, Vinegar and Water (Optional)
Cooking Oil
How to Prep
Begin preparing the meat 1 to 24 hours ahead of time.
First, place the pork shoulder on a cutting board. Using a sharp knife, trim and remove any silver skin.
Trim the excess fat, leaving about ¼" of fat, which will mostly render.
Make diagonal cuts in a diamond pattern, diagonally across the meat, about ½" to 1" apart.
Slather the entire pork shoulder with either mayonnaise or mustard to help the rub adhere to the meat.
Liberally season the pork with BBQ rub on all sides.
Allow the pork shoulder to rest seasoned for at least an hour before smoking. If you have more time, the seasoned meat can rest uncovered in the refrigerator overnight.
How to Prep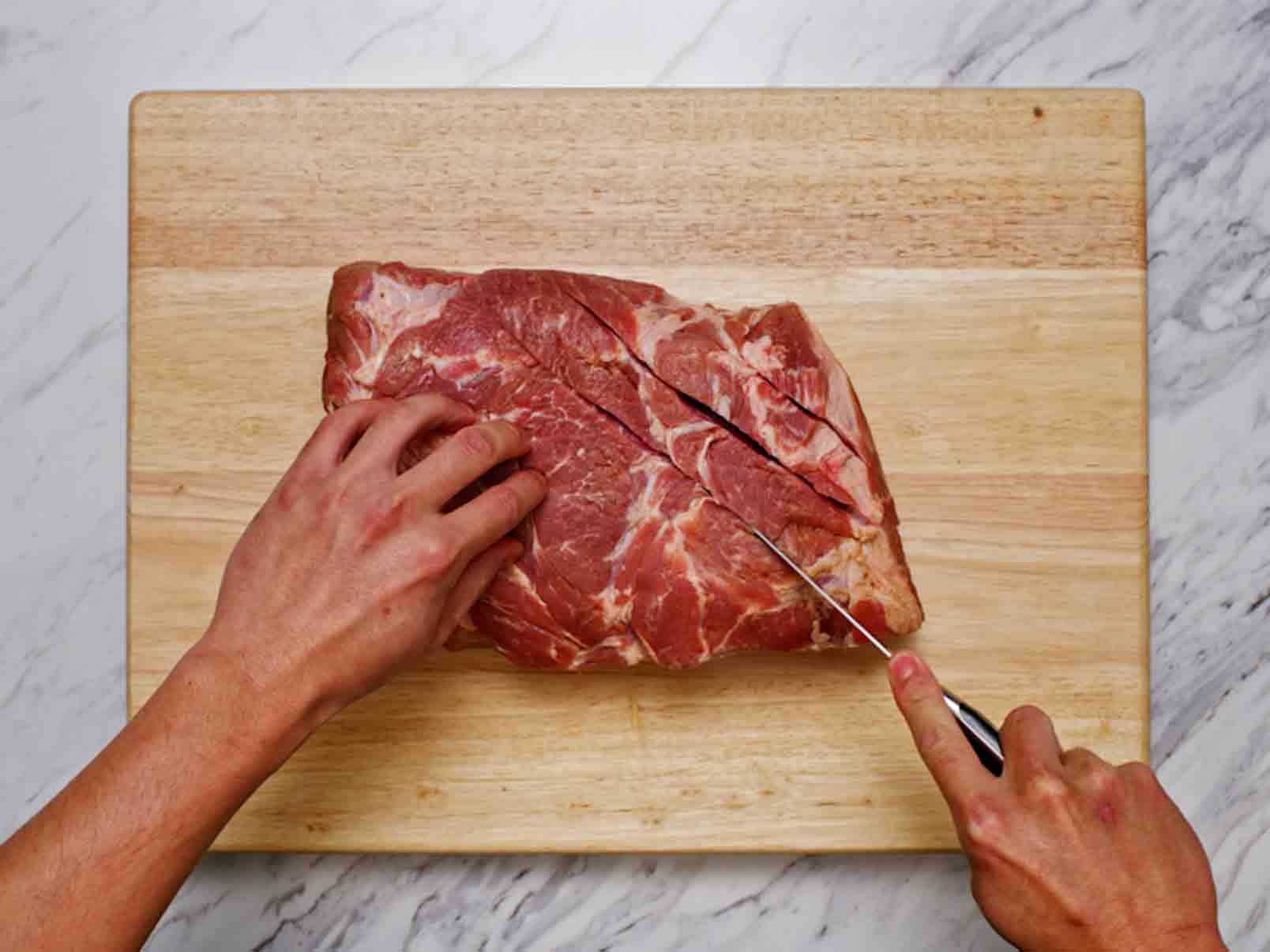 How to Build Your Fire
Charcoal Grill
Give your top grill grate a good brushing and set it aside.
If you're using a kettle-type grill, use an indirect technique like the The Charcoal Snake to set up your grill. Be sure to use a drip pan with water directly underneath the meat to stabilize the temperature.
For backyard smokers, set it up for a long smoke. Learn more about smoking here.
With either method, add a few handfuls of Kingsford™ BBQ Smoking Chips (that have been soaked in warm water for 30 minutes) on top of the coals.
You'll want to keep the grill temperature at Low Heat — 225°F. How to control the heat when grilling with charcoal.
Add the grate and let it heat up.
Pellet Grill: Simply, preheat your pellet grill to Low Heat — 225°F.
Charcoal Grill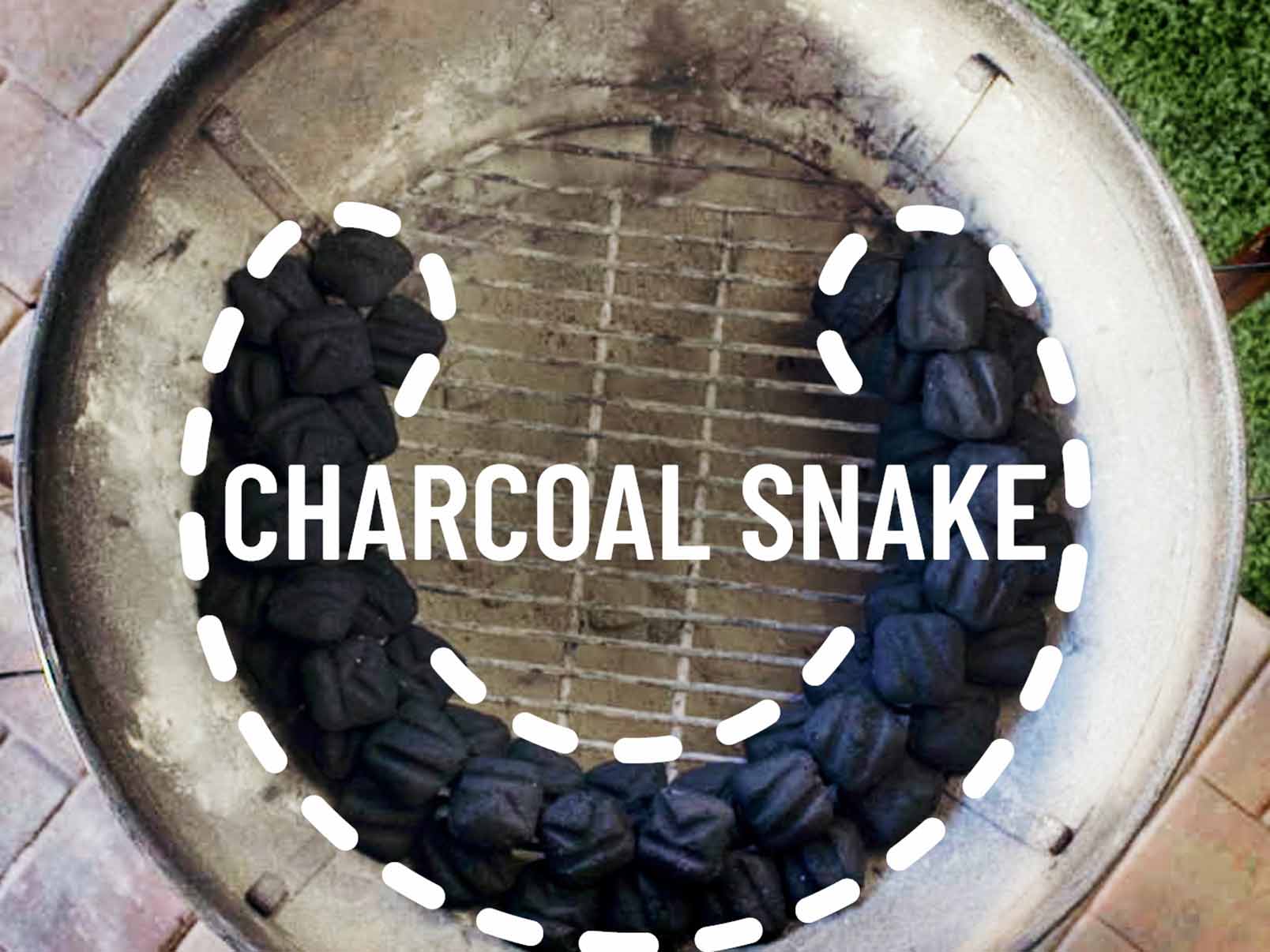 Smoking Time & Temp
Place the pork shoulder fat side up, and insert the leave-in temperature probe into the thickest part of the meat, without it touching the bone.
The leave-in temperature probe will remain in the meat for the entire cook, so be sure to find a location that will take an accurate reading.
If you choose to spritz the pork shoulder (optional): After 2 hours of smoking, pour the prepared spritzing mixture into the food-safe spray bottle, and spray every 30 to 45 minutes.
Reserve about ¾ of a cup of the spritzing liquid and set it aside.
When the meat has reached an internal temperature of 160°F, which takes about 1 ½ hours per pound, prepare to wrap it in heavy-duty aluminum foil.

What's the Best Way to Wrap the Pork Shoulder in Aluminum Foil?

Place 4 large sheets of heavy-duty aluminum foil in an overlapping X pattern on a large baking sheet. If necessary, spread and arrange the foil so it will be spread wide enough to generously wrap the pork shoulder snugly and without allowing liquids to escape. After wrapping the pork in foil, add the remaining spritzing liquid, then tightly seal the pouch shut.

Although optional, after wrapping your pork shoulder in foil, we recommend setting the pork into a deep roasting pan or disposable turkey pan when returning to the smoker.
Place the wrapped pork back onto the center of the grill, then increase the heat to 300°F and continue to cook.
It's common for the internal temperature of a pork shoulder to plateau, or stop climbing for a while, between 165°F and 170°F. Don't worry — this is a completely normal part of the process, and can last as long as a few hours.
For pulled or shredded pork, cook until the pork reaches an internal temperature 205°F.
Remove the meat from the smoker, but don't open the foil just yet — allow the meat to rest covered for 1 hour.
Smoking Time & Temp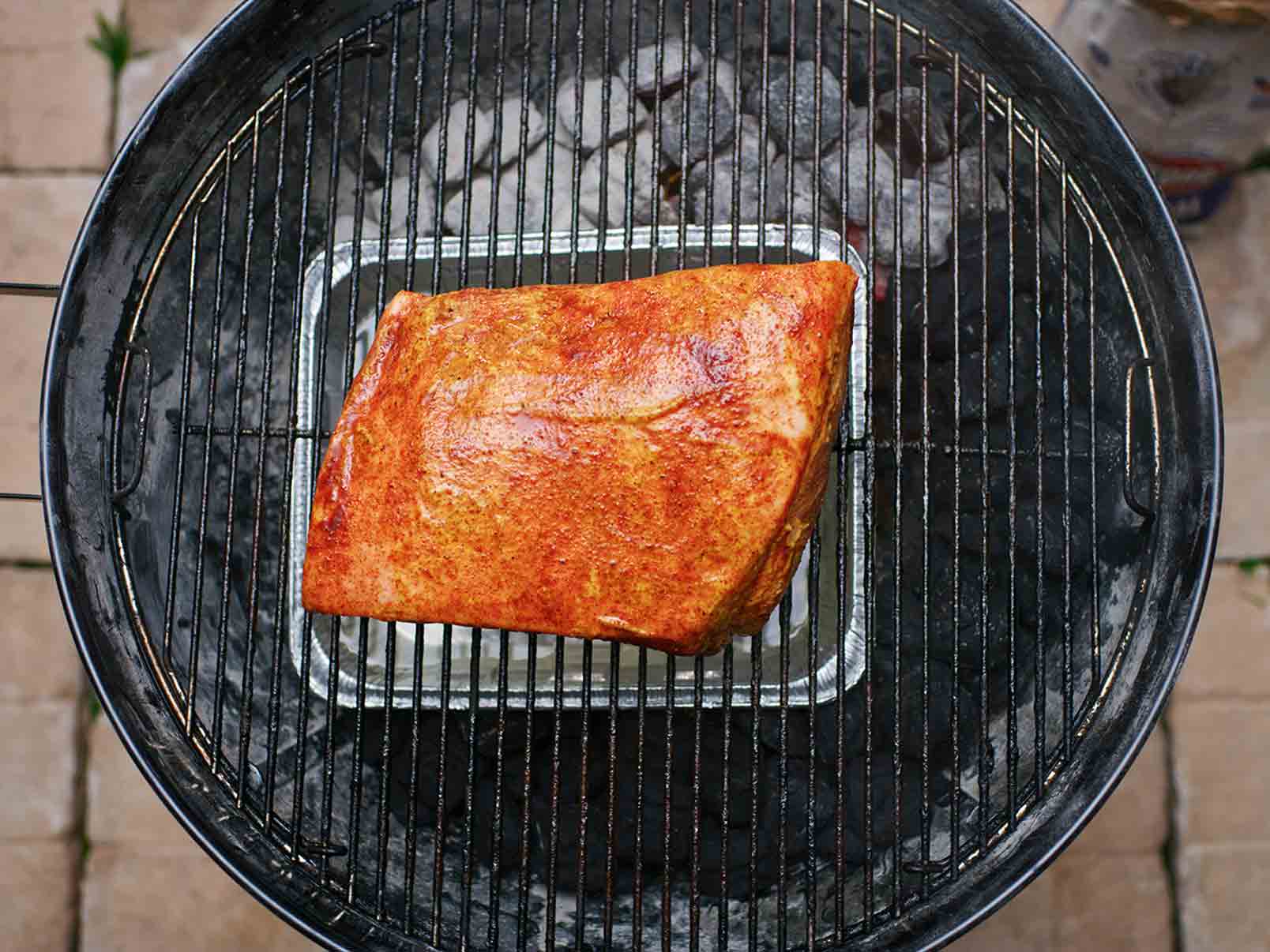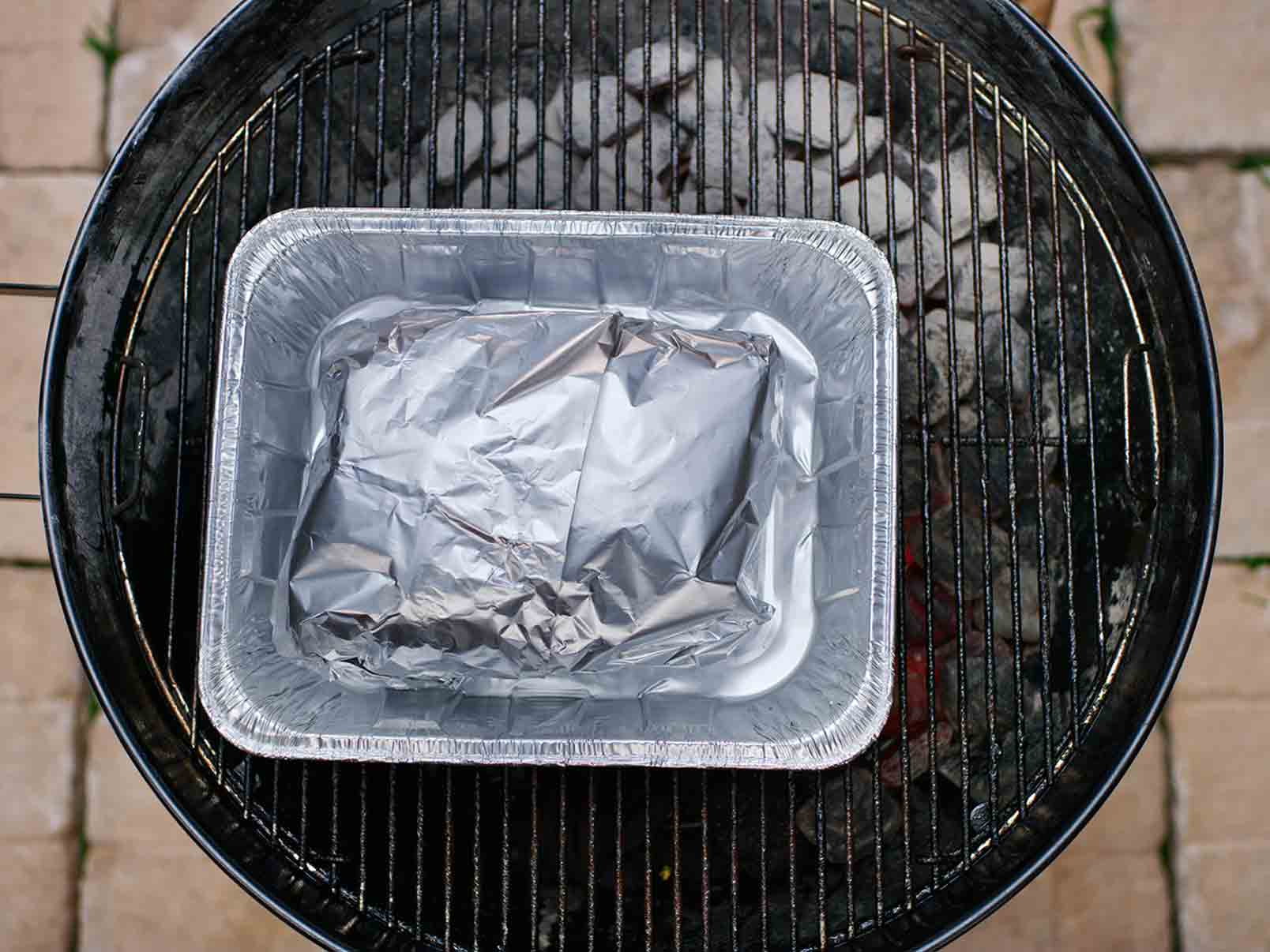 The Finish
After the meat has rested, transfer it to a large bowl and reserve any juices.
If you plan to pull or shred the pork, it's much easier to do while the meat is hot or warm. Also, warm meat and cooking liquids are easier to combine.
Shred the meat in a large bowl and remove any excess fat.
Return any juices to the meat, and stir to combine.
Now, get ready for a delicious, smoky treat!
The Finish