Learn
How to Grill Tri-Tip Steak
Also called the California cut or the Santa Maria steak, this tri-tip steak is naturally lean, but rich in flavor and perfect for your grill. With only a few simple ingredients, it's easy to prepare. Ready, set — let's get started!
What You'll Need
Fuel and Tools
Kingsford® Chimney Starter (Optional)
Preferred Ignition Aid (Fire Starters, Kindling or Lighter Fluid)
Digital Meat Thermometer
Tongs
Paper Towels
Sharp Knife
Large, Resealable Plastic Bag or Large Dish
Aluminum Foil
Ingredients
2.5 lb. Beef Tri-Tip
2 tbsp. of Dry Rub or Marinade
Cooking Oil
Are Tri-Tips Readily Available Where I Live?
Tri-Tips are very popular in California, but may not be readily available in every part of the U.S. We suggest calling your local grocer, butcher, or specialty meat store to see if you can order your tri-tip in advance. They may also be available online.
How to Prep
Remove the tough, chewy "silver skin" from the tri-tip. Using a sharp knife, cut just below the skin and work your way across the meat. Then, trim the excess fat down to about an ⅛" layer.
We recommend to either marinate the tri-tip or sprinkle on about 2 to 3 tbsp. of rub evenly on each side. Then place the tri-tip in a large, resealable plastic bag or large dish, and let it refrigerate for several hours or overnight.
How to Prep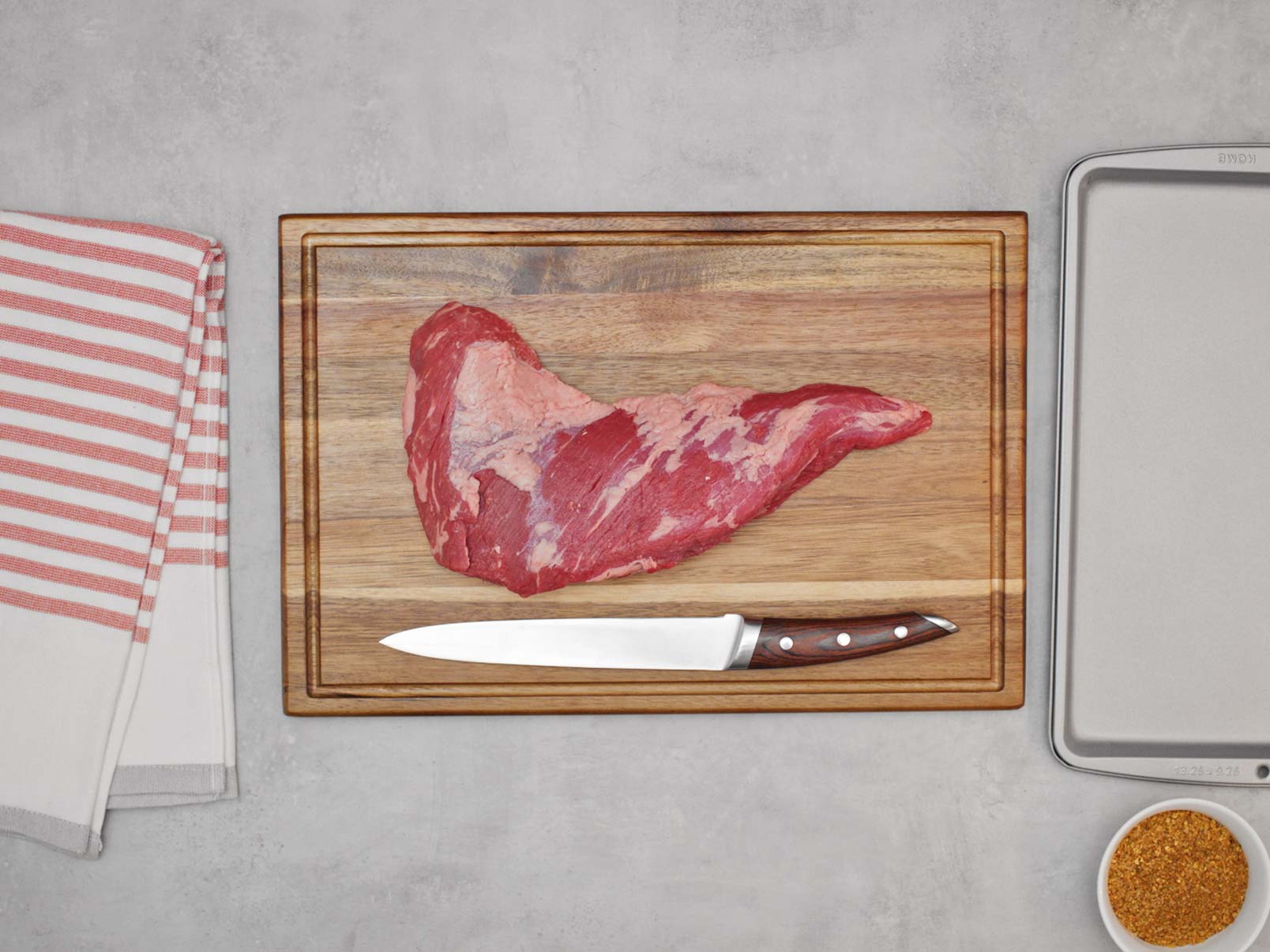 How to Build Your Fire
Give your top grill grate a good brushing and set it aside. Pour Kingsford® Original Charcoal Briquets into a chimney — or pour them in a mound and light. Wait for coals to light fully.
Once the charcoal turns gray with ash, arrange coals in a Two-Zone Method: coals on one side of the grill and a void on the other. For a more smoky tri-tip, add 2 cups of Kingsford™ BBQ Smoking Chips (Hickory or Mesquite). Be sure to soak the chips in water for at least 30 minutes before spreading them onto the coals.
Coals should be at Medium Heat — about 400°F–450°F. How to control the heat when grilling with charcoal.
Add the grate and let it heat up.

How to Gauge Grill Heat Without a Thermometer

Carefully hold your hand about 5" to 6" above the grate, and refer to the temperature settings below:




• High Heat (450° to 550°F):
2 to 4 seconds
• Medium Heat (350° to 450°F):
5 to 6 seconds
• Low Heat (250° to 350°F):
8 to 10 seconds




Make sure your clothing doesn't touch the grate, and always move your hand away from the heat before you feel discomfort.




When you're at temp, put cooking oil on a folded paper towel. Grab the oiled paper towel with long-handled tongs and oil the grate thoroughly.

When you're at temp, put cooking oil on a folded paper towel. Grab the oiled paper towel with tongs and oil the grate thoroughly. For more details, see How to Prep a Charcoal Grill.
How to Build Your Fire
Get Grilling
Place the tri-tip on the cooler side of the grate, close the lid and grill it for about 20 to 30 minutes, then turn it over and repeat.
Unlike most steaks, you'll want to sear the tri-tip after grilling to better allow the charcoal-grilled aroma—and smoke flavor if you added wood chips — to penetrate the meat.
While the tri-tip is on the cooler side of the grill, remove the grill lid and check the internal temperature of the tri-tip with a digital meat thermometer. When it's close to your desired meat temperature, move the tri-tip to the warmer side of the grill, directly over the coals, and sear it on both sides.

How Done Is My Steak? Let's Find Out

* USDA Safety Guidelines recommend cooking steak to the mediumtemp of 145°F to make sure any harmful bacteria are destroyed.
** Cooking times are approximate and based on a 1" steak, including sear time.

Keep in mind that the tri-tip will continue to cook after it's been removed from the grill — internal temperatures will rise.
Get Grilling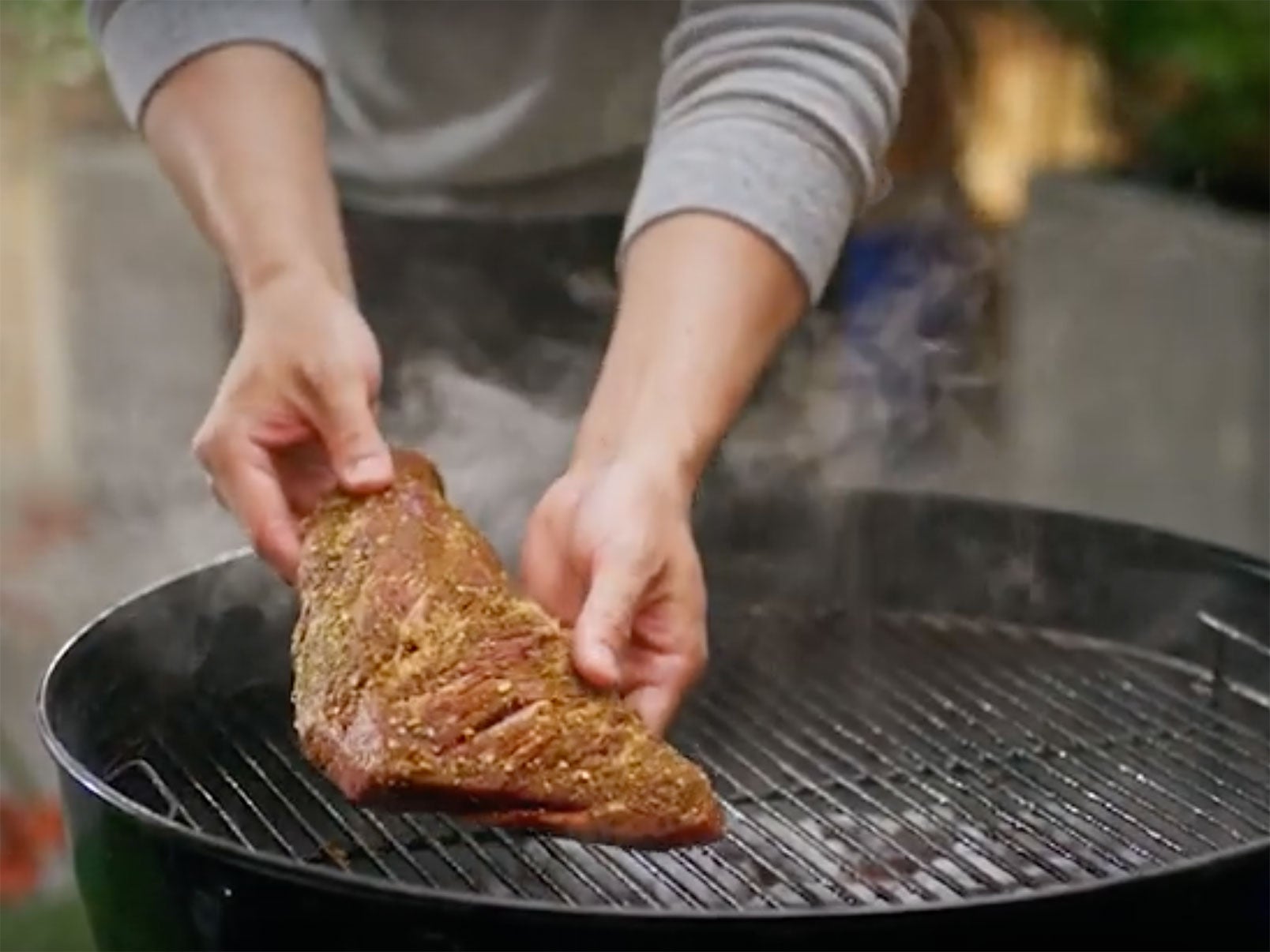 The Finish
After the tri-tip comes off the grill, cover it loosely with foil and let it rest for about 10 minutes until the internal temperature reaches 145°F on a digital meat thermometer.
Cut thin slices across the grain and serve. Because of its tapered shape, the narrower section will be more cooked than the wider end, giving you a range of doneness to serve your guests.

For safe meat and other food preparation, reference the USDA website.
The Finish