Learn
How to Grill Lamb Chops
Perfect for holiday meals or even a weeknight dinner, grilled lamb chops make any meal a special occasion. And don't worry — the right prep, setup and grilling techniques make it easy. Let's get started!
What You'll Need
Before starting, make sure you have everything on this list. We recommend Kingsford® Original Charcoal Briquets. And don't skip the digital meat thermometer — it's the best way to get your lamb chops done right.
Fuel and Tools
Digital Meat Thermometer
Large, Resealable Glad® Plastic Bag (Optional)
Long-Handled Tongs or Long-Handled Metal Spatula
Knife (For Trimming Fat)
Paper Towels
Ingredients
Lamb Loin Chops
Spices (Salt, Pepper and Herbs, Like Mint, to Taste)
Marinade (Optional)
Olive Oil
Cooking Oil
How to Prep
Lamb loin chops may come with a thick layer of fat around the outside. Trim the fat to ⅛" to ¼". The meat will remain tender even after trimming.
Simply drizzle the chops with olive oil, then sprinkle them with your choice of spices. Or, using a large, resealable plastic bag and your favorite homemade or store-bought marinade, marinate the chops for at least an hour, or even overnight. Subtle flavors work best with delicately flavored meat like lamb.
How to Prep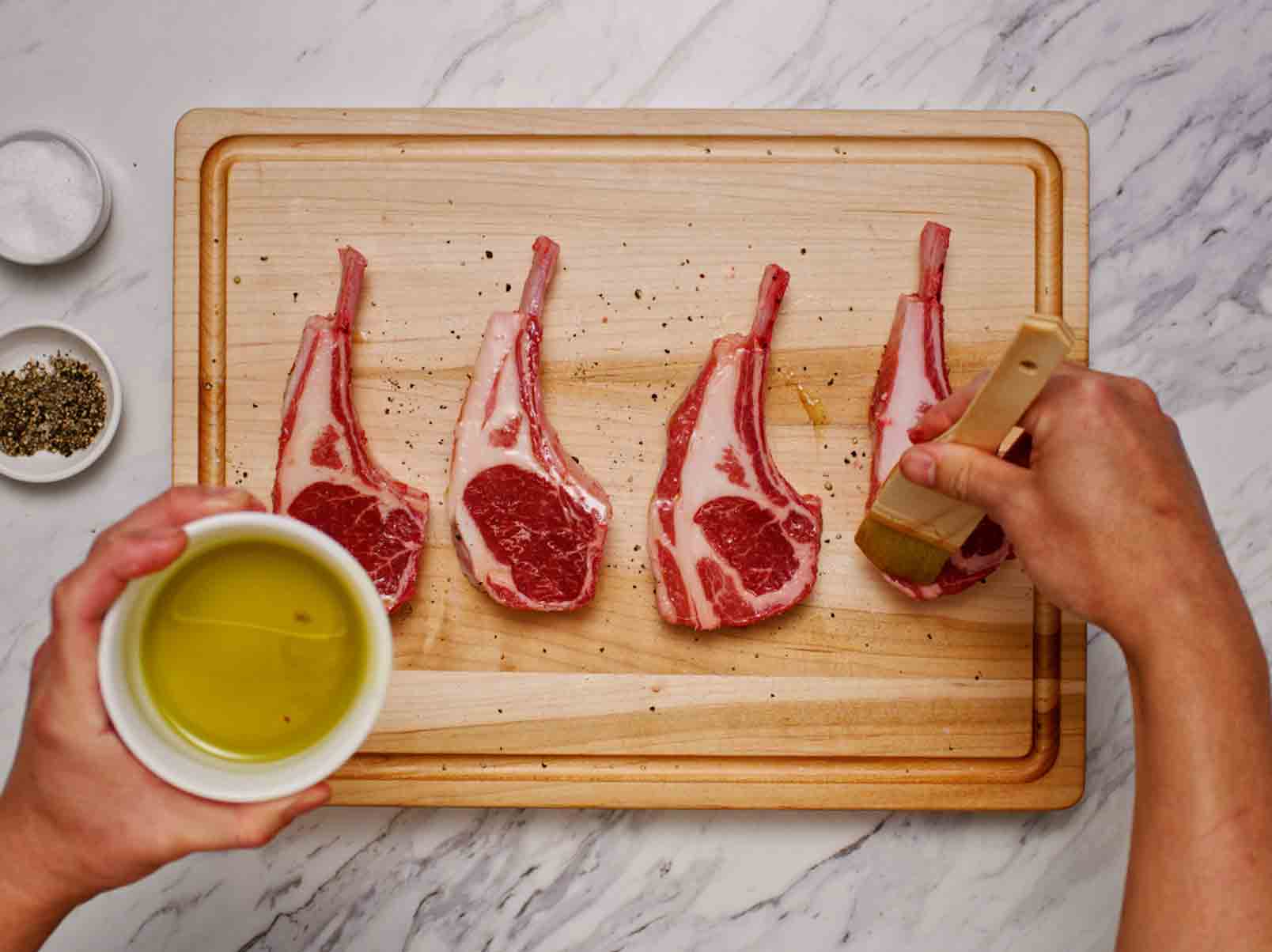 How to Build Your Fire
Give your top grill grate a good brushing and set it aside. Pour Kingsford® Original Charcoal Briquets into a chimney — or pour them in a mound and light. Wait for coals to light fully.
Once the charcoal turns gray with ash, arrange coals in a Two-Zone Method: coals on one side of the grill and a void on the other.
Add the grate and let it heat up.
Coals should be at Medium Heat — around 350°F to 400°F. How to control the heat when grilling with charcoal.

How to Gauge Grill Heat Without a Thermometer

Carefully hold your hand about 5" to 6" above the grate, and refer to the temperature settings below:




• High Heat (450° to 550°F):
2 to 4 seconds
• Medium Heat (350° to 450°F):
5 to 6 seconds
• Low Heat (250° to 350°F):
8 to 10 seconds




Make sure your clothing doesn't touch the grate, and always move your hand away from the heat before you feel discomfort.




When you're at temp, put cooking oil on a folded paper towel. Grab the oiled paper towel with long-handled tongs and oil the grate thoroughly.

When you're at temp, put cooking oil on a folded paper towel. Grab the oiled paper towel with the tongs and oil the grate thoroughly.
How to Build Your Fire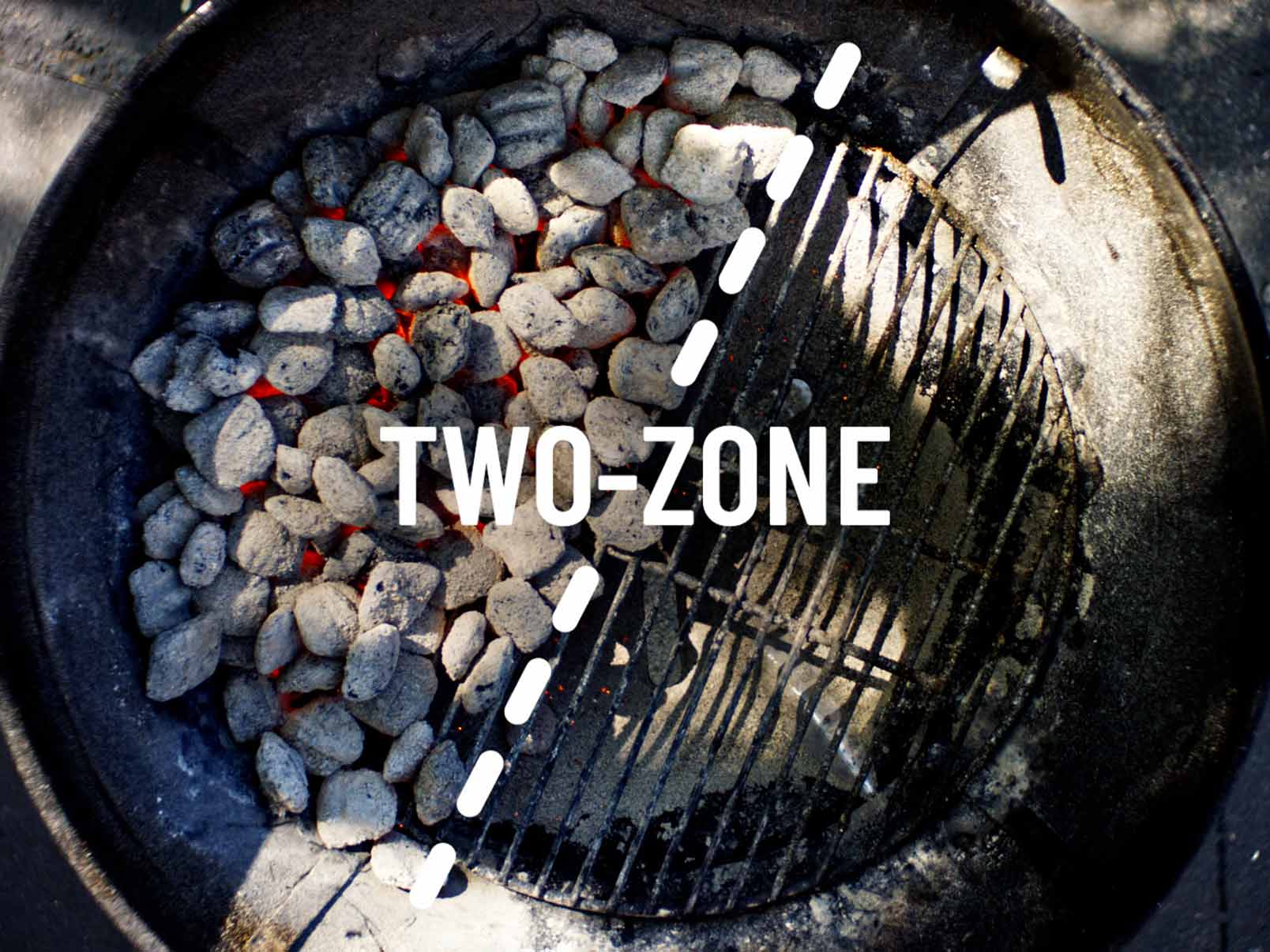 Grilling Time & Temp
Place the lamb chops directly above the coals and sear on each side, until brown, flipping only once.
Flare-ups will happen. Don't worry!

Here's How to Handle a Flare-Up

Flare-ups happen to even the most skilled grill masters. Flare-ups are just fat rendering and dripping onto the coals. With a long-handled, metal spatula, simply move your food to the other side of the grate until the flames subside.

Once seared, move the lamb chops to the cooler side of the grate and close the lid.

How Done Is My Lamb? Let's Find Out!

* USDA Safety Guidelines recommend cooking lamb to the well-done temp of 145°F to make sure any harmful bacteria are destroyed.
** Cooking times are approximate.

While your lamb chops are still on the grill, insert the digital meat thermometer into the thickest part to check the internal temperature.
When they reach an internal temperature of 145°F, your lamb chops are done. Most lamb chops will reach doneness in 7 minutes total.
Grilling Time & Temp