Kingsford® 100% Natural Hardwood Blend Pellets
Southwest Blend, Mesquite, Cherry and Oak, 20 lb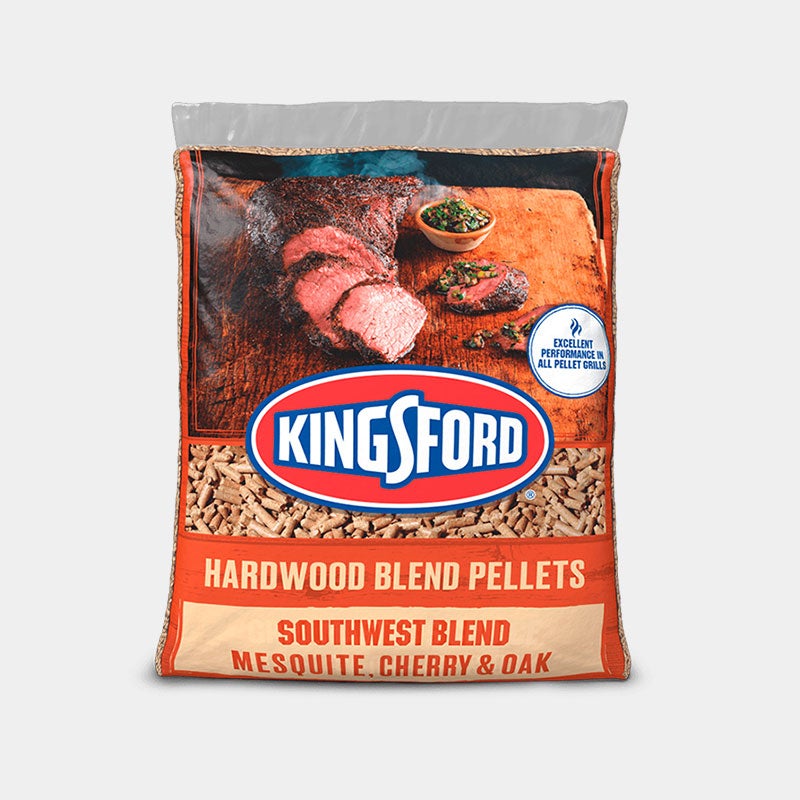 Take your taste buds to the Southwest with mesquite, cherry and oak. Grilling with Kingsford® 100% Natural Hardwood Blend Pellets brings you authentic wood-smoked flavor from all natural American hardwood. These Kingsford® 100% Natural Hardwood Blend Pellets deliver excellent performance in all pellet grills, including Pit Boss® and Traeger®. Made in the USA, our Kingsford® 100% Natural Hardwood Blend Pellets for grilling contain no artificial flavors, fillers, binders, dyes, chemical additives or oils. Just pure hardwood for pure flavor. Southwest Blend brings you the bold, sweet and smoky flavors of mesquite, cherry and oak that pair well with beef, chicken, ribs, pork, lamb, turkey and vegetables. Kingsford® grilling pellets come in a conveniently sized 20-pound bag. One pound of grilling pellets lasts approximately one hour at low heat and about 30 minutes at high heat depending on the grill manufacturer and outdoor conditions. Trust Kingsford for real wood flavor made easy.
---
---
Made in the USA
Pure Flavor Hardwoods
Great for Any Pellet Grill
---
Adventurous Eats
---
Take your taste buds outside their comfort zone with these unexpected twists on grilling favorites.
Rated

2

out of

5
by
DLGaddy
from
Smoked, but wouldn't light well for grilling.
I purchased a new, high quality pellet smoker in the spring and it came with 100 lbs of pellets. This gave me a chance to see how this smoker/grill/oven worked at different settings, temperatures and meats. Well, just this month I started looking for an alternative pellet fuel that I could buy locally. I wanted to try different flavors as well. I did try to be careful not to get a punctured bag to avoid pellets that have taken on moisture, or a bag that had been mistreated on the store shelf to avoid crushed pellets. Well, once I had the hopper clean and ready for just the new pelltets, I loaded it up and started the cook. Unfortunately I had some of the same problems I read about. The grill seemed to have more trouble keeping a consistent temp. Even though I tried to be careful not to get a bag of crushed pellets there seemed to be an extremely large ratio of crushed to full sized pellets. Once the smoking was done and I tried to raise the temperature to get a sear on my chicken I had a very hard time getting to temperature up to 400 degrees or higher. Plus the flame was not as large as I am used to and it barely reached to under surface of grates to help create the expected char. The taste was fine though. I really would like to give these pellets another try as I am a Kingsford charcoal diehard fan and only buy their charcoal. I'm sorry I didn't think to take photos to show what my bag looked like once I got it open and into the hopper.
Date published: 2020-09-01
Rated

1

out of

5
by
DtSmoker
from
Won't light just smokes
tried these pellets several times. Each time three They'd sit and smoke but would rarely fully combust. If they did combust I couldn't get a temp higher than 310 degrees. Wound up emptying these pellets completely out of me my grill to replace them with a tried and true brand of pellets which immediately worked very well. Very disappointed with Kingsford. Expected more from them.
Date published: 2020-08-21
Rated

5

out of

5
by
Csmith84
from
Worked great
I've never used any kind of pellets for grilling before, but I tried these hickory pellets from Kingsford and had some of the best pork chops I've ever had. Fantastic flavor, and it doesn't take many of them - maybe a 1/4 cup - to get that smokey goodness into the meat. I was very impressed with the flavor and how it all worked! Definitely will buy these!
Date published: 2020-08-16
Rated

5

out of

5
by
Anonymous
from
Fantastic pellets
When I got these I had never used wood pellets before. But I am in love with them now. It makes your food taste so much better. I used it on top of my normal charcoal which is also kingsford brand. I made carne asada, burgers, chicken and brisket. Wow! The taste difference is amazing! It was smokey and kinda sweet. I will use these for now on. Thank you.
Date published: 2020-07-03
Rated

5

out of

5
by
Faithy
from
Small wood pellets, smell really good, nice smoky
We have never used wood pellets before when grilling, so decide to give wood pellets a chance. We loved the smoky flavor of the meat after giving it a shot! My husband was happy with the pellets and the smoky flavor it gave to the meat, will try other flavors of pellets soon!
Date published: 2020-06-15
Rated

5

out of

5
by
petunia76
from
Great Product From A Trusted Brand
I have always loved Kingsford products. I was unsure if the Hardwood pellets would meet the expectations that come with the Kingsford brand. I can honestly say these pellets not only met but exceeded my expectations. The flavor in the pellets bring the perfect balance to any smoked dish. I have already recommended the Kingsford pellets to family & friends. I feel Kingsford definitely out did themselves with the Hardwood Pellets
Date published: 2020-06-15
Rated

5

out of

5
by
HLD610
from
Amazing taste!
These Kingsford Signature wood pellets were amazing in my smoker! They fit will (didn't get lodged in the auger) and made a perfect subtle taste to any of the meat we smoked. The pellets were simple to use and the bag was bigger than I expected. I recommend these pellets to anyone who has a smoker or grill!
Date published: 2020-06-15
Rated

5

out of

5
by
Make.upwithmarie7
from
Great flavor!!
I would recommend these! They are very flavorful, and easy to use. They Kingsford hardwood pellets burn really nicely! The temperature is regulated which evenly cooks the flavor through everything. I was so impressed by how well these worked, and the amazing flavor that infused all of my food.
Date published: 2020-06-13
Rated

5

out of

5
by
AshleeH
from
Quality Product
These Kingford Hardwood Pellets - Signature were outstanding! They worked beautifully in my smoker. The flavor was superb. I highly recommend these wood pellets to everyone I know. Also they are extremely reasonable in price.
Date published: 2020-06-13
Rated

5

out of

5
by
Stacy5339
from
Great Value
Alot of product for the price! So glad to see the bag filled completely and not just half full with air like most. This will last me a very long time. Great packaging. I haven't had a chance to use it in the smoke, but did mix some in with my charcoal for regular grilling, and it gave my meat a slight flavor which was perfect.
Date published: 2020-06-05
Rated

5

out of

5
by
Drpepper5595
from
Love This Product
I received the Kingsford ® Hardwood Pellets — Signature and I am so glad I did! The flavor these pellets added to my steaks, chicken, and burgers and ribs was very favorable. You would have thought I had spaced over it all night to achieve that true smoked in flavor it use to take hours to achieve. If you own a pellet smoker this is the product you should be using!
Date published: 2020-06-05
Rated

5

out of

5
by
Kathy67
from
Awesome
We have never tried using wood smoking before on our grill. Kingsford has made an awesome product with Kingsford Hardwood Pellets. We made a tin foil packet for the pellets and poked holes in it and layed it in the coals so simple. Our chicken and ribs turned out so yummy with just the right amount of wood flavor. They were so good I went and brought a Kingsford Pellet holder to use in our grill just for the Pellets. Thank you Kingsford for a amazing product. I definitely recommend Kingsford Hardwood Pellets.
Date published: 2020-06-04
Rated

5

out of

5
by
Gamerdeals89
from
You get a lot of bang for your buck
The Kingsford ® Hardwood Pellets comes in a good sized bag. You get a good amount of the product. I wish the pellets were a bit bigger. This doesn't discount the fact that I could really get those smoky flavors in my meat. 10 out of 10, I would get this again.
Date published: 2020-06-03
Rated

5

out of

5
by
writerofwords
from
A perfect balance
I really enjoy the simplicity of these hardwood pellets. After using more traditional wood chunks, or wood chips, this is definitely a preferred choice for me. I just place a handful of these pellets in some foil and place that inside the extension smoker for my grill and let it do its job of filling whatever I'm grilling with that wonderful smokey flavor. The flavor is great and not overpowering. It's hard for me to distinguish between the different types of wood flavor in this mix, but that's not a bad thing because the taste is mild and not leaning towards sweet or strong. It's a perfect blend. They last long and don't burn quickly. This bag should last me longer than I expect and that is fantastic because I can get a great amount of smoke flavor in my grilling for weeks if not longer.
Date published: 2020-06-02
Rated

5

out of

5
by
CatMom12
from
Kingsford Hardwood Pellets
I really liked these pellets. I love the smell of grilling food and these made the scent so much better. My food tasted good and was grilled in ample time. I will be buying this again soon. Totally recommend this to a friend
Date published: 2020-06-01
Rated

5

out of

5
by
djanuaryjr
from
Great pellets well packed and solid
These pellets offer a great flavor and the bag I tried of them was not crumbly. The pellets were solid and well packed. My pellet smoker easily maintained temps and there wasnt a huge ash mess as I have seen with some off branded pellets in the past. Over all I would say these pellets are worth the money and are a good value.
Date published: 2020-06-01
Rated

5

out of

5
by
Jlewisj7
from
Simple
I have never used pellets before but they were very simple to use, I feel that they burned hot and even and gave off a wonderful aroma. Flavor was excellent and will definitely try other flavors from now on. Very satisfied and very convenient!
Date published: 2020-06-01
Rated

5

out of

5
by
LoriRun123
from
Efficient and Great Aroma, Taste
At first I was hesitant in using the Kingsford Signature Hardwood Pellets, as I have never used pellets before. However, I was pleasantly surprised at how simple the pellets were to use. Also, the aroma and the flavor that infused the meat that I cooked was phenomenal. I will definitely use the Kingsford Signature pellets from now on!
Date published: 2020-05-30
Rated

5

out of

5
by
GrillinMan38
from
Amazing Flavor!
I'll start by saying I trust Kingsford, have used their charcoal briquettes for years. I stopped when I received my pellet grill of course. I was excited to see they came out with their own wood pellets. The pellets work just as good as other pellets, and I had no issue loading my hopper, and my grill had no issue with the Kingsford wood pellets either. Now on to the smoke, the smoke smelled so good that I knew I was in for a flavorful treat! There is a downside to the smoke though, you're neighbors will come knocking asking when dinner is! I've used these pellets for hamburgers, steaks, pork chops, chicken, and ribs, and they're just as juicy and moist as they are with other pellets, but the flavor, oh man the flavor is more concentrated and robust than other pellets. There's a depth of flavor that I just haven't been able to get with other pellets, and I'm thinking its in part due to the multiple woods that Kingsford used in their pellets. If you have a pellet grill, this is a must buy if you want some of the most flavorful meat, just watch out for your neighbors lol!
Date published: 2020-05-29
Rated

5

out of

5
by
Vicky R
from
Love this stuff
Okay first of all once I saw it I wasn't expecting the small pellets . I smoked a pork loin for 8 hours with these I did have to change a few times but they were perfect. Burned nicely and gave a great smell. I would highly recommend if you smoke your food
Date published: 2020-05-29
Rated

5

out of

5
by
stm91
from
Great smokey flavor
I always trust Kingsford for my grilling products. They've continuously put out decent products. I've had my pellet grill for a few months now. And I've used some of the other name-brand pellets. I've used these to smoke ribs twice. Love the sweet smokey smell. Didn't feel like they burned too quickly and the flavor of the ribs came out great. Even my wife, who refuses to eat meat off the bone (I have no idea why), tried a few of the ribs and indicated that they tasted great. Will be trying out the other flavors.
Date published: 2020-05-28
Rated

4

out of

5
by
Arice2010
from
Gives great flavor
I am so happy I was able to try this. I add it to my grill to add that smoked flavor. It's super easy to use and easy clean up. The flavor for the hardwood is great! I am not sure if it is something I will add everytime I grill but something I would Add to pork for sure!
Date published: 2020-05-28
Rated

5

out of

5
by
Julz412
from
Amazing taste!
I was intrigued by the combination of wood in these Classic Wood Pellets. Hickory, oak and cherry...amazing combination! What a smart idea! We used them in our smoker over the holiday weekend, and the ribs were a hit! One of our friends said they were the best ribs he's ever had! I can't wait to try different kinds of meat! Thank you, Kingsford, for thinking outside the box!
Date published: 2020-05-28
Rated

5

out of

5
by
Lizet
from
Grilled meat have never tasted so good!!!
The Kingsford Hardwood Pellets are 100% wood pellets that enhanced the flavor of my meats during grilling. I have thrown everything to my pellet grill from anywhere to a prime rib, short ribs, and even veggies and that hardwood smoked flavor is just delicious every single time. I like the fact that you can use the Kingsford Hardwood Pellets in either a pellet grill, charcoal grill, or gas grill. Fire up your grill because you sure won't be disappointed.
Date published: 2020-05-27
Rated

4

out of

5
by
Osbrooks
from
Great flavor
I used these Kingsford Signature Pellets in my smoker over the weekend and my ribs turned out better than any I've ever made. The flavor was smoky without being overpowering. The pellets burned clean and there didn't seem to be as much ash as some other brands I've tried. Now I want to try the other pellet varieties!
Date published: 2020-05-27
Rated

5

out of

5
by
Suzynunu
from
Great flavor, smooth burning!!
I have a small pellet grill on my patio and love to find new recipes for it. This pellet blend is perfect for nearly any meat, as it has been curated to complement a wide range of proteins. I used it first to make ribs, and everyone raved about the flavor, so I smoked a spatchcocked chicken and it was so so amazing, I will definitely doing more of those!! The pellets themselves are well formed and the bag didn't have much dust when I poured it into an airtight container. It is best to store inside, and in an airtight container to preserve the hardwood, easy burning quality. The quality of these pellets is on par with the same brand as my pellet grill, which is to say it is very high quality. I have only had the signature blend, but I look forward to trying the other varieties. I highly recommend Kingsford wood pellets, the quality is terrific!
Date published: 2020-05-26
Rated

5

out of

5
by
Bostonmama
from
Kingsfort pellets
We used these pellets yesterday to barbecue and they worked so good everything we cooked came out so good and the flavor was fantastic was the best food I have had in a long time it cooked so good and everyone was raving how great everything tasted so pleased with these Kingsfort pellets this is a really great product and so great to cook with everything cooked evenly and nothing got burned I am one happy customer and I definitely recommend this product to everyone
Date published: 2020-05-25
Rated

5

out of

5
by
markm
from
Great flavorful barbecuing
Kingsford Hardwood Pellets provided even temperature while heating on my barbecue grill. The meats that I prepared on my grill tasted delicious after using the pellets The cleanup afterwards was fast and easy.
Date published: 2020-05-25
Rated

5

out of

5
by
Karee
from
Great smoky taste
Bought these to add smoke flavor to our meat. I have a Kamado grill so I used these in a pan in the firebox to add smoke in place of wood chips. They performed excellently and gave amazing smoky flavor without too much smoke. Smoked a brisket and it came out fall apart amazing tasting. Recommend!
Date published: 2020-05-25
Rated

5

out of

5
by
Steelers fan
from
Great taste
These Cheery, Hickory and Maple pellets worked great in my pellet smoker. I started off cooking a slab of Salmon then switched over to smoke two bacon wrapped pork loins with this blend. The flavor in both of these meats after cooking was fabulous, gave off good smoke and left a perfect smoke ring on the pork. Would definitely recommend.
Date published: 2020-05-23